Tuesday, June 14, 2011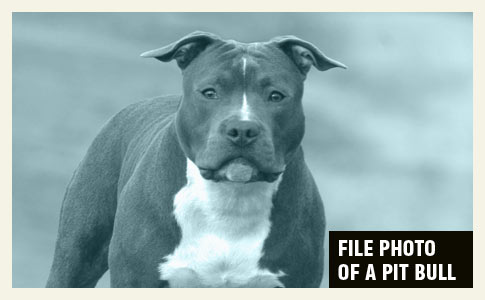 David Haigler, 38-years old, was killed by one of his pet pit bulls.
Dog Caused Death
archived
Spotsylvania County, VA - In an incident we were alerted to yesterday, The
Free Lance-Star
reports that an autopsy has confirmed that one of David Quyon Haigler's two pit bulls was responsible for his death. Haigler, 38-years old, was discovered dead in his home Saturday by his 18-year old son. The 6-year old pit bull accused in his death was loose in the home and initially would not allow responding deputies in, according to Sheriff's Lt. Col. Michael Timm.
Haigler was found dead on the living room floor with wounds to his upper body. Authorities noted that a wooden baseball bat was on a sofa near the body and that the room was in disarray. Court records stated that blood was seen on the floor, walls and several pieces of furniture. Haigler's other pit bull was found chained in different area of the home. Timm said the investigation is nearly over, except for the pending results of a toxicology screening.
Haigler was "already under medical care for a dog bite" that occurred a week earlier, according to yesterday's article. The victim also had a felonious past.
Sheriff's deputies responded to the call but were met by two "very aggressive" pit bulls, Timm said.
The deputies waited until animal control removed the dogs before starting their investigation.
"Currently, the belief is that they could have been involved," Timm said of the dogs. "We're just sideline speculating at this point."
As of yesterday, Timm could not confirm how Haigler died.
A medical examiner has ruled the death "unusually suspicious" and said Haigler, 38, suffered "upper-body trauma." The body has been sent to Richmond for an autopsy. Spotsylvania officials hope to know more about the cause of death today.
Timm could not confirm whether the dogs had a history of violence, but said Haigler "was already under medical care for a dog bite" that happened about a week ago.

- Free Lance-Star, Jonas Beals, June 13, 2011
Related articles:
11/18/10:
2010 Fatality: Dillon County Man, 25, Killed by Pet Pit Bull
08/12/09:
2009 Fatality: Leesburg Man, 20, Killed by His Two Pit Bulls...
Labels: 2011 Dog Bite Fatality, David Haigler, Fatal Pit Bull Attack, Pit Bull Kills Owner, Spotsylvania

Please donate to support our work
DogsBite.org is a 501(c)(3) tax-exempt public charity organization. Learn more »
posted by
|
permalink
|
5 comments
|

email
|

blog rss
|

comment rss

5 comments:

snack sized dog | 6/15/2011 12:06 AM | Flag
So one guess is the one pit was chained up was because it was the one that inflicted the previous wounds.

The one that killed him was the "nice" one. Bet the toxicology report will have positive results.

truthbird | 6/15/2011 12:17 AM | Flag
The "nice" one indeed, who finished him off. He survived serious prison time and all the dangerous that go with it, but he couldn't survive his dogs. This has to fit somewhere into ex-felon ironies..

craven desires | 6/15/2011 12:26 AM | Flag
i'm pretty sure his wiggle butt was only trying to administer CPR.

vintage | 6/15/2011 9:13 PM | Flag
Dr Randall Lockwood pointed this phenomenon out during his 1986 "Are Pit Bulls Different?" article.

Statistically, Pit Bulls are roughly six times more likely to attack their owners, compared to other breeds.

PREVENT THE DEED, REGULATE THE BREED.

M | 6/16/2011 9:33 AM | Flag
On rare occasion a throw rug needs to be saved from our mutt by a squirt from a water bottle. This man couldn't save his own life from his dog with a baseball bat.