Wednesday, August 25, 2010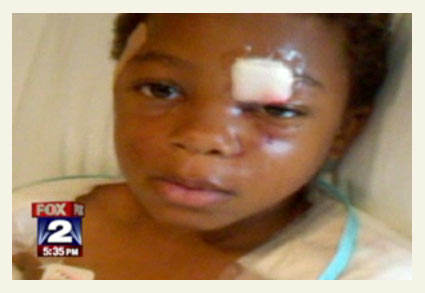 Felony Charge
UPDATE 08/25/10:
Two weeks after a near fatal pit bull mauling, Khalil Rocks still cannot walk. His mother Deanna Rocks, however, is pleased that authorities are charging the pit bull owner with a felony. "He's scarred for life," Rocks said. "Some type of punishment needs to be dealt with." On August 26, Jenny Angel, 31, was arraigned on one count of harboring a dangerous animal causing serious injury -- a 4-year felony. She pleaded not guilty and her bond was set at $5,000.
08/13/10:
Mother Makes Passionate Plea
Warren, MI - An 8-year old boy is in intensive care at St. Johns after suffering near fatal injuries by a pit bull. Khalil Rocks, who wants to be a scientist when he grows up, was also mauled by a pit bull when he was 3-years old.
1
Detective Kevin Borycz, who has investigated dog maulings in the past, said that this is the worst attack he has ever seen. "When you've seen pictures of the injuries -- the arm, the leg, the shoulder -- just chunks of the boy are missing," Borycz said.
"He's very lucky to be alive," Borycz added.
The pit bull,
named Zeus
, broke free from its chain and attacked children that were playing nearby. One child was able to jump a fence, but Khalil stumbled in his flip flops and was subjected to the powerful jaws of Zeus. His mother, Deanna Rocks, makes an
emotional and passionate plea
in the Fox 2 News video. "Just keep control of these dogs," she said. "There are too many kids getting hurt. Not just hurt,
they're dying because of dogs
. Get these dogs, keep them off the street."
2
"What are the odds of my baby getting bit twice?" Rocks asked.
The Detroit area has long been known as the "dogfighting capital" of the U.S., an area rich with the breeding and ownership of pit bulls with explosive aggression. It's no surprise that many Detroit suburbs have enacted pit bull laws (
view related map
). Warren, unfortunately, is not one of them. Wayne County, which hosts the City of Detroit, is also the center of U.S. medical research regarding pit bull mauling injuries.
3
The shared location of these two activities is not by chance.
The odds of Khalil being severely mauled by a pit bull twice by the age of 8 are indeed slim, but the location of both incidents (the Detroit area) may have substantially increased these odds.

Khalil Rocks Medical Fund
Donations can be made at any BestBank location under the name "Khalil Rocks" to help pay the child's medical expenses.
Related articles:
07/01/10:
Pit Bulls Lead "Bite" Counts Across U.S. Cities and Counties
04/25/09:
2009 Fatality: Family Pit Bull Kills 11-Month Old Child in Eastpointe
09/01/08:
2 Michigan Cities Pass Pit Bull Regulations in Same Week
08/06/08:
Comment: Pit Bulls are 14 Times More Likely to Break Constraint to Attack
Labels: Disfigurement Injury, Khalil Rocks, Michigan, Severe Pit Bull Injury, Skin Graft, Twice Mauled

Please donate to support our work
DogsBite.org is a 501(c)(3) tax-exempt public charity organization. Learn more »
posted by
|
permalink
|
9 comments
|

email
|

blog rss
|

comment rss

9 comments:

ItsATragedy | 8/13/2010 3:58 PM | Flag
A pit bull is a problem.

A pit bull on a chain is MORE of a problem.

Chains do not control pit bulls, and the neighbors or a passer by get attacked.

PLUS chaining pit bulls makes the behavior problems bred into them even worse.

Chaining pit bulls is not just a cheap, easy way for the dogfighters to keep their dogs and stop them from killing each other. Chaining also increases aggression, agitation, and territorial behavior. Chaining makes a bad thing worse!

cravendesires | 8/13/2010 4:05 PM | Flag
some of these inner cities are experiencing a crisis with pit dogs. would love to see the black panthers reassemble and take back those streets.

cravendesires | 8/13/2010 4:24 PM | Flag
the pit nutter sounds as though she will try to pass the buck onto the city.

"The homeowner was emotionally upset and said the dog had never done this before," Torey said. "She said she once had a fence around her yard but the city made her take it down for some reason."


http://www.dailytribune.com/articles/2010/08/13/news/doc4c65420c16dba647752829.txt

Donnie Brasco | 8/16/2010 3:25 PM | Flag
Sad story. These stories happen every week in the USA. Why?

Do state law makers hear Gary Wilkes or Merritt Clifton? Do any legislators believe the garbage spewed by Best Friends, Bad Rap, "Pit" Boss Shorty, etc? Really? Would you like if your neighbor had a pit bull?

What kind of homeowners' policy does this neighbor have? The policy limits should be forthcoming.

Sweetie | 8/16/2010 10:19 PM | Flag
This is irony in it's worst form. The PB is a KKK product originally. It is truly sad that now Black children are maimed and dying because the Klan did manage to plant this poison in the Black community.

The Klan is laughing all the way as the rest of us struggle with the presence of these KKK dogs among us.

FormerOhioGirl | 8/24/2010 8:09 PM | Flag
"A felony charge was approved today for a 31-year-old woman whose pit bull mauled an 8-year-old Detroit boy this month. Warren Police Lt. Michael Torey said arrangements are being made for the Warren woman to turn herself in next week for an arraignment on one count of possession of a dangerous animal, causing injury. The woman's name is being withheld pending the formal arraignment, Torey added. The charge carries a penalty of up to four years in prison."

From The Detroit News: http://www.detnews.com/article/20100824/METRO03/8240417/1361/Owner-faces-felony-charge-in-pit-bull-s-attack-on-boy#ixzz0xZkWfzzC

trigger770 | 9/08/2010 11:41 AM | Flag
The owners of a pit bull that attacked a little girl in Jackson county will face a jury. A judge decided Wednesday there is enough evidence to send Brian Nace and his girlfriend, Jasmine Bailey to trial on felony charges...

I wonder how sympathetic the jury will be?
---
http://www.wilx.com/news/headlines/102445494.html

truthbird | 6/02/2011 11:03 AM | Flag
UPDATE JUNE 2, 2011 -- Warren woman to be sentenced for pit bull attack on child
Mount Clemens -- A Warren woman will be sentenced July 11 after pleading no contest Wednesday to charges connected to her pit bull's attack on a boy. Jenny Lin Angel, 31, entered the plea to one count of harboring a dangerous animal, causing serious injury, the day her trial was to begin in Macomb County Circuit Court. Authorities say Angel's pit bull escaped from her yard Aug. 11 and attacked 8-year-old Khalil Rocks of Detroit. The dog was later euthanized. The charge carries a penalty of up to four years in prison.
--
http://detnews.com/article/20110602/METRO03/106020403/Warren-woman-to-be-sentenced-for-pit-bull-attack-on-child

vintage | 6/04/2011 7:18 AM | Flag
Has Jenny Lin Demon paid a dime for medical costs yet?....

At least there is the felony conviction...they should call these things "Felonmakers" instead of Nanny dogs.