Thursday, July 29, 2010
Justice for Vanessa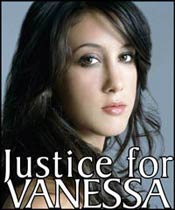 Shohola, PA - Back in May, singer-songwriter and pianist
Vanessa Carlton
was jogging in rural Shohola when she was attacked by a loose pit bull. Carlton's story shows how pit bull advocates and
No-Kill fanatics
swarm
to save dangerous pit bulls and the devious tactics they employ in the process. In the instance of Carlton, and with the help of Pocono Record writer Howard Frank, they successfully portrayed the biting pit bull, named Bella, and it's owner as the "real" victims.
Incident Background
On May 2, 2010
, while jogging in the Walker Lake community, a 9-month old pit bull bolted from its yard -- through an electronic fence
1
-- and bit Vanessa Carlton in the calf. She suffered 5 bloody puncture wounds. Like nearly all victims, Carlton did not want the dog to attack someone else, so she pursued a Dangerous Dog designation. This is when Frank & Co. elevated the "cause of Bella"
2
to heights far greater than the innocent victim's, future victims and the community as a whole.
In Frank's second article
, in a series of eight, he paints the ghastly future of Bella designated as a Dangerous Dog and how her "average Joe" owner cannot afford to abide by Pennsylvania laws -- rules designed to
prevent
Bella from attacking another person.
3
By doing so, Frank portrays Bella, the "excited puppy," and her owner, Ben Teichberg, as the real victims. Frank glaringly minimizes Carlton's injuries as well, who he writes, "was back jogging a few days after the attack."
In Frank's third article
, he labels Carlton a "PETA spokesperson" to raise the ire of pit bull advocates.
4
He also publishes parts of an email written by Bella's owner, which escalates the fire into a raging roar: "If we don't comply with the 'Dangerous Dog Law' she will be taken from us and put down by strangers, after suffering in a cage, waiting her turn to die. We are her family and don't want her to go that way! Vanessa Carlton in our eyes is a
MURDERER
5
and we pray to the good lord for justice!"
Frank's other slanted articles include: Bella lives: Dog that bit Vanessa Carlton gets new owner; Pit bull that bit Vanessa Carlton gets a reprieve -- and a new owner; Pit bull puppy that bit pop star isn't out of the woods yet; Judge: Dog that bit Vanessa Carlton can move back with original owners and Pit bull accused of biting Vanessa Carlton wins reprieve. In the last article, Frank pens many distortions, which are then picked up by national media, greatly damaging Carlton's reputation.
Blogger Craven Desires
Blogger Craven Desires
, an advocate for animals and humans victimized by pit bulls, spells out the truth in a blog post titled,
Justice for Vanessa Carlton
. The post includes the players, such as
Maria Brooks McKenna
and Dr. Karin-Susan Breitlauch, as well as the
actual court ruling
6
that Frank mainly ignored, stating distortions instead. The post also points out that prosecutor David McKenzie left comments in the comment section of Frank's final article, but again, were ignored by Frank.
David McKenzie


"Actually Maria, the judge discounted the "expert" testimony of the Ms. Breitlauch. She, despite what was reported above, admittedly had no expertise, or even training, in the forensic comparison of teeth to bite marks. The first time she attempted such a comparison was for this hearing and at your behest. Judge Cooper did not believe her conclusions and said so in open court. Instead, the judge found that the testimony of Ms. Carlton and Ms. Villanueva, the independent witness, credible and likewise found, as fact, that it was Bella that left the property, hence the guilty finding on the confinement charge, and bit Ms. Carlton on the leg. Of course, that was all confirmed by statements made to the investigating warden by the Defendant.
The judge simply cut the defendant a break."
Craven Desires has blogged nearly 800 blog posts on behalf of animals and humans victimized by pit bulls. Craven also operates the
Hokahey blog
, which tracks police shootings of dangerous pit bulls, and has created over 400 blog posts. If you detect anger in the writings, please understand that activists and victims of serious dog attacks are
pissed off.
Blogs by different authors include:
Depth Charge Thoughts
,
Pit Bull Owners Wake Up!
and
Pit Bull Attacks by State
. (See:
Full list of blogs)
.
We remind readers that although Vanessa Carlton is famous, pit bull owners and
No-Kill fanatics
frequently victimize (and glorify) a dangerous pit bull after it attacks. They nearly always minimize the real victim's injuries and blame the attack on the real victim as well. One does not have to be famous to be vilified by pit bull owners and the "
nutty dog crowd
." They will go as far as saying that the victim "made up" the attack, as they still do about the Founder of DogsBite.org.
We hope that Vanessa Cartlon and her family can move on now. The truth of Bella's biting incidents -- of which there have been at least two -- have been publicly exposed.
1
The electronic fence could not contain a 9-month old pit bull. Invisible Fence, which bills itself as the "Brand Vets Recommended Most," states on their FAQ in response to the question, "Are there any specific breeds that cannot be trained to the Invisible Fence system?

" ...just about all dogs

regardless of breed

can be safely and effectively trained to an Invisible Fence system.

Every dog is an individual

..."

(Apparently taken from the Maul Talk Manual). In contrast, a video review for PetSafe Stubborn Dog Fence, by a different company, names breeds, such as pit bulls, who are suitable for the strongest "zap" on the market.
2
There are other Justice for Bella websites, the most famous is from Cabarrus County, which also has a Facebook and petition web page. A county report concluded that Sheriff's Deputy Sean Austin acted appropriately in shooting and killing Bella, the loose pit bull, using a 22-caliber rifle.
3
Ben Teichberg, meet Matthew Havern who is now serving hard time in a Pennsylvania prison after his pit bull-mix attacked two children. Havern lied to avoid the Pennsylvania Dangerous Dog designation.
4
PETA is one of the few animal organizations that supports regulating pit bulls, specifically the regulation of their breeding.
5
Pit bull and No Kill advocates frequently label policy makers and animal regulators as "MURDERERS" when these public officials do not support their agenda. This label sometimes costs officials their jobs.
6
Commonwealth of Pennsylvania, Magisterial District 60-3-03. Commonwealth vs. Ben Teichberg. Transcript of decision at a hearing held before District Justice Alan B. Cooper, at the Pike County Courthouse, 412 Broad Street, Milford Pennsylvania, on Wednesday, July 7, 2010, beginning at 4:48 p.m.
Related articles:
06/29/10:
Pit Bull Owner Lies After Dog Declared "Dangerous," Dog Attacks Again
02/07/10:
Tom Skeldon, the "Biased" Blade and Recent Ruling Halting Enforcement of...
06/20/09:
James Harrison's Pit Bull "Patron" is Up for Adoption Under New Breed Name
05/30/09:
Sports Columnist Michael Felger Blasts Pit Bull Owners and "Nutty Dog Crowd"
Labels: Activist, Craven Desires, Frank Howard, Invisible Fence, Maul Talk, No-Kill Fanatics, Pennsylvania, PETA, Vanessa Carlton

Please donate to support our work
DogsBite.org is a 501(c)(3) tax-exempt public charity organization. Learn more »
posted by
|
permalink
|
12 comments
|

email
|

blog rss
|

comment rss

12 comments:

Donnie Brasco | 7/30/2010 1:18 AM | Flag
Please continue to shed light on this subject. The evil doers prefer darkness. Amazing insight. I wonder if Vanessa has any potential tort claims against these idiots. Well put together article, DBO. Continue your cause by all means!

cravendesires | 7/30/2010 2:42 AM | Flag
what a great article. thanks for helping get the word out. the pocono record is even worse than the toledo blade.

it enrages me that an unbalanced rescue angel and a flunky reporter got away with trashing the victim and lying about the verdict. they need to be held accountable.

i hope the next dangerous dog that comes before judge cooper is shown no mercy.

ItsATragedy | 7/30/2010 8:38 AM | Flag
There were so many untruths being knowingly spread in this situation.

For example, reporter Howard Frank did not reveal that the parties who developed this false story were connected and had operated as a "No Kill" cadre within that area, attacking other people in the community at local meetings, and slandering them as well as being vicious and combative. This behavior was reported in other local media, and the individuals were named. It's more or less the same group who organized this attack on Vannessa and on the truth.

At least one had heavily promoted Nathan Winograd for "consulting jobs."

As a commenter had posted, Nathan Winograd has gotten personally involved with people like this and advised their plan of attack, as well as directly manipulating reporters, and even attacking and threatening reporters who do not toe the line and have the audacity to ask questions and push for the truth. An Austin Texas reporter wrote a column which revealed his behavior.

A very disturbing issue with Mr. Frank was not just the complete and utter deceit about what happened in the case and the courtroon, which is improper enough for any reporter, but that beggings for cash donations were put forward by Mr. Frank on behalf of some of this group, who did not even reveal that they owned the charity begging for the money!

I cannot imagine any more clear example of unethical journalism. Journalists have been let go for lesser breaches of ethics than this.

The problem, however, which makes this truly dangerous, is that this deceit involved a dangerous dog who had attacked two people. The potential for a future death is overwhelmingly high, and a reporter played a role in knowingly creating great danger.

The Pocono Record carries a great burden with this unethical reporting. Someone was asleep at the wheel and was not acting as the arbiter of truth and ethics, namely an editor or even the publisher.

Here are some specifics into the Pocono Record, and also an indication of the abysmally low level of credibility.

The Dow Jones Local Media Group, aka Ottaway Newspapers, and their ownership information
http://www.mediaowners.com/company/ottawaynewspapers.html

ItsATragedy | 7/30/2010 8:43 AM | Flag
And one of the more terrible examples of this attack on Vanessa Carlton is that a member of this cadre that organized the coverup of this dangerous dog actually posted that they "wished" that Ms. Carlton would get rabies!

We see this again and again with the pit bull advocates- blaming the victim and viciously attacking the victim who is still healing from their potentially deadly dog attack.

april 29 | 7/30/2010 9:13 AM | Flag
I lived through this exact scenario after I was attacked. I am VERY happy to have this dirty tactic exposed.

HonestyHelps | 7/30/2010 9:49 AM | Flag
It's a Tragedy, Winograd is at the bottom of a lot of shit. That link for the Austin story is http://www.austinchronicle.com/gyrobase/Issue/story?oid=696455

And an even better story about how Winograd intimidates reporters was done by Craig Malisow in Houston. Winograd actually accused Malisow of trying to blackmail him, payment so Malisow would not write the story. Malisow is a pit bull owner, by the way, but still a good and fair reporter.
http://blogs.houstonpress.com/hairballs/2009/01/winograd_barc_no-kill.php#more

http://www.houstonpress.com/2009-01-29/news/barc-sucks/6

Winograd is the conductor and the rest follow.

Bagheera Kiplingi | 7/30/2010 2:33 PM | Flag
It's despicable what these thugs have done to Vanessa Carlton. I can't help but feel that crimes have been committed against her as well as crimes against what should be considered a NOBLE profession - journalism. Who do reporters answer to besides their newspaper bosses? Who or what oversees and regulates the media?

ItsATragedy | 7/30/2010 2:42 PM | Flag
I'm sorry, I forgot to post the link that gives the specific information about the persons running the Pocono Record and their credibility record.

http://www.mondotimes.com/1/world/us/38/2189/5396

trigger770 | 7/30/2010 2:58 PM | Flag
Pocono Record Ratings
Content: Poor (4 votes)
Political Bias: Liberal (4 votes)
Credibility: Low (4 votes)

It's just a fluffy paper with a wiggly butt!

CKing | 7/30/2010 8:44 PM | Flag
I have nothing meaningful to add except my support of this incredibly comprehensive expose of total insanity and mass hysteria. I also commend Craven Desires because that blog laid it all out so I could understand the weird, crazy,selfish, and despicable motivations of the actors in this horror show.

I cannot imagine what it must be like to be a child in that household with Bella the bloodthirsty star.

Anonymous | 11/04/2010 4:30 AM | Flag
THIS DOG JUST ATTACKED A 17 YEAR OLD GIRL(OWNERS STEP DAUGHTER) AND NOW THEY PUT THE DOG DOWN ITS ABOUT TIME
THEY BOUGHT THIS DOG FROM A STRANGER OFF THE SIDE OF THE ROAD NOT KNOWING ANYHTING ABOUT WHERE THE DOG CAME FROM OR ITS BACKGROUND
THATS 3 BITES FOR THIS DOG THAT SHOULD HAVE BEEN PUT DOWN A LONG TIME AGO

GetAPetaHome | 8/08/2015 2:54 AM | Flag
Wow! I hope Bella's owners were sued to the roof, but I won't be happy until there is criminal justice for these sadistic people. I cannot believe how many similar stories exist. I am new to this topic & shocked at now many keep coming up. I see terms like "trial" and "death penalty" for the dogs, used by media only in the cases of VICIOUS ATTACKS BY PIT BULLS. This is very telling. It seems that the only justice and safe actions we see, is what takes place when a pitbull is killed at the scene, during the attack. It's unfortunate that it's come to this, but the Google story that comes up when you search for "brave lady takes on two pit bulls" shows the pit bulls' owner, in a fit of anger that her pit bulls were killed several blocks from home, in the process of attacking this lady and her dogs, which happened already on numerous occasions, which is why she began to take her dogs on walks armed and prepared. (No gun this time). As seen with a case of little Kevin Vicente, these people will go to great expense to save a Pit Bull, but don't give a rat about a little child who horrifically mauled by the dog and disfigured. They were going to go to any length to save the dog and blame the boy, who was attacked from behind (PREY DRIVE is behind pit bull attacks), and the PIT PUSHERS didn't care anything about him whatsoever. This is sickening! And someone needs to make a stop.