Wednesday, May 12, 2010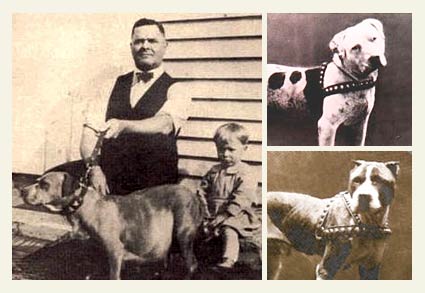 John P. Colby and son Louis (1922), Colby's Pincher (top) and Colby's Twister
.
View Archive Article
Newburyport, MA - While researching fatal pit bull attacks of the early to mid 1900s, we came across the most damaging fatal attack the pit bull community has ever known. To start, in 1901 a pet pit bull
killed its owner's mistress
, in 1909 a pet pit bull
killed its owner's brother
, in 1945, a pet pit bull
killed a 21-month old baby
in Los Angeles (just 3-months before fighting pit bulls killed
Doretta Zinke
) and in 1947, a group of pit bulls
killed an 11-year old boy
in the Bronx.
1
Further research showed that a pit bull owned by John P. Colby, producer of prized fighting dogs, killed his 2-year old nephew, Bert Leadbetter.
The Death of Bert Colby Leadbetter
On February 2, 1909, one of
John P. Colby's
renowned "Colby Dogs" snatched his nephew by the neck, "ferociously shook him like a rag" breaking the child's backbone and spine. The child, Bert Colby Leadbetter was quickly killed. The boy's mother, Elizabeth Colby, had been visiting Colby's Newburyport home on Franklin Street when the deadly attack occurred. The mother was left incapacitated and her husband, Richard Leadbetter was quickly summoned from Lynn.
2
Bull Terrier Kills Child




Grabs Him by Throat at Newburyport.
Bert Leadbetter, 2 Years Old, of Lynn on Visit.
Uncle John P. Colby Owner of the Dog


NEWBURYPORT, Feb 2, 1909 -- Bert, the 2-year-old son of Mr and Mrs Walter Leadbetter of Lynn, was killed this afternoon by a fighting bull terrier, owned by his uncle, John P. Colby, at 36 Franklin st.
Mrs Leadbetter and her son had come here to visit her brother, who is a dog fancier. The little fellow wandered into the yard where the kennels are.
The dog sprang at the child's neck and growling ferociously shook him like a rag. Then the savage animal, dropping its prey, snapped at other portions of the body, inflicting a number of wounds.
Mr Colby ran out, drove the dog away and bore the child into the house. He was faintly breathing, but quickly all signs of life disappeared. Medical Examiner Hurd, who was called, found that the backbone and spine had been broken at the base of the brain. The other wounds, while serious, were not necessarily fatal.
The mother was prostrated. Mr Leadbetter was hastily summoned from Lynn.
Mr Colby was very secretive about the affair and declined to give out any details. The police were not notified. Patrolman Hayes, whose beat is at the south end, heard of the death and reported it to the marshal, who ordered an investigation. The patrolman was finally able to secure the particulars.
No action has been taken relative to the dog. Mr Colby told the medical examiner that his own child

3

had played about the kennels and had never been molested.

- Boston Daily Globe, February 3, 1909
The Myth of "Culling" Man-Biters
Pit bull advocates must resort to lies to protect the breed. One of these lies is that breeders of fighting dogs
culled biting pit bulls
(also known as man-biters
4
). They even say that children are
especially
safe with pit bulls because "instant" culling occurred when
any
human aggression was shown. We know this is untrue about breeders of fighting dogs, both in the past and current, as well as by pit bulls today who are routinely returned to their owners after an attack unaltered.
Did John P. Colby cull the pit bull that killed his nephew? This is unknown. What is known is that Colby produced man-biters, such as the one that savaged Bert Colby Leadbetter, continued to breed fighting dogs and continued to fight his dogs long after 1909. The death of his nephew did not slow his breeding business down, which continues today over 100 years later. Sadly, Colby and friends likely referred to the incident as a "
yard accident
" not long after the boy's death.
John P. Colby Popularized Pet Pit Bulls
Prior to the era of John P. Colby's breeding program (1889 to 1941) breeders and fanciers of the "pit dog" (pit bulls bred for fighting) were a tight group. According to a July 1994 issue of the Registrar for International Sportsman (See:
Page 5
), "The finest dogs were only passed to family and the most trusted friends and the secrecy of their lineage was closely guarded. Colby broke this long-held tradition by offering stud services and pit bull puppies to the "common man."
Colby is attributed to popularizing the American pit bull terrier to the general public and was one of the first fighting dog breeders to do so.
The Sportsman article also notes that Colby was a charter member of the Staffordshire Club of America and backed them in "forcing the breeds acceptance" into the registry of the American Kennel Club (AKC). In 1936, the AKC accepted the breed but only under the name "Staffordshire" to distance the dog from its purpose-bred past:
explosive dog-aggression
for dogfigting. As a standard for the Staffordshire breed, the AKC chose the fighting dog known as
Colby's Primo
.
After Colby's death in 1941, his wife Florence continued the Colby breeding program. She was also the president of the Staffordshire Club of America. As stated in the Sportsman article, she "worked closely with the screening process of the American pit bull terrier into the American Kennel Club under the name Staffordshire," which dispels yet another lie voiced by pit bull advocates: The American Staffordshire terrier and pit bull terrier are
two separate breeds
.
Lastly, Colby's "Famous Fighting Dogs," as advertised in a January 1918
Dog Fancier magazine
, were not famous due to their appearance. They were famous for being the
gamest
pit bulls, dogs bred to finish a fight or die trying. Two of Colby's sons later memorialized the famed dogs in books. In 1936, Joseph Colby wrote, "
The American Pit Bull Terrier
," and in 1997, his brother Louis Colby coauthored, "
Colby's Book of the American Pit Bull Terrier
," with pit bull expert Dianne Jessup.
Analyzing the 1909 News Article
The 1909 article refers to Colby as a "dog fancier." Many breeders of fighting dogs still call themselves a fancier today. The name appears innocent, but when combined with pit bulls, it often means "dog fighter." The article also states that Colby was "very secretive" about the incident. We expect that he was. If word got out that the "Colby Dogs" were child killers, the carefully constructed lie,
"Pit bulls are merciless in the pit, yet make loyal, loving pets,"
would be destroyed.
It is noted near the end of the
Boston Daily Globe
article that "police were not notified." Back in that time period, many "sporting gentlemen" (dog fighters) were
officers of the law
. It may be that the officer who covered Colby's "beat" was notified, but took no action. He may have even owned a Colby dog. The most telling aspect though, and strong indicator the dog was
not culled
, was that "no action" was taken about the dog. Colby likely kept the dog because it had breeding value.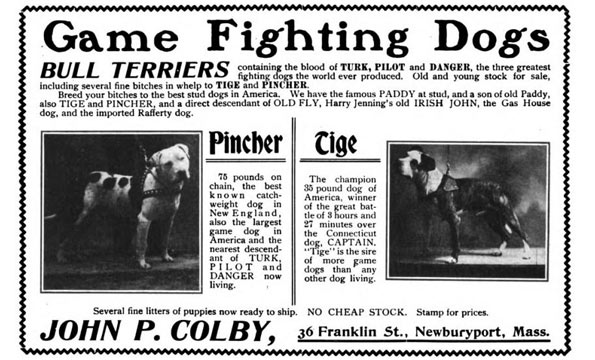 ---
1
We also uncovered a 1897 attack that the writer described as "one of the most brutal things ever recorded of a civilized community." Otherwise known as a pit bull attack. The victim, Julia Carey, was left "disfigured for life."
2
Colby dogs may have victimized other children and adults. We know that in 1906, a Colby dog was shot dead by police for running loose without a collar. ("Boy Bitten, Girl Escapes," The Boston Globe, December 29, 1906.)
3
At the time of the incident, Colby's first child, John Pritchard Colby Jr. was about 3-years old.
4
Dogmen Conversations About Man-Biters and Man-Eaters, by DogsBite.org (a collection of dogfighting forum board conversations)
Related articles:
12/29/08:
Part III: Doretta Zinke, 39, Killed by 9 Pit Bulls (1945)
12/07/08:
Part II: Doretta Zinke, 39, Killed by 9 Pit Bulls (1945)
11/29/08:
Part I: Doretta Zinke, 39, Killed by 9 Pit Bulls (1945)
Labels: Breeder-Related Fatality, Dogfighting, Early Fanciers, Explosive Aggression, Fatal Pit Bull Attack, Historical Fatal Pit Bull Mauling, John Colby, Pit Bull Myth, Visiting Child

Please donate to support our work
DogsBite.org is a 501(c)(3) tax-exempt public charity organization. Learn more »
posted by
|
permalink
|
16 comments
|

email
|

blog rss
|

comment rss

16 comments:

cravendesires | 5/12/2010 12:16 PM | Flag
awesome research. you not only blew up the man biters were culled myth, you blew up the old time responsible dogman myth. YOUR'E HIRED!

here's my favorite part:
"Mr Colby was very secretive about the affair and declined to give out any details."

one thing i find really striking about all of these old articles, is how american pit bull terrier, pit bull terrier, bulldog, bull terrier and terrier are so interchangeably used.

Bagheera Kiplingi | 5/12/2010 2:26 PM | Flag
The nutters and dog fighters of today always point to poorly bred pit bull dogs as the root all of pit mayhem. They always say that a "properly" bred pit bull dog won't attack humans, and a "properly" bred pit bull dog is especially gentle with children. You blew up the Nanny Dog myth too. Good job!

P. | 5/12/2010 2:28 PM | Flag
I am blown away, my mouth is still hanging open. Thanks, DBO, this is killer and it will be used.

trigger770 | 5/12/2010 3:00 PM | Flag
These dogs have been killing machines for over a hundred years. As soon as they arrived in the U.S., starting around 1870, they started killing. I wonder what the 1940s, 1950s and 1960s look like? Searching just "pit bull kills" may not locate many of the attacks as breeders and the media called the dog so many different names. One would have to search the following terms: bulldog, bull terrier, pit dog, bull pit terrier, pit terrier, Staffordshire bulldog and Staffordshire bull terrier.

Also, it should be mentioned that in the early to mid 1900s, dog bites that resulted in death were mainly due to rabies (One rabid dog could easily bite and infect 10 people or more, aka the "mad-dog" syndrome. People were scared to death of being bitten by a rabid dog.). As seen in the 1897 attack of Julia Carey, the community reacted with horror: "One of the most brutal things ever recorded of a civilized community." Fatal attacks involving dogs that intended to kill were very rare back then.

Lastly, it's now indisputable that by 1947 the U.S. public had been exposed to several high profile fatal pit bull attacks headlining newspapers from coast to coast. In 1945, we might be witnessing the fist "save the killer pit bull" campaign as well ("Save Woof" movement started by dog fighter Grady C. Terry). It's ridiculous to believe that these dogs were ever seen by the public as, "gentle loyal family pets." That's hogwash. These dogs were seen as killers back then and killers now.

ItsATragedy | 5/12/2010 3:14 PM | Flag
This is Newburyport Massachusetts right?

THERE ARE FIGHTING DOG BREEDERS IN THE AREA TO THIS DAY!

Ipswich Massachusetts, Newburyport, that whole area.

A state Representative, Brad Hill http://www.bradhill.org/ has been colluding with some of them to oppose bsl and to implement fake dangerous dog laws that actually HELP DANGEROUS DOGS ATTACK AND KILL by allowing multiple attacks, allowing records to be wiped clean, etc

Brad Hill is in direct collusion with these dog fighter breeders, and breeders directly connected to lobbying groups that dog fighters belong to and lobby with. This is also a legislator colluding with people who don't report their income (dog breeding or gambling) and don't pay their taxes.

This is a perfect example of organized crime manipulating a legislator.

It is reprehensible.

The MSPCA in Massachusetts, supposedly a state humane organization, has also been working to PROTECT dog fighters and dog fighter breeders. They are helping these breeders torture these dogs.

Some of these dog fighter breeders work through a state breeder group that is mostly AKC to oppose laws (including laws like breeder licensing. Dog fighters can easily do their work with no breeder licensing) but of course AKC breeders lobby WITH the dog fighters all the time.

ItsATragedy | 5/12/2010 3:23 PM | Flag
You might be interested in this media article about some of the area pit bull breeders and their anti-legislation activities and propaganda, as well as the MSPCA, a supposed humane organization for the state, supporting the pit bull breeders. Look at Scott Giacoppo repeat lies from the DOG FIGHTERS. Yes, this man Giacoppo is a deputy director of MSPCA. Wonder why this trade is flourishing in Massachusetts?

http://www.newburyportnews.com/local/x845806833/Local-pit-bull-fans-oppose-ban/print

It is interesting that the family seems to have forgotten or ignored the killing of a child in their own family by one of their own pit bulls. Notice that Louis Colby refuses to be interviewed.

The media of course has no idea what skeletons are in the closet. No mention of the ancestor being a DOG FIGHTER.

"But, with state legislators considering a statewide ban on pit bulls after several recent incidents in which the dogs attacked humans in Boston and Worcester, that could be about to change.
State Rep. Vincent Pedone, D-Worcester, House chairman of the Joint Committee on Municipalities and Regional Government, said he wants to consider rewriting the state's dog laws to ban pit bulls in Massachusetts.
The ban would be bad news for pit bull lovers like Louis Colby, who breeds pit bulls at his Newburyport home. Colby traces his dog's breeding line back 20 generations to animals brought to this country from England and Ireland by his father in 1889. In the 1930s, when the American Kennel Club first recognized the Staffordshire Bull Terrier -- one of several breeds now known casually as pit bulls -- they chose a Colby dog as the standard for the breed.
Colby declined to comment for this story, citing bad experiences with media attention in the past. But his granddaughter, Jaclyn Colby, was eager to defend pit bulls from their bad reputation."

ItsATragedy | 5/12/2010 3:25 PM | Flag
That article is further proof that the AKC is right in the middle of all this with their Staffordshire Terrier

"In the 1930s, when the American Kennel Club first recognized the Staffordshire Bull Terrier -- one of several breeds now known casually as pit bulls -- they chose a Colby dog as the standard for the breed."

HonestyHelps | 5/12/2010 5:09 PM | Flag
Beautiful, just beautiful, DBO. I've got it up on my blog already, can't wait to start hitting the nutters between the eyes with it.
www.workingtohelpanimalstodaytomorrow.blogspot.com

lisa.yaeger | 5/12/2010 5:17 PM | Flag
This just sends shivers all over me, and makes me anxious. I always knew that there was no way that winning dogs would be "culled" for simply biting someone. Not only do we have the dogfighters propogating man-biters, we now have all the rescues and owner's duped by the dogmen also propagating man-biters, and rallying for the man-killers and man-biters to be spared, and given a chance to be "loved and rehabilitated." Lord help us. Y'all pray for me and my family, please. A pit bull and her nutters have moved in next door to us.

P. | 5/12/2010 9:47 PM | Flag
Lisa, will do but just know your laws. Law wins out over emotions when it comes to animal control. Check before you have trouble to see about your role as the reporting party (RP). Viligence always. Ask for a call number, whatever they call it, usually they issue something so followup can be done. And when you do that, they get the message that you know what you are doing, get maybe a little better service that way. Keep emotions in check and don't undermine your credibility. I know animal control as a whole well and how you come across makes the world of difference. Keep in mind that you'll find pit owners in animal control. I have a neighbor with a pit as well. Best.

Dark | 5/12/2010 11:55 PM | Flag
Fantastic. This is solid gold! What an amazing find! You can bet this will be used the next time I see the words "nanny dog" or "man biters were culled" in another pit apologist's post.

ItsATragedy | 5/13/2010 10:27 AM | Flag
The term "fancier" has very clear and deceptive uses when it comes to dog breeders.

They use the term "fancier" in their false assertion that they are "hobbyists," that they are not running businesses.

They ARE running businesses, very profitable ones, and the income is not being properly reported and taxes aren't being properly paid.

"Fancier" is essentially code for TAX CHEAT and illegal business.

It's a cover-up word.

ItsATragedy | 5/13/2010 10:32 AM | Flag
The Colby family is also involved in breeding related to bird fighting or cockfighting, and is shipping fighting birds to the Philippines

http://cravendesires.blogspot.com/2010/05/john-p-colby-fountainhead-of-american.html

lisa.yaeger | 5/13/2010 11:11 AM | Flag
Thank you so much for the advice, P. Colleen gave me some great advice, too. I will do as you both have suggested. And, I will put on my big-girl panties while doing it :).

All the info that has been posted here about what is going on in Massachusets just proves the point that the large criminal underground of dogfighting has successfully infiltrated our system, and the breeder lobby is more than happy to have that happen, as it benefits them as well. What's a few lives here and there? A few people disfigured for life? Just a yard accident...just a dog being a dog. Happens all the time. What are you gonna do? Outlaw cars next??? I appreciate those of you that are able to maintain composure when dealing with the nutters. I'm working on it. How seredipitous that my captcha word below is "Humble."

cravendesires | 5/13/2010 6:07 PM | Flag
a commenter just left this link on my blog:

http://www.newburyportnews.com/local/x845806833/Local-pit-bull-fans-oppose-ban/print

Colby declined to comment for this story, citing bad experiences with media attention in the past. But his granddaughter, Jaclyn Colby, was eager to defend pit bulls from their bad reputation.
"I grew up right next door to my grandfather, and even back when we were 8, my friends and I would go over and visit them," she said. "They were all so nice -- we never worried about anything. It wasn't until much later that I even learned that pit bulls have a bad reputation."

Anonymous | 10/31/2010 7:56 AM | Flag
Colby produced and sold over 5000 pit bulls...His heirs enjoy the fruits of his blood money.