Tuesday, April 27, 2010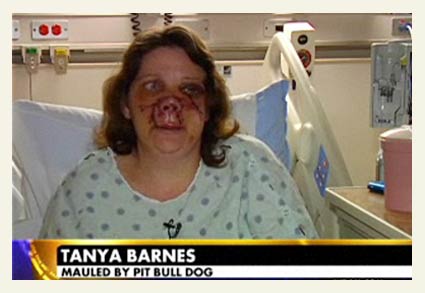 Tanya Barnes recounts violent pit bull attack from hospital bed.
1
Victim Signs Release
UPDATE 04/27/10:
In what can only be described as "deplorable" victim exploitation, Tanya Barnes signed a release Tuesday allowing both pit bulls to be returned to their owner. Earlier in April, Barnes was violently bitten in the face by a female pit bull after a male pit bull stepped on a puppy causing it to bark. Instead of attacking the male dog, the female clamped onto Barnes' face causing life-altering injury and the likelihood that Barnes will be forced into bankruptcy.
04/16/10:
Permanent Disfiguring Injury
Columbia, MS - In a shockingly candid account,
2
Tanya Barnes describes how a friend's pit bull nearly tore her face off. The powerful interview is eleven minutes and twenty seconds long. Words that you will not forget include: eyeball, jugular, massive, jaws, flesh, ripped, rattlesnake, 30-seconds, stitches, blood, flung, shook, pulled, $500,000 and clothes "cut off." Barnes adds: "[Pit bulls] are not cute fluffy little puppies forever. They grow up and their natural instincts kick in."
"This is not okay," she said referring to her injuries. "Somebody needs to be responsible for this."
Barnes has had two surgeries so far and will likely need several more. Barnes could not afford the COBRA insurance co-payments after the death of her husband. She currently has no insurance. She does not know how she and her children will get through this. "I want my kids to go to school. I want them to have a future. We don't have money socked back in an account somewhere. This is taking our light bill money to get prescriptions filled when we get out of here."
A 30-second pit bull attack equals a
lifetime
of injury and ruinous medical bills.
1
In September 2011, we discovered that WLOX had removed the original video. We could only find one other replacement, a video from dog bite victim advocate Zupf, who had to alter the imagery so that the pit bull community could not flag the video as "too extreme" under YouTube's "family fun" guidelines.
2
Though very conscious and courageous, we believe Barnes is still in shock. The violent attack occurred just a few days ago. The true jolt of the incident and its long-term repercussions is yet to come. While the male pit bull may have saved her life, it was the same dog that stepped on the puppy causing the attack.
Full article:
Columbia Woman Barely Survives Pit Bull Attack
Labels: Tanya Barnes, Zupf Video

Please donate to support our work
DogsBite.org is a 501(c)(3) tax-exempt public charity organization. Learn more »
posted by
|
permalink
|
17 comments
|

email
|

blog rss
|

comment rss

17 comments:

lisa.yaeger | 4/16/2010 3:11 PM | Flag
Just seeing the still photo had me in tears. Tanya Barnes beautifully articulates her ordeal. I doubt I could do so if it happened to me. The amount of damage that dog caused in a mere 30 seconds is horrifying. Other breeds would growl and perhaps snap when they are in protection mode. She is so compassionate about the mother dog, but realizes that that kind of response from a dog is just not acceptable. It is so beyond the pale. My heart goes out to her.

Dark | 4/16/2010 4:10 PM | Flag
This was absolutely heartbreaking, but this woman is such a hero for speaking out from her hospital bed. People need to see the real faces of pit bull attacks. They need to be made to understand that the right of dog ownership does not trump people's right to live. I'm utterly appalled that SHE had to make her own 911 call. The same thing happened during my attack. I think that dog owners who refuse help to the victims or won't make the call ought to be jailed.

trigger770 | 4/16/2010 9:58 PM | Flag
A very brave woman. I could feel every word she spoke. It was all that I could do to just to hold myself and cry and she shared her story. I pray for Tanya and her family. I pray that the hospital and community will help her pay these medical bills and help her through this horrible trauma.

ItsATragedy | 4/17/2010 7:34 AM | Flag
Could it be at last that the media is starting to care about the many, many victims of pit bulls, and perhaps stop being a pawn to the dog fighters and dog breeders?

For too long the victim has had no voice, while the dog breeding industry gets to lie about these attacks and these dogs.

For an example of two pawns doing the work for the dog fighters with lies, conjecture, victim blaming, outright falsehood, and speculative trash, take a look at these two fake reporters reprinting what the dog breeder industry has fed them

http://www.tampabay.com/features/humaninterest/article1086363.ece

Degregory and Anton have taken this batch of lies covering up pit bull attacks, and are doing the dirty work of dog fighters and dog breeders trying to stop regulation so they can keep making a mountain of money from pit bulls.

DeGregory and Anton are helping CRIMINALS.

Corrupt, fake "reporters" like these two mean that the pit bull attacks continue. They are telling people that pit bulls are safe! These two have blood on their hands for propagandizing for dog fighters and the breeders.

They are participating in organized crime.

Can you imagine any real reporter blaming the victim, as the dog fighters do? This kind of journalistic corruption leads directly to death.

Torn between two nutters | 4/18/2010 6:44 AM | Flag
The great thing here is that the breeder who sold this animmal most likely isn't even paying sales taxes nor declaring income from the Pit trafficking.

Pit Breeders Produce Suffering...

REGULATE NOW!!!!!

trigger770 | 4/22/2010 9:39 PM | Flag
It was likely the video of Tanya Barnes:

Tuesday, a video of a local television station's report of a woman being attacked by a dog was played for the council and audience. After the video, the council voted 7-0 to approve the first reading of the ordinance amending sections from Ordinance No. 1210-1993 outlined in the Laurel Code of Ordinance of Chapter 5 "Animal Control."

http://leadercall.com/local/x1687720589/City-officials-move-towards-tougher-dog-ordinance

7-0 vote.

bitbypit | 4/22/2010 10:01 PM | Flag
We've posted the photo of the 7-0 vote after Laurel City Council members watched the Tanya Barnes video. There is no denying her powerful story, which also details the effect the attack will have upon her family. Rarely do media groups post an 11 minute segment, a segment long enough to capture the reality of pit bull injury.

http://www.dogsbite.org/img/laurel-city-council-7-0-vote.jpg

Dude I Bagged Ur Pit | 4/27/2010 8:22 PM | Flag
"Man biters were always culled!"

Yep, that was and is the claim. Yet here is another known man biter being returned to a pit breeder so he can produce more maulers.

It's no surprise, really. This is the way it has always been, in the real world, away from the imaginative minds of pit bull marketing cults.

trigger770 | 4/27/2010 10:50 PM | Flag
Tanya Barnes MySpace page
http://www.myspace.com/tanyabarnes0921

My name is Tanya Edwards-Barnes-My sister-in-law created this MySpace profile for me so I could be listed as the number one friend of her brother, my husband for almost 21 glorious years...his name was Stuart Wayne Barnes. We were friends, lovers, partners, spouses & SOULMATES~ tragically he was killed on December 18, 2007 when his 18-wheeler flipped. My life eeks along, going from one breath to the next. God blessed us with three great sons-Eric, Tyler, & Jacob who are my only reason for waking up each day. My husband's family IS MY family and we are a close knit group. Their love and support is immeasurable and appreciated more than they could ever know. I am still at a period in my grief where, even tho' I adore all of them, I am so aware of the VOID created by Stuart's absence, that I stay home most of the time listening to Stu-Baby's favorite songs...

On top of the tragic loss of her beloved husband, Tanya now has to deal with horrible pit bull injury and the mental and financial repercussions of the attack.

1.) Tanya, amidst horrible severe injury, made the call to 911; the pit bull owner did not.
2.) Tanya had the "real" maternal instincts; she thought only of her children by making hand signals of their phone numbers while in the ambulance.
3.) Tanya had been consoling the "unnamed pit bull owner" due to a loss this person had recently suffered.
4.) What kind of dog owner could ever look at this dog again? A pit bull owner who plans on more breedings.

lisa.yaeger | 4/30/2010 3:28 PM | Flag
Tanya has a very big and forgiving heart, and I am not surprised that she opted to spare the dog. I don't agree with it at all, for the reasons that Dude said -- she's a man-biter and needs to be culled!

I have a started a letter to the Laurel City Council -- we should all write them a letter, because you know they are getting bombarded from the Pit Bully Brigade. No, I don't live there, but neither do the Bullies.

ItsATragedy | 5/01/2010 5:25 PM | Flag
This dog is going to kill someone and then Laurel City, Laurel City Animal control, and the Laurel City council will be sued because they returned a known dangerous dog.

They can't hide behind the victim's signature because she's been traumatized.

So do you think they ever collected back taxes on the illegal pit bull breeding operation?

I found this for the federal tax fraud http://www.irs.gov/individuals/article/0,,id=106778,00.html

Veryreal Casting | 6/04/2010 12:57 PM | Flag
Hi everyone,

I just came upon this heartbreaking story. My name is Lily Marotta and I am working with the Discovery Health Channel. We are putting together a new program that provides full reconstructive surgery to victims of facial injuries. We would MORE than love to help out Tanya. Travel and medical expenses are all paid for by us! Does anyone have contact info for Tanya? Anything would help. My email is Mwollcasting@gmail.com

Thanks

Tanya Edwards-Barnes | 6/22/2013 11:59 PM | Flag
Thank you. It continues to be a serious issue in my life!:-/


Tanya Edwards-Barnes | 6/23/2013 12:08 AM | Flag
I have only just seen the comments here, I tried to shut everything out, but it refuses to stay in my past:( i am glad that you came to this vote. The whole attack was, and continues to be devastating.
The report that I signed a document to allow the dogs to be released to their owner is false. I signed no such thing and if I had, the medication I was given had me in a place where it would never have been consiidered legal anyway.

Tanya Edwards-Barnes | 6/23/2013 12:14 AM | Flag
I sure wish you had actually been able to help me in this matter. I cry every day and the trauma and scars never fade.

Tanya Edwards-Barnes | 3/25/2014 12:26 AM | Flag
Thank you - still many medical bills ahead as a result of this horrible attack! What happened to you?

Tanya Edwards-Barnes | 3/25/2014 12:28 AM | Flag
Glad SOMETHING good came from my attack!