Thursday, December 10, 2009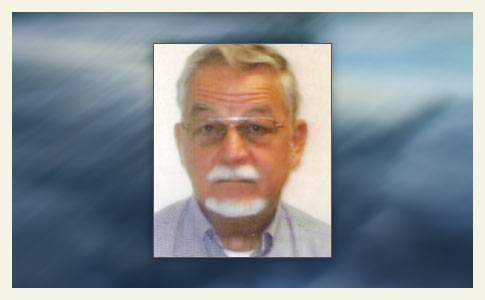 Lowell Bowden died after being horrifically mauled by a pack of pit bulls.
Victim Dies of Injuries
Lindside, WV - On November 27, Lowell Bowden was attacked by a pack pit bulls. Lowell's family submitted a statement to DogsBite.org that recounts the attack that led to his death on December 4. This marks the
second fatal dog attack
in West Virginia this year, both attributed to pit bulls. We urge West Virginia citizens to contact their state legislators and ask that they sponsor a bill that provides felony punishment for owners of loose dogs that seriously injure or kill a human being.
The

Bowden Family Statement


"The family of Lowell Bowden is saddened and horrified by his death. On Friday, Nov 27, 2009, the day after Thanksgiving, Lowell went for his normal walk, around 4:00 pm on the same main, gravel road in the subdivision in which he and his wife live, in Lindside WV, with no knowledge or indication of potential danger. Two hunters, a man and his young daughter, came upon 4 pitbull breed dogs attacking something. When they realized that it was a person, the man got out of his car, and stomped his feet trying to scare them away. When the dogs did not move from their kill, the hunter fired a shot in the air, so as not to accidentally shoot Mr. Bowden, which made 3 of the 4 dogs run away. One dog still stood in defiance, growling, before running away.
The hunters got help, and a neighbor notified Mr. Bowden's wife and family, at their home, not less than 1/4 mile away. Mr. Bowden had no vital signs, but the emergency medical technicians brought him back to life and took him to a local hospital, where he was then air-lifted to a hospital in Roanoke. He was put on life-support in critical condition. Mr. Bowden was maimed beyond recognition, with no facial features remaining and other horrific disfigurement. Mr. Bowden passed away on Friday, Dec 4, 2009 early in the morning.
The family holds the owners of the pitbulls and the county responsible and accountable for Mr. Bowden's death. The owners of these dogs had previously been cited, and only fined, by the county for chasing and harassing children and horses. By West Virginia state law, the homicide of Mr. Bowden is only considered a misdemeanor. They want to make sure that no one else ever has to face this horrific event, by changing the West Virginia state law to make maiming or death by owners of any dangerous breed of dog, a felony. This breed of dog is nationally considered dangerous and vicious, and these particular dogs were allowed to roam free, by the owners, in a pack. Based on the history of attacks by this breed of dog, this attack never should have been allowed to occur by these negligent owners, and the family never should have to be dealing with the nightmare of the death of their beloved husband, step-father, brother-in-law, uncle, and grandfather. The family, although during their time of suffering and pain want to concentrate their efforts to change state laws to send a loud and clear message to irresponsible and negligent dog owners of any breed, to manage the keep of their dogs according to strict guidance, or suffer the punishment of a felony instead of a misdemeanor of that this does not ever happen again. No more one free bite, one free mauling and no more one free homicide!"
Summary of Legal Proceedings
December 9, 2009 - Sheriff's deputies charged Justin Blankenship, his mother Kimberly Blankenship, Anna Hughes and Mose Christian with involuntary manslaughter charges. The four were previously charged with misdemeanors.
August 2010 - Justin Blankenship, 19, entered a guilty plea to involuntary manslaughter and four counts each of failure to register dogs and failure to vaccinate for rabies. He also pleaded guilty to an unrelated charge of manufacturing marijuana.
August 2010 - Charges against two other people, Mose Christian and Anna Hughes, both of Mercer County, were dropped because no evidence was found linking them to ownership of the dogs that attacked Bowden, according to the prosecutor.
February 2011 - A Monroe County jury found Kimberly Blankenship not guilty of involuntary manslaughter in connection to Bowden's death. The acquittal came after testimony from Justin Blankenship, who took full responsibility as the dogs' owner.
September 2013 - The WV Supreme Court agreed to hear a civil case brought by Bowden's estate against Monroe County Commission, Patricia Green (the dog warden), American Modern Home Insurance Company and the four defendants.
September 2013 - The high court reverses lower court's ruling. "According to the high court's memorandum decision, before Bowden could amend her complaint and prove the dog warden was not immune to being sued, a judge wrongly dismissed it.
October 2013 - The ruling allowed Dreama Bowden's wrongful death lawsuit against the Monroe County Commission and the county dog warden to continue. By this time, the other defendants had settled or had default judgments entered against them.
As of November 17, 2016 the case was back at the appellate level...
May 18, 2017 - West Virginia Supreme Court of Appeals reinstates lawsuit against the Monroe County Commission and Dog Warden Patricia Green. "We find the circuit court's rulings in both orders to be erroneous." - Justice Robin Jean Davis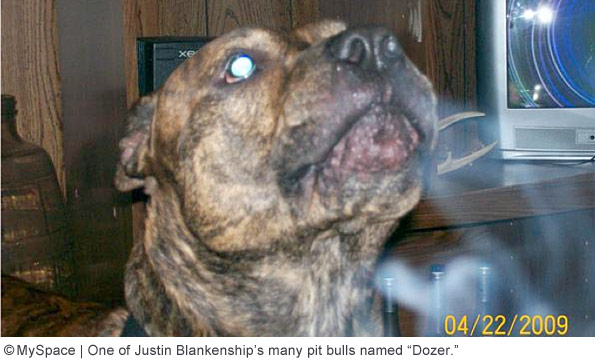 Related articles:
08/18/09:
2009 Fatality: Infant Killed by Pet Pit Bull in Hardy County
08/23/08:
Suing Animal Control Agencies After a Dog Attack
Labels: 2009 Dog Bite Fatality, Appellate Court, Criminal Charges, Fatal Pack Attack, Fatal Pit Bull Attack, Senior Citizen Fatality, West Virginia

Please donate to support our work
DogsBite.org is a 501(c)(3) tax-exempt public charity organization. Learn more »
posted by
|
permalink
|
25 comments
|

email
|

blog rss
|

comment rss

25 comments:

Anonymous | 12/07/2009 1:09 PM | Flag
Another pit bull "advocate," a pit bull owner and their pit bulls, has MURDERED an innocent person, and the authority figures of West Virginia have colluded with this pit bull owner/breeder to allow this murder to happen.

Another probable illegal, no-taxes-paid pit bull breeding business, because West Virginia lets dog fighters and puppy mills run rampant with no regulation.

No enforcement of animal control laws. No seizure and euthanization of dangerous dogs that are likely to kill.

A criminal gets enabled, and kill they did.

Anonymous | 12/07/2009 1:13 PM | Flag
Will state and federal tax authorities investigate this criminal business? The probably YEARS of no taxes paid, while possibly illegally collecting government assistance and not reporting income?

Or will these criminals get away with multiple crimes?

Please please, family of this poor man. You must hire an attorney that specializes in dog attack victims, and you must sue the breeders, the owners of the property, and the authorities that let these criminals murder.

I am so sorry for your loss, a loss that need never have happened.

Anonymous | 12/07/2009 1:28 PM | Flag
Family of Lowell Borden, I grieve for you.

I know how difficult it is, but I hope you can advocate for the victims of pit bulls in WV, and educate legislators on not only the dangers of these dogs, but the corrupt lobbying and lies of the pit bull breeding and "advocacy" population that will deluge legislators with opposition to any laws.

The pit bull lobby only cares about protecting the incomes they get from pit bulls and fighting against regulation, and they make up any amount of lies and propaganda to trick legislators into believing these dogs are ok.

They will put heavy pressure on legislators to oppose laws.

Meanwhile, they are tax cheats of the worst kind who are NOT reporting the income they make from these dogs and not paying taxes. They are bad citizens.

Most of the pit bull lobbyists that will oppose laws in your state will be from OUT of state, and your legislators probably won't know this!

Some legislators (and some members of the media) are foolish and gullible, and the mob lobbing manipulates them. Some legislators are breeders themselves or connected to some.

Pit bulls are bred as fighting dogs. THey are bred to be aggressive. They were NEVER bred to be "nanny" dogs nor "service" dogs.

And pit bulls top the list for killing people.

Pirt bulls ARE different from other breeds, but the pit bull lobbyists will tell any lie or make up any false statistic to hide this and protect their income from regulation

(and that includes so-called "humane" groups like Best Friends Animal Sanctuary and their registered lobbyist, Ledy VanKavage, who are advocating to protect pit bulls and working with pit bull breeders. While they pretend to be "experts," they don't reveal the financial interests they are working with and protecting)

Trigger | 12/07/2009 2:14 PM | Flag
Justic4papaw has posted as well:
---
http://www.ireport.com/docs/DOC-365714

Anonymous | 12/07/2009 3:49 PM | Flag
I knew this one was coming. Really, groups of elder advocates need to start speaking out in force against these dogs. If victims and potential victims don't start to squeak just as loudly as the zealots then this problem will continue until there are so many pits and so many deaths that it can longer be ignored or whitewashed. And, unfortunately, at that time there will be sweeping restrictions placed on the ownership of ALL dogs. If the law accepts that pits are "just like other dogs" then all dogs will pay the price when the deaths start to roll in at 100 or 150 or 200 annually (and it isn't far off with the exponential increase in the population of these dogs).

Anonymous | 12/07/2009 5:38 PM | Flag
Some chat about the Blankenships

http://www.topix.com/forum/city/peterstown-wv/TA3V2OCKFICM5MGLD

Notice this comment. I wonder how many of these pit bull attacks go completely unreported?

"that is the truth and i know this 4 a fact. My brother had one about 2 years ago and we all thought it was a good dog until it turned on my 5 year old neice and almost bit her fingers off. She was hospitalized for 3 days. It was awful. Them dogs ALL OF THEM should be completely out lawed"

Anonymous | 12/07/2009 6:31 PM | Flag
Piticide number 81 since 2005...but I'm sure we will hear about the Pom mix from 1999 that killed a newborn.

This one sounds like a clear case of manslaughter.

Anonymous | 12/07/2009 6:41 PM | Flag
Learn more about the pothead pit bull owners here:

http://cravendesires.blogspot.com/2009/12/cheech-and-chong-starring-in-west.html

Anonymous | 12/07/2009 9:04 PM | Flag
And if this poor man hadn't died from his injuries this would have been called...a BITE. The dogs ripped off and ate his nose, his lips, his cheeks, his eyeballs, and probably his hands, feet, and testicles, but if he had not succumbed he would have simply been added to the bite statistics.

Unreal.

Anonymous | 12/08/2009 2:33 AM | Flag
Another human aggressive Pit Bull breeding operation...Let's hope that the DA pursues Tax Evasion charges since this homicide will only draw misdemeanor charges under the idiotic dangerous dog laws.

A travesty!

Anonymous | 12/08/2009 6:30 AM | Flag
I'm too angry and appalled to post much at the moment except to say that my thoughts and prayers go out to the family of the victim. Stay strong, be there for one another, and look to places like this where you can find support for your cause and people who are willing to listen to you without defending the demon dogs known as pits.

bitbypit | 12/08/2009 10:23 AM | Flag
Lowell Edison Bowden

LINDSIDE — Lowell Edison Bowden, 70, loving husband, brother, and grandfather, passed away Friday, December 4, 2009.

Lowell was retired from the City of Dayton, Ohio, as a code enforcer.

He is survived by his wife of 18 years, Drema McMillion Bowden; three loving stepsons, and their families, Robert, Linda and granddaughter Katy; David, Carol and grandson Harrison; Brian, Angela and granddaughters Kylee, Keegan, and Kennedy; three sisters, Glena, Shelva, and Sue; one brother, Charles; and many loved nieces and nephews; eight brothers-in-law and their families.

Memorial services will be 7 p.m. Tuesday, December 8, 2009, at the Broyles-Shrewsbury Funeral Home Chapel, Peterstown, W.Va., with Rev. John Offenberger officiating. A time of fellowship and sharing memories of Lowell will be from 6 p.m. until time of services.

In lieu of flowers donations in his memory can be made to dogsbite.org at http://www.dogsbite.org/donate-dogsbite.htm or the Lindside Volunteer Fire Department, PO Box 156, Lindside, WV 24951.

In keeping with Lowell's wishes he has been cremated.

Online guestbook can be signed or condolences sent to the Bowden family at www.broyles-shrewsbury.com.

Arrangements by Broyles-Shrewsbury Funeral Home, Peterstown, W.Va.

Anonymous | 12/08/2009 10:50 AM | Flag
I have known Lowell for a few years and I have to say he was one of the nicest men that has ever walked the earth. He tried to help anyone and everyone he came into contact with and always had a nice word and smile for all! No one deserves such a horrible death. My heart goes out to Drema and their kids in hopes they can move past this and fight for the changes they need in the laws here. There are so many stray/wild dogs roaming the mountains and backyard breeding operations that this proves no one is safe to take a walk.

We love you Lowell and will miss you terribly!

Anonymous | 12/08/2009 11:25 AM | Flag
I am so distressed by this terrible murder.

I am so distressed that I know that another victim of pit bulls is out there, unaware, and going to meet a terrible fate that need not ever happen.

What kind of country have we become that we let a bunch of dog fighters and dog breeders control our lives?

cravendesires | 12/08/2009 1:20 PM | Flag
another senseless brutal murder by dog. we need a law specifically for this crime.

i find these attacks on the elderly who are just out for a walk to be the most disturbing of all. and the attitude towards it and the legal ramifications is just appalling. i have no sympathy for the owners of any of these dogs, none. they belong in prison.

receiving tickets for savagely violent deaths... it feels like i am living in a third world country.

Anonymous | 12/10/2009 6:59 AM | Flag
I'm glad to see that further charges are being filed. Frankly, when it comes to roaming packs of pit bulls, I think it should be murder, not manslaughter. At least they're doing something beyond the insulting slap on the wrist misdemeanor charges.

FoolMeOnce | 12/10/2009 11:09 AM | Flag
This is such a horrible tragedy -- not an accident OR the will of God, as some pit nutter would say. I am so glad that charges have been filed. The pit community is always saying that's what needs to be done (you know -- punish the deed, not the breed.) But it seems that whenever charges are filed, they cry foul, that is was just a terrible accident, with dogs doing what dogs do.

RIP, Lowell.

Anonymous | 12/11/2009 4:11 PM | Flag
Odd...In Ohio, where this good man spent his working years, Pit Bulls have mandatory enclosure, fencing and insurance requirements.

Anonymous | 12/12/2009 2:51 PM | Flag
ANY DOG can be trained to be a killer. It is the owners responsibility to see to it that they are in a confined fenced in kennel and on a chain if they ar ea vicious type of dog. BUT this particulap breed of dog should be a mandatory spay and neuter law until their is no more alive of this particular breed alive. It is abslutely horrible what happened to this gentleman I do not think a trained athlete could have gotten away from these killers if they had wanted to. I am heartbroken for this mans' family. they are in my thoughts and prayers and I hope they can find some comfort at this most dificult time that they are going through. Just know that your loved one is in a better place and is not suffering after what those killers did to him. I know that does not help much but God is with your family at this most difficult time.

Anonymous | 12/12/2009 7:53 PM | Flag
While it may be possible to train dogs to be killers, Anon, pits don't have to be trained for it. It's in their genes. That's the real danger of these animals. They can come from completely loving, truly well intended families and still snap and kill. There's no such thing as a safe pit.

Anonymous | 12/14/2009 3:43 AM | Flag
More denial from the Pro-maulers in the Pit community....This was clearly another of many human agressive Pit bull breeding operation.

81st Pit Bull DBRF in 5 years with no solution offered by the Pit Bull community.

Unfortunately, communities have no choice but to defend themselves and Ban the Breed.

Make Pit Bull breeding a criminal offense punishable by 10 years in Prison. There's a solution for ya!

Anonymous | 1/06/2010 2:33 AM | Flag
These Pit-breeders appeared at the first pre-trial hearing yesterday...They are charged with MANSLAUGHTER.

http://www.wvnstv.com/story.cfm?func=viewstory&storyid=72915

Trigger | 1/06/2010 4:24 AM | Flag
No. They are charged with INVOLUNTARY manslaughter, which carries a much less penalty I believe.

trigger770 | 8/21/2010 12:35 PM | Flag
Justin Blankenship:

"Monroe County Prosecutor Justin St. Clair said Justin Ray Blankenship, 19, entered a guilty plea to involuntary manslaughter and four counts each of failure to register dogs and not having dogs vaccinated for rabies. He also pleaded guilty to an unrelated charge of manufacturing marijuana."

http://www.register-herald.com/todaysfrontpage/x2137442528/Monroe-teen-enters-plea-in-dog-attack

Miss Margo | 9/14/2012 7:31 PM | Flag
What an awful way to die. It is difficult it imagine something worse. It goes without saying that Mr. Bowden didn't deserve this that it makes me sick to think of how he and his family suffered for days in the hospital until he finally expired. What torture for everyone.

There can be no justice done here. But there ought to be consequences. Harsh consequences upon Blankenship and Co.

I read three "victims of attacks" stories tonight and I can't read any more right now.

I keep imagining if it was my mother. If the victim was my mother.