Wednesday, April 16, 2008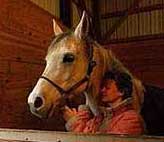 30 Days and Restitution
Livingston, MI - David Clyde McGalliard, whose pit bulls mauled a neighbor's horse in January, was sentenced to 30 days in jail. He was also ordered to pay $21,951 in restitution, two years probation, community service at the county animal shelter and substance abuse counseling. He is prohibited from owning pets during his probation.
"You are terribly lucky that this was not a human being," Judge Carol Sue Reader said. "The trauma is the same (for the victims). Our animals are our family members."
McGalliard pleaded no contest in an agreement with prosecutors last month on five misdemeanor charges: two counts of allowing animals to stray and three counts of having unlicensed dogs. His two pit bulls left his property and viciously attacked a 25-year-old Arabian mare inside its stall. A sheriff deputy arrived and shot both dogs. The horse had to be euthanized due to its injuries.
The horse's owner Kara Sepulveda spoke briefly to the court saying she would never be able to erase the memory of what she saw that morning. "I'm happy (McGalliard) showed remorse this time," said Kara. "I don't think he was at the last hearing." The restitution was welcomed, however, she called her mare "irreplaceable, the matriarch of our farm."
Related article:
01/31/08:
Arabian Horse Euthanized After Pit Bull Attack
Labels: Horse Attack

Please donate to support our work
DogsBite.org is a 501(c)(3) tax-exempt public charity organization. Learn more »
posted by
|
permalink
|
5 comments
|

email
|

blog rss
|

comment rss

5 comments:

Anonymous | 4/16/2008 4:32 AM | Flag
For community service he should have to appear on Dr Phil and explain the pitfalls of "Lion Tamer" complex.

Anonymous | 4/16/2008 11:28 AM | Flag
No doubt McGalliard was schooled by council on 'How to Express Remorse' after the first hearing.

21K seems like a paltry amount for a beloved family Arabian, but I guess it beats the judgement proof cases. McGalliard gets 30 days of 3 square meals and free cable TV... at least he won't be able to say he didn't have time to figure out how to come up with the 21 grand (although he probably never will.)

Anonymous | 4/16/2008 11:40 AM | Flag
remorse for sepulvada and her horse or himself?

Anonymous | 4/16/2008 12:29 PM | Flag
30 days and $22,000 hardly seems punishment enough. I hope there is a civil pending.

Packhorse | 7/28/2011 10:26 AM | Flag
"her" injuries. The poor victim was obviously female.