Monday, March 31, 2008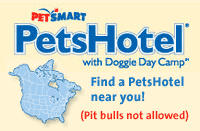 Banned from Doggie Day Camp
In a move certain to make pit bull owners broil, PetSmart says pits aren't welcome at their doggie day camp hotel. In fact, they gang the bully breeds with wolf-hybrids -- typically considered "exotic" animals (straight from the wild).
Requirements of attending the PetSmart PetsHotel:
Dogs who have been socialized with
other dogs but are not of the "bully breed" classification* or wolves/wolf 
hybrids
No intact (unneutered) male dogs, pregnant females or females in heat
Dogs who have the following vaccinations: Bordetella, Rabies, Distemper, Parainfluenza and Parvovirus
The move makes a lot of good sense. Pit bull type dogs are indeed "
animal-aggressive
." They were selectively bred to fight other dogs; and before this, for several thousand years, they were bred to attack bulls, also called "bull-baiting." So when you read about bully breeds attacking large animals like horses, now you know why.
*Dogs in the "bully breed" classification (e.g. American Pit Bull Terriers, Miniature Bull Terriers, American Staffordshire Terriers, Staffordshire Bull Terriers, American Bull Dogs, Bull Terriers or mixed breeds that have the appearance or characteristics of one of these breeds).
Related articles:
Pit Bull FAQ
Pit Bull Myths
Labels: PetSmart

Please donate to support our work
DogsBite.org is a 501(c)(3) tax-exempt public charity organization. Learn more »
posted by
|
permalink
|
4 comments
|

email
|

blog rss
|

comment rss

4 comments:

Anonymous | 3/31/2008 4:39 PM | Flag
Smart move by Pet Smart...Thanks for protecting other customers pets instead of being PC!

Anonymous | 3/31/2008 9:06 PM | Flag
Boo-yah! Petsmart! Trading symbol PETM has been sold off with the market. But with signs of intelligence like this, it must be time to move them back to the watch list. Safer for their patrons' pets and a swift kick to pit bull liability vis-a-vis worker's comp, etc., etc., etc.! NICE!

Anonymous | 11/05/2008 10:57 AM | Flag
Ban the all from the store. I was attacked Sunday as we were trying to check out. Just standing there and we didnt even have a pet with us.
The employee that had the dog on the leash though it was real funny. PetsMart claimed to have fired her for this action but we went to the front door last night and she is still on the clock. Store manager lied.
After being their customer since they entered the Houston market, Target will now receive our business from here on out.

Anonymous | 1/01/2009 3:24 PM | Flag
PetSmart needs to stop letting owners bring their pit bulls into the store while they're shopping, too! My son and I were in PetSmart last week, and someone was there with their pit bull. We quickly got far away from it, but then it started barking at a little dog a few seconds later. We got out of the store.