Saturday, February 2, 2008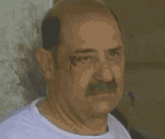 Robbers Grab 11 Pit Bulls from Broward Home
West Park, FL - When it comes to
pit bulls
,
Broward County
can't
stay out
of
the news
. Recently, three armed robbers stormed a home at gunpoint, tied up four people and stole pit bulls, cell phones and cash. The home owner, Moreno Yohai, 60, is a registered sex offender and a pit bull breeder who now faces many code enforcement violations.
Yohai told detectives someone came to his front door and pointed a gun at him. Another robber struck Yohai in the head with the butt of a gun. They then tied up Yohai, another man and two women inside. Moments later, two of Yohai's friends stopped by, and one of the robbers told them Yohai wasn't home. The robbers left with the animals in a white cargo van marked with the Enterprise car rental logo. They are currently still at large.
"It happened so quick," said Dave Brightman, 51, one of the victims. "They just told us to get on the floor. I wasn't gonna argue with them."
In the past year, the Sheriff's Office has received 32 calls to the home for incidents ranging from suspicious activity to assault, Sheriff's spokesman Mike Jachles said. Coleman-Wright said there were also reports of grand theft, battery and burglaries there going back to 2006.
Andrew Christopher, a 43-year resident of the neighborhood, said he has heard dog barking from Yohai's property at night.
"The neighborhood's going to the dogs, I guess," he said. "I hope they get them out of there — the dogs, that is."
Anyone with information is asked to call Broward Crime Stoppers at 954-493-8477.

Please donate to support our work
DogsBite.org is a 501(c)(3) tax-exempt public charity organization. Learn more »
posted by
|
permalink
|
5 comments
|

email
|

blog rss
|

comment rss

5 comments:

Anonymous | 2/02/2008 12:27 PM | Flag
I'm sure these dogs were being bred to be loving family companions....

schultz | 2/02/2008 12:35 PM | Flag
"It happened so quick," said Dave Brightman, 51, one of the victims.

i guess they now know what it feels like to be the victim of pit dine and dash!

Anonymous | 2/03/2008 6:42 AM | Flag
Well...Well....

http://offender.fdle.state.fl.us/offender/flyer.do?personId=31067

This Pit Proliferator has a criminal record and is a registered sex offender.

Anonymous | 2/03/2008 7:17 AM | Flag
The dogs may have been stolen by overzealous orphanage employees seeking nanny dogs for a petting zoo.

schultz | 2/03/2008 11:23 PM | Flag
and a registered sex offender to boot!!!
this is priceless!