Tuesday, February 5, 2008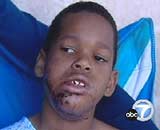 8-Year Old Mauled
Fontana, CA - Eight-year-old Dakoda Mitchell was severely mauled by a pit bull last week. The boy's uncle said someone across the street let the dog loose on him and his 9-year-old brother Dallas. His brother's quick actions saved his life. Dallas said the the dog was locking onto his brother, "chewing on half of his face." He said he hit the dog with a scooter to make it let go.
As a result of the attack, Dakodo will be left with substantial scars. But it's something that this family hopes will put other pit bull owners on notice. "Pit bulls can be very vicious," said Anthony Mitchell. "We know that people who train these dogs for that, and this is the result we get right here -- we get a little boy whose face is practically ripped off, who could be dead right now if it wasn't for his big brother, a 9-year-old child, saving him."

Please donate to support our work
DogsBite.org is a 501(c)(3) tax-exempt public charity organization. Learn more »
posted by
|
permalink
|
2 comments
|

email
|

blog rss
|

comment rss

2 comments:

Anonymous | 2/05/2008 4:48 PM | Flag
Another Pit shot by law enforcement! The drain on the public continues....

Anonymous | 2/05/2008 6:08 PM | Flag
Good luck showing that someone "intentionally" let a dog loose. I hope the boy's uncle did witness this.