Monday, November 26, 2007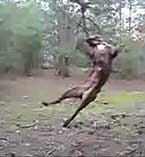 Tree Hanging is on the Rise in Parks
The owner, who may be fined $3,100 for the destruction of trees, claims his pit bull has an "infatuation" with trees and likes to hang on their limbs by her teeth. John Iorio, the city's dog law officer, is seeking money to cover the cost of replacing three honey locust trees, which a consultant said may die. He also cited the owner for failure to keep the dog under control.
Swing flying is a common training activity used by pit bull breeders and owners alike. The primary reason is to increase the "bite, hold and shake" behavior. To "
swing fly
" or to "
spring pole
," the pit bull leaps into the air, locks down on a hanging rope or tree branch and holds for as long as possible. When suspended in the air, the pit bull attempts to shake, which creates the swinging motion.
There appears to be little legitimate purpose in teaching this activity. Owners of these dogs like to mislead others into believing that the activity is "fun," or in the instance of this owner, "The kids loved it, so I allowed it." The real reason behind this training is to increase the strength of the dog's jaws. So that more trees can be destroyed. So that more pets and people can be injured and killed.
What happened to fetch and Frisbee tossing?

Please donate to support our work
DogsBite.org is a 501(c)(3) tax-exempt public charity organization. Learn more »
posted by
|
permalink
|
3 comments
|

email
|

blog rss
|

comment rss

3 comments:

Anonymous | 11/26/2007 4:28 PM | Flag
That's out of control! Good grief! If I ever saw a dog doing that in a park, I would report it immediately. A "fun" activity he says? Such behavior encourages aggressive behavior. Does anyone think it is wise to promote activities that increase jaw strength when pit bulls already have the strongest jaw strength of any other breed?

Anonymous | 11/26/2007 4:30 PM | Flag
I totally agree! As if they need more encouragement to strengthen their lock jaws!

Anonymous | 4/25/2009 12:43 PM | Flag
Neasden man fined for making dog attack trees
----
http://www.harrowobserver.co.uk/west-london-news/local-harrow-news/2009/04/23/neasden-man-fined-for-making-dog-attack-trees-116451-23455688/

"A MAN from Neasden who allowed his dog to jump and bite tree branches has been taken to court and fined. Paulo Poeire, 27, had travelled from his home in The Rise to Battersea Park with his Staffordshire bull terrier.

He was seen encouraging his dog to jump up at low-lying branches and lock on to them with its jaws. This is an increasing craze among owners of this type of dog, who believe it will strengthen the dog's jaws to make them more ferocious and dangerous.

Mr Poeire was spotted by two officers from the council's parks police service and a police constable after complaints from members of the public.

When they challenged him, Mr Poeire ran off leaving the dog with a friend, but he was eventually found on a nearby housing estate. He was later summoned to appear at South Western Magistrates' Court, where he pleaded guilty to a breach of the park's by-laws on March 20..."