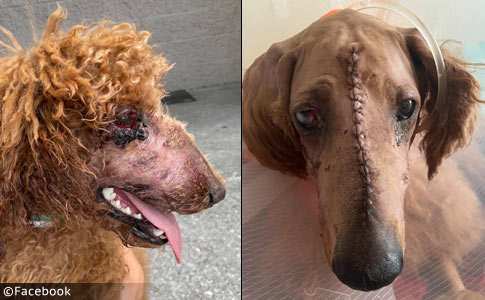 Louie is seen after the violent pit bull attack (left) and after reconstructive surgery.
Owner Shares Story
Boone, NC - On June 22, Dax Benfield, the owner of Louie, shared Louie's Story on Facebook. Benfield's post contains multiple photographs and videos. This is not for the faint of heart as, "Louie's injuries were devastating and left him grotesquely disfigured." Benfield states, "Louie's maxilla had been fractured to the point his entire nose starting in front of his eyes was hanging by just the skin, multiple teeth had been broken off and his eye was partially bulging out of socket."
Benfield also correctly states the following: "After reflecting at length I have concluded you should never trust a pit bull and it's not the breed or the owner, it's both." Benfield wisely deflated the circular debate ("it's the owner not the breed!"), which "resets" this debate back to 1985, and chucked it out the window. "Sophia asked two times if the dog was friendly and if Louie could play with him. The owner told her that her pit bull was friendly and would play fine with Louie."
That did not happen. Pits will be pits. "As soon as Louie walked up to this pit, wagging his tail in his friendly puppy manner, this monster just latched onto his face with no warning. The pit would not let go and Sophia had to fight for Louie's life," Benfield states. "Louie was making this indescribable gargle as he struggled to breath with his mangled face. At the same time I could see the owner holding her pit bull back. After mauling my puppy this pit bull was glowing with joy."
Correct. Pit bulls were selected for impulsive aggression to excel in the fighting pit. As animal behaviorist, Alexandra Semyonova states: "You will also not prevent the dog from being what he is genetically predisposed to be. Because the inbred postures and behaviors feel good, fitting the body and brain the dog has been bred with, they are internally motivated and internally rewarded." Thus, a breed selected for fighting, like pit bulls, may indeed be "glowing with joy" after a fight.
"You could see it in his face that he enjoyed what he had just done."
Benfield also offers an important warning to other dog owners. "As a closing remark to other dog owners, what happened to Louie will happen to your dog if you trust enough 'friendly pit bulls.' It only takes one encounter to kill your dog. Don't take the risk. Don't be afraid to tell someone you don't trust their pit bull no matter what they say, it could save your dogs life," he states. Louie survived, but will be permanently maimed and emotionally scarred. It's not worth the risk.
Dog-on-Dog Attack Studies
Back in March, we published the results of two peer-reviewed European dog-on-dog attack studies. The UK study showed that 39.9% of the attackers were Staffie bull/pit bull terrier. The Netherlands study showed that 55.5% were Amstaff/pit bull terrier. Dog-on-dog aggression is a common behavioral problem, yet there is a glaring absence of data -- peer-reviewed and otherwise -- about the most common type of dog attack, dog-on-dog attacks, in the US.
In our March post, we also asked why is there a glaring absence of dog-on-dog attack data in the US? "Possibly because the results would be self-evident, just as the UK and Netherlands studies show," we stated. "Dogs purpose bred for dog-killing aggression are the most 'efficient' dog-killing breeds on earth. It's not rocket science. No one is surprised that racing dogs are the fastest dogs on earth or that herding dogs are the most effective herding dogs on earth either," we stated.
---
Louie's Story by Dax Benfield. June 22, 2021 (facebook.com)
---
Related Facebook page:
Our Pets Were Attacked By Pit Bulls - Share Your Story
Related articles:
06/25/21: What Are Pit Bulls Good At? by Guest Poster Boni
03/11/21: Peer-Reviewed Study Examines Dog-on-Dog Attacks in UK by Analyzing Media Articles
01/28/21: Why Aren't Dangerous Dog Owners Charged With Animal Cruelty? by Dog Lover