Shooter's Mail Had Been Suspended Due to Vicious Dog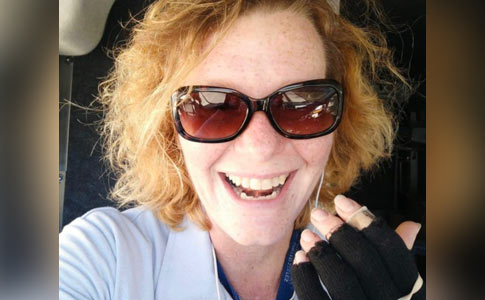 Angela Summers was murdered after a dispute involving a vicious dog escalated.
Criminal Complaint
Indianapolis, IN - On April 27, 2020, a U.S. Postal Service (USPS) carrier was shot and killed while delivering mail in the 400 block of North Denny Street. Angela Summers, 45-years old, was taken to Eskenazi Hospital, where she died. Summers was shot outside a home where she had complained about a vicious dog. Mail service at the suspect's home had already been halted for two weeks. The USPS issued a $50,000 reward for information leading to the suspect's arrest.
On April 28, a 21-year old man was arrested in connection to her death. The U.S. Postal Inspection Service (USPIS) headed the homicide investigation and the Indianapolis Metro Police Department assisted. At that time, no motive was given. However, Paul Toms, president of the National Association of Letter Carriers' union Indianapolis branch, told media outlets the fatal shooting took place at a home where he believed Summers had issues with an aggressive dog.
On April 29, federal prosecutors filed murder charges against the suspect. Tony Cushingberry-Mays was charged with second-degree murder, assaulting a federal employee and discharging a firearm during a crime, according to court documents. When Summers passed by Cushingberry-Mays' home at about 4:00 pm Monday, he confronted Summers on a neighbor's porch, demanding his mail. Summers sprayed the man with mace and then he shot and killed her, authorities said.
On April 30, Toms told media outlets that two letters warning the family to contain their dog were ignored. "So a third letter went out, your mail will be curtailed until you correct it," he said. Within the undelivered mail to the suspect's home were two long-awaited federal stimulus checks, Toms said. When mail is suspended in this manner, the person can obtain the mail by picking it up at the local post office branch. That office was less than one mile away from Cushingberry-Mays' home.
Affidavit in Criminal Complaint
Now that some readers have already clicked on the news articles that we linked to above, we ask that you compare those articles to the affidavit in support of the criminal complaint, which is vastly richer in details and offers a first hand statement-of-facts from the investigating Postal Inspector, Joseph J. De St Jean, who had previously been a Gary, Indiana Police Officer. This document is far more compelling and informative than any media article we have reviewed about this case.
Detectives learned through interviews that Angela Summers had a confrontation with a black male on the porch located at 422 North Denny Street, Indianapolis, IN 46201. A witness described the male suspect as 6'0 to 6'3" in height, thin to medium build, wearing a black and red long-sleeved shirt, black pants, and a dark colored mask that covered half his face. The witness added that the confrontation escalated and the mail carrier pepper sprayed the male. As a result, the male shot her, striking her once in the chest. The witness heard the occupants standing on the front porch of 426 North Denny Street, Indianapolis, IN 46201, repeatedly screaming, "Tony, no." The witness stated the male fled in the direction of 426 North Denny Street, Indianapolis, IN 46201.

The USPIS confirmed with USPS management that the occupants of 426 North Denny Street, Indianapolis, IN 46201, have had several issues with their dog. This resulted in a mail hold being placed on the residence. More specifically, on or about April 13, 2020, the USPS Linwood Indianapolis Post Office sent a letter to the Cushingberry residence informing them that they would have to retrieve their mail from the post office due to concerns with their dog. On April 27, 2020, the USPIS confirmed that the mail was still being held at the Linwood Indianapolis Post Office ...

On April 28, 2020, at approximately 9:11 pm, CUSHINGBERRY-MAYS provided a statement to law enforcement officers in the company of his attorney. CUSHINGBERRY- MAYS stated he shot the letter carrier. He stated the letter carrier was not delivering the mail because she was having a problem with the dog at his residence of 426 North Denny Street, Indianapolis, IN. CUSHINGBERRY-MAYS was on the porch as the letter carrier approached his residence of 426 North Denny Street, Indianapolis, IN. The letter carrier walked past his residence, did not deliver their mail, and proceeded to the next residence (422 North Denny Street, Indianapolis, IN) to deliver mail.

CUSHINGBERRY-MAYS stated he approached the letter carrier as she was delivering mail at 422 North Denny Street, Indianapolis, IN and asked for their mail. He asked for their mail several times and the letter carrier did not respond to him. He said he stepped onto the porch steps of 422 North Denny Street, Indianapolis, IN. He was approximately six feet away from the letter carrier. He said the letter carrier turned around, grabbed her mace spray, and sprayed CUSHINGBERRY-MAYS. CUSHINGBERRY-MAYS then pulled his handgun from the right side of his waistband (no holster)1, pointed his handgun at the letter carrier, and fired one shot at the letter carrier. He acknowledged the mace was not deadly, but led to discomfort from his asthma. CUSHINGBERRY-MAYS stated he then fled the scene and went to the residence of his aunt Taylor Hawkings near 21st St in Indianapolis, IN. CUSHINGBERRY-MAYS further stated that he placed the handgun in the garage of his mother's residence (426 North Denny Street, Indianapolis, IN)...
Cushingberry-Mays claimed that he never spoke to Summers before the shooting and that he had not meant to kill her, but only wanted to scare her (by shooting her). Cushingberry-Mays stated that his mother Acacia Cushingberry and cousin Tiffany Reed witnessed the incident. He stated he wore a black scarf/mask with a multicolored top, states the affidavit. This particular mask aspect might become important during the trial -- was it an identity mask, a coronavirus mask or both?
The Ongoing Dog Dispute
In the aftermath of the shooting, DogsBite.org followers in Indiana began sending in screenshots of private Facebook posts by Summers. The concern and suspicion regarded the type of dog involved. Heavy.com already published most of them. Summers posted on April 25 to an album "Tales from the Route" about a home with a chihuahua -- calling it a "nasty devil." Summers states, "Three times they've gotten a dog warning card in their mail box with their address on it."
"A month ago, the last time the dog was loose and wouldn't stop coming after me, they stopped receiving mail. Now stimulus checks are going out. Guess who did not get one yesterday?" Again, this is two days before Summers was shot. As Summers walked by the house April 25 while the dog barked at her, "A woman stands up hollers for my attention. She tells me that she's the 'lady of this house' and that if I ever mace her dog again, she'll personally mace me," she wrote.
The confrontation escalated from there, including the woman "yelling that if I talk to those kids again she's going to set a pit bull loose on my white bitch ass," Summers wrote. "I am beginning to feel seriously unsafe, how exactly does race factor in this, is she threatening to commit a hate crime against a federal employee?" Meanwhile, throughout all of this, the mail belonging to 426 North Denny Street was obtainable by a visit to the Linwood Indianapolis Post Office.
After the postal service sent multiple warning letters to the home, and the homeowners still did not comply, mail delivery was suspended on or about April 13. Toms, a spokesman for the union, confirmed that the union believed the motive of the shooting was linked to the home not receiving their stimulus check. "Yes, there was a history on this for quite a while, as I understand it," Toms said. "I want something like this to never happen again. It should never happen," Toms said.
Tony Cushingberry-Mays
Cushingberry-Mays already confessed to the shooting. According to federal law, if convicted of murder in the second degree, Cushingberry-Mays could face life in federal prison. He is also charged with assaulting, resisting, or impeding certain officers or employees and discharging a firearm during and in relation to a crime of violence. In a fatal instant, Cushingberry-Mays literally threw his entire life away by killing Summers in cold blood over a dispute that began with a dog.
Meanwhile, someone has started a Tony Cushingberry Facebook page asking for comments from people who know him, "saying the person he is." If you have "any pictures, memories, or just know him personally had a conversation to show the true heart he had and the sweetest person he was please, please comment inside," states the page. This defendant will indeed need character witnesses during the criminal trial, assuming a plea offer is not reached, and during sentencing.
Angela Summers Fund
By Friday, a fund organized by Melanie Davis had raised over $19,000 for Summers' funeral expenses. "She never got the opportunity to tell her daughter that she loved her one last time," Davis states. "Our daughter wasn't able to see her for a-month-and-a-half due to the coronavirus travel restrictions and Angela's essential worker exposure risk. Now, she never will," she wrote. Davis is honored to be the person to carry out her last wishes and is asking the public for help.
One commenter on the fund, Kathryn Tobacco, wrote, "My heart broke that the reason she was hurt because she had refused to deliver mail to a house with vicious dogs. I hope we can raise enough money to fund her child's college education." Terry Flippo wrote, "I'm a retired postal worker who runs the Deliver Me! Facebook group, of which Angela was a member. I also write and draw a comic strip of the same name. I shared this cartoon on the page in honor of Angela."
A Societal Decline
For the majority of people, the coronavirus is a difficult time. For those eligible and still waiting for a stimulus check, it is an even more difficult time. This does not equate to an escalating dispute over a completely resolvable issue about a nuisance dog -- sign the "dog letter" and put the dog inside your home during mail delivery. Furthermore, the owners of the dog had two warnings prior to their mail being suspended. How difficult was it to simply comply with these warnings?
Notably, according to Summers, the "lady of the house" had greatly upped the ante in the dispute two days before the shooting by threatening to "mace" Summers and threatening "to set a pit bull loose" on her, a dog breed that often inflicts damaging injuries, including death. There is no confirmation that Summers' April 25 Facebook post refers to the residents at 426 North Denny Street. This is simply inferred on our part because the events and dog dispute closely coincide.
Every year there are media reports of neighbor disputes over loose or aggressive dogs ending in gunfire and human death. This case involves a federal employee, who was simply trying to do her job and had issued multiple warnings to the dog owners. This is unacceptable and illustrates a societal decline. Multiple families have now been destroyed -- all for nothing. The suspect's mother's Facebook page shows photographs of him growing up. Now he faces life behind bars.
1
It is unclear if Cushingberry-Mays had a license to carry. Open carry is legal in Indiana if you have a license to carry, according to Guns to Carry.
Related articles:
04/15/19: 2019 Dog Bite Prevention Week: Protect Your Postal Carrier from Damaging Dog Bites