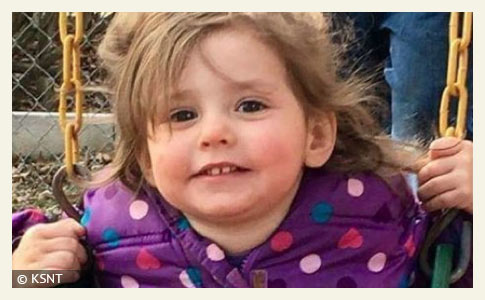 Relatives identified the 2-year old Topeka girl killed by pit bulls as Piper Dunbar.
Father Interviewed
UPDATE 09/28/16: In a devastating interview, Donnie Dunbar, the father of little Piper, talks about the night his daughter was killed by two pit bulls. The dogs belonged to Margaret Jaramillo (Johnson), a friend who was temporarily staying at Dunbar's home. Some parts of the video are difficult to understand, but new details emerge, including more information about Jaramillo and her pit bulls, how Dunbar had tried to rehome them, the tarp and events that occurred that night.
It appears Jaramillo and her pit bulls had only recently started staying with Dunbar. Piper was likely not familiar with the dogs. "[Jaramillo] needed a place to stay," Dunbar said. "I mean she had been staying in a hotel room for three days. "Beautiful dogs stuck in a cage," he said and pointed to an outside area. "Two pit bulls in a cage that no human being, no animal, no convict should be put into," Dunbar said. He mentions placing up panels so the dogs could run free in that area.
"I don't want anybody to judge the pit bull breed because I have had them before. All my friends have pit bulls." - Father of child killed by pit bulls
On Saturday night, Dunbar said he started to watch a movie with Piper, "She fell asleep in my arms. We're in our home, our house," he said. Then Dunbar talks about how he has full custody of Piper and how hard he works to keep his baby. Referring to Jaramillo, he said, "I don't know what name she is going by now. She wakes me up and says, 'Where's Piper?'" The two began to search the home. "We went all over," Dunbar said. He called her mother then quickly called 911.
"The police showed up," Dunbar said. "They searched, they issued an Amber Alert. These men and women they took off around the neighborhood, going door-to-door so quick, you couldn't even see where they were. I was escorting the officers to the back, to the garage, camper, what have you [unintelligible] came back around, out my back door, I seen them searching by the fences, their flashlights [up by] the front gate -- they tackled me because they had found her," he said.1
"When I [unintelligible] those damn dogs, then I knew. They found her in the northeast corner of our front yard near the fence line," he said. Dunbar was then taken to the police department. He sat in the interrogation room for hours and did not know what was going on. Then Dunbar flashes back to the scene and explains the tarp. He said officers took a tarp from the back of his truck, "and they put that tarp over that area until the coroner got here and they could remove her."
Later Dunbar explains the "rehoming" attempt. "I told her I did not want these dogs here," he said. "I got a two-and-a-half year old." Dunbar and Jaramillo took the two pit bulls over to an apartment. "The guy called up an hour and a half later and said, 'You need to come get these dogs,'" Dunbar said. "We went and picked up the dogs. An hour after we picked up the dogs, that man's apartment started on fire, on 13th and Western. These are dogs from hell dude," Dunbar said.

Actually the dogs were man-made, selectively bred for nearly two centuries for explosive aggression and to fight to the death in a pit.
---
09/26/16: Child Killed By Pit Bulls
Topeka Police found Piper Dunbar, 2-years old, dead underneath a tarp in her front yard. She had been mauled to death by two pit bulls. Her father, Donald (Donnie) Dunbar, told WIBW the two had fallen asleep earlier that evening. Piper slipped out of the house without his knowing. The two pit bulls belong to
Margaret Jaramillo
, a family friend who had been temporarily staying with Dunbar, a single father, and helping out with Piper's care. Her dogs ended up killing his child.
Jaramillo said she was "running errands" when the deadly attack occurred and called 911 as soon as she realized Piper was missing. Jaramillo said her two pit bulls were in the backyard of the home and does not know how they wound up in the front yard where Piper was. Police responded to the 911 call at 814 SE Carnahan Avenue at about 8 pm Saturday evening. It did not take police long to discover the little girl dead under a tarp, where she died alone in the dark and rain.2
City Repealed Ban
In 2010, to the delight of pit bull owners and breeders, the City of Topeka repealed their longstanding pit bull ban. The ban had been in place since the early 1980s, when pit bulls first began to capture national headlines for horrific maulings and fatalities across the country. Now Topeka is just like any other unregulated part of the country. However, the tri-state region of Kansas, Iowa and Missouri still maintains the highest level of breed-specific laws in the country.
---
Margaret Jaramillo
goes by multiple names on Facebook, including
Margaret Johnson
. From 2013 to 2014 she and her partner, James Johnson, are seen with three different pit bulls.
---
09/25/16: Child Found Dead
Topeka, KS - A child who was initially reported missing Saturday night was found dead in the yard of her home after police arrived. Topeka Police Lt. Bryan Wheeles said a 2-year old girl was reported missing about 8 pm in the 800 block of SW Carnahan Avenue. Upon arrival at the residence, police initiated a search and found the little girl deceased in the fenced-in yard. Investigators determined dogs attacked her. Animal control seized two dogs at the scene.
"The child and animals were localized within the fenced yard area of the involved residence." - Topeka Police Lt. Bryan Wheeles, Sunday news release
The involved parties were taken to the Topeka Law Enforcement Center to be interviewed. The case will be forwarded to the Shawnee County District Attorney's Office for review after the investigation, Wheeles states. Police did not release dog ownership information or the breed(s) of dogs involved. The last fatal dog attack in Shawnee County occurred in 2012, when 2-year old Savannah Edwards was killed by a "rescue" pit bull while visiting the dog owner's home.
Search-and-Rescue Deaths
At least two other dog mauling deaths of children first began as a missing child search-and-rescue effort. In 2012, 4-year old Kylar Johnson slipped away from his father in Victoria County, Texas. He was discovered dead 14 hours later, killed by a chained pit bull nearly a half-mile away. That same year in Donalsonville, Georgia, law enforcement agencies went door-to-door searching for Bryton Cason, 4-years old. They discovered him dead three hours later in his own yard, killed by a dog.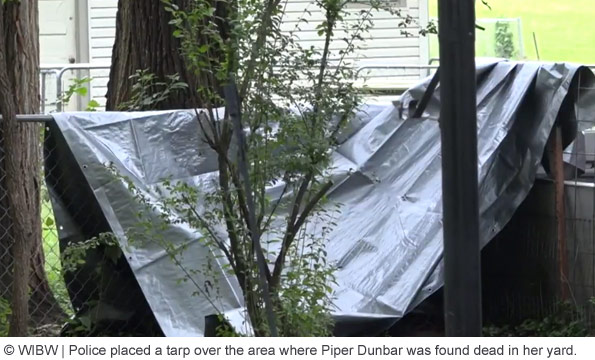 1
Brutal. Yet that is exactly what police had to do. We really hope readers think about this paragraph. Think about how well trained these officers are, "going door-to-door so quick, you couldn't even see where they were."
2
Sunset was at 7:12 pm in Topeka and by the time police arrived (and potentially earlier) there were thundershowers.
Related articles:
12/16/12: 2012 Dog Bite Fatality: Rescue Pit Bull Kills 2-Year Old Girl; Nearby Restrictions...
09/22/16: Tri-State Midwestern Map of Breed-Specific Laws