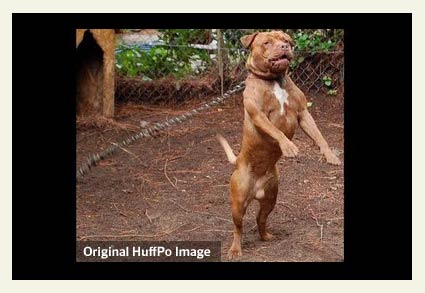 A male, unneutered, chained pit bull -- a recipe for disaster.
The Pit Bull "PuffPo"
UPDATE 03/07/10: The Huffington Post has removed the pit bull from the nine most dangerous pet list. The article now displays the "eight" most dangerous pets, minus the pit bull, once again showing the true nature of the Huffington Post (also referred to as the HuffPo). The altering of this article shows exactly how the pro-pit bull lobby works: hide the truth about the pit bull breed.
Parents and readers of DogsBite.org, we guarantee you that the original image posted by the Pit Bull "PuffPo" of a male, chained pit bull (pictured), is indeed a very dangerous "pet." Few humane organizations and gatherers of fatal dog attack statistics would disagree. The Pit Bull PuffPo succumbed to pressures from pro-pit bull groups and did so OVER the safety of your children.
03/03/10: Huffpo Names Nine Most Dangerous Pets
According to the Huffington Post, there are nine dangerous pets that are too dangerous to own, pit bull terriers being one. The list includes: ostriches, kinkajou, pit bull terriers, constrictor snakes, venomous snakes, tiger (or any other big cat), alligators, crocodiles, and/or caimans and deadly spiders. It seems the only dangerous species left off the list are flesh-eating piranhas, who are known for their sharp teeth and a voracious appetite for meat.
Ban pit bulls early and ban often.
Related articles:
02/26/09: What's There "Not to Get" About Regulating Pit Bulls?
02/24/09: 2008 International Shark Attack Report Released
08/16/08: What's the Difference Between a Bear and a Pit Bull?
05/20/08: What do Alligators, Coyotes and Pit Bulls Have in Common?