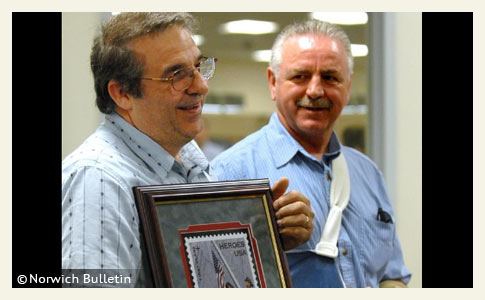 Tage Wright honored for saving letter carrier Jeff Glenn (right) from violent pit bulls.
Good "Hammeritan" archived
Norwich, CN - In early May, the violent pit bull attack on letter carrier Jeff Glen rifled across the web. The owner of the pit bulls, 19-year old David Holland, personified the stereotypical pit bull owner by laughing about the attack on camera and casually taking a swig from the drink in his hand. Holland also owned a lineage of biting pit bulls. Glen suffered severe injury in the attack, including: broken bones, a dislocated shoulder and bite wounds to his leg, wrist, arms and neck.
On Friday, and as part of Dog Bite Prevention Week, the Norwich Post Office honored retired Navy veteran Tage Wright of Montville for intervening in the April 30 attack and saving Jeff Glen from further injury and possibly saving his life. The impromptu ceremony was held at the U.S. Postal Service Rose City Annex. Glenn (pictured) attended the ceremony with his arm in a sling and wearing a wrist brace. He continues to recover from the multiple injuries inflicted by the pit bulls.
"Glenn was knocked to the ground by two pit bulls and was struggling to keep them off him when they suddenly stopped their attack. He later learned it was Wright's hollering, and his hammer, that kept the dogs at bay.

"I've come across a few, but never been bit," Glenn said of pit bulls.

Glenn, 52, hugged Wright, who Eileen Kelty, manager of postal operations, referred to as a "humble hero."

"Had he not intervened, I really think this would have been a more somber event," Kelty said. "We need to recognize people that do good things. Today that seems to be a rarity."

Wright was performing carpentry work on Harland Place when he heard a commotion and ran outside. He confronted the dogs and scared them off with his long-handled framing hammer.

"I thought someone was getting killed in the front yard," Wright said.

Wright, 60, was joined by his family to accept an engraved plaque with a commemorative hero stamp that he said will join a plaque made by his son with a golden hammer and the words "Good Hammeritan."
No criminal charges were filed against Holland.
Related articles:
05/17/09: National Dog Bite Prevention Week (May 17-23, 2009) - DogsBite.org
05/04/09: Zupf: 'Poster Boy' Pit Bull Owner, David Holland, Jr., 'Beyond Vacuous'
05/03/09: Mailman Suffers Severed Artery, Fractured Arm in Pit Bull Attack
04/09/09: Editorial: Retired Mail Carrier in San Antonio Speaks Out
08/02/08: Hero Stories: Honoring Those Who Have Stopped a Deadly Pit Bull Attack