Extended Online Interview
Seattle, WA - Kiro News has posted an 11-minute extended interview with both Huong Le and John Makus. Unforgettable Lee describes her injuries and the attack. Both ears severed in the attack have been reattached -- the work of gifted surgeons at Harborview Medical Center. For victims of attacks, this will not be a video you will soon forget. If you are a policymaker, please hear the words of Makus. For all readers, please email this blog post to all that you know.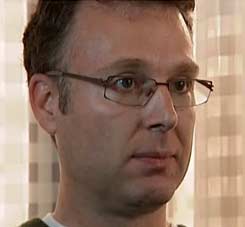 Powerhouse John Makus
"The days of dangerous dogs in Washington are going to be over.
If you're a dog owner and your dog's a dangerous dog?
It's not going to last.
We're going to stop it.
When asked if he would testify...
"Absolutely, if they would give me the privilege, I would be honored. I would love to raise the awareness and to prevent another single attack. No human being should be exposed to the remotest possibility of this kind of an attack. It's just not something that we should tolerate. And we're going to do whatever is necessary to protect public safety."
Are you outright calling for a breed ban?
"I believe that a breed ban, while it is unfair, it's unpopular, it's extreme, but I'll tell you it's effective. And in my opinion, it is absolutely necessary to protect the public safety. It is what it is. It's going to upset a lot of people. But if it can save one life, if can save one more attack, it's absolutely worth it."
Are you talking state law?
State law.
The words and mission of John Makus are extremely powerful. Owners of dangerous dogs in Washington state should start packing their bags now. This man, his mission -- our mission at DogsBite.org -- is unstoppable.
Related articles:
11/07/08: Owner of Dog that Mauled Huong Le of SeaTac Faces Felony
09/26/08: Owner of SeaTac Pit Bull Attack Arrested
09/10/08: 2 Pit Bulls Killed After Mauling 71-Year Old SeaTac Woman
09/13/08: Coverage of the Seattle Area Pit Bull Attack and Activism