Dubious Logic Prevails
Seattle, WA - David Horsey is the political cartoonist for the Seattle PI. Unlike the editorial staff, who thinks breed-specific laws are unworkable, and that toughening up the leash laws might do the trick, Horsey addresses the issue where it counts: the bite. A Chihuahua bites and a pit bull dismembers and kills. He writes, "Can someone explain why the rest of us should have to live with that kind of risk just so a few of our neighbors can have a particular kind of pet?"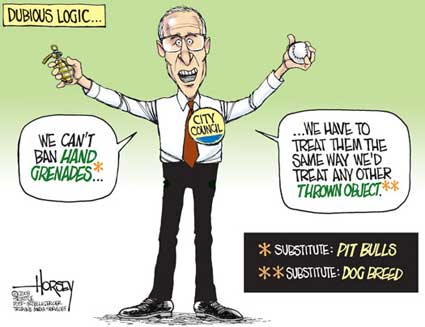 He criticizes Seattle City Council for being reluctant to treat pit bulls different than any other dog breed, even though pit bulls are responsible for over a fifth of all bites, but make up about 4% of the total dog population. He adds that the statistic is outdated. The latest count reveals that, in 2008, pit bulls have been involved in half of all biting incidents. He writes, "Can anyone still claim these dogs are not in a category all their own?"
"Pit bull owners, of course, are outraged by anyone who maligns their pets. They insist their dear pups are sweet tempered and won't hurt anyone, that the problem lies with a few irresponsible owners, not with the dogs. I wonder how that argument would sit with the 71-year-old SeaTac woman who was mauled by two pit bulls last week. The dogs severed her ears, crushed her arm and left her with horrible wounds all over her body. Yes, the owner of the dogs failed to keep them from slipping out of his fenced yard and that makes him legally responsible for the attack. But it was the dogs, not the owner, that sank their teeth into the woman's flesh and it was their powerful jaws that wouldn't let go. However docile they may be 95 percent of the time, does it make any sense to allow a breed capable of inflicting such hideous wounds to flourish and reproduce in a crowded city?"
Please leave a comment for Horsey in our comment section. We will send them to him in appreciation!
Related article:
09/13/08: Coverage of the Seattle Area Pit Bull Attack and Activism