Victim Forced to Sell House archived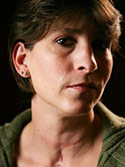 Minneapolis, MN - Until now, Paula Ybarra has not publicly blamed the dog owner, even though his dogs nearly killed her. Nor was she angry while undergoing a painful recovery. During the attack, one of her vertebral arteries was torn and failed to heal correctly. The tear in this artery caused Paula strokes and might have lead to an aneurysm.
In a Hennepin County District Court lawsuit filed Friday, Ybarra, 38, seeks damages from Thomas Mohrbacker, her friend since high school. The suit also claims the city's Animal Care and Control department failed to protect her from the dogs it had declared dangerous. She is seeking more than $50,000 for herself and two daughters who witnessed the attack.
In March 2007, Ybarra and her three young daughters were in Mohrbacker's back yard. His 60-pound pit bull named Merlin and a 150-pound American bulldog named Bobo freely wandered the house and yard. Bobo knocked down 4-year-old Cassandra. When Ybarra bent to pick her up, Merlin and Bobo attacked. Ybarra staggered out of the house with blood pouring from her neck.
Since then, Ybarra has incurred medical expenses of more than $225,000. More treatment is expected for lost breathing capacity, difficulty swallowing and coughing, partial loss of speaking ability and permanent restriction from activities that might reinjure her neck. The suit said she has lost unspecified income and faces diminished earning capacity.
The incident was one of two serious attacks last year in Minneapolis. Last summer, 7-year-old Zachary King Jr. was killed by a family pit bull. His father, Zachary King Sr., was acquitted of second-degree manslaughter last month. Earlier this year, Minneapolis tightened procedures for checking that dog owners comply with city requirements governing dangerous dogs.
Related articles:
11/01/11: Suing Animal Control Agencies or Municipalities After a Serious Dog Attack
01/18/08: Minneapolis Retools Dangerous Dog Ordinance
01/12/08: New Type of Surgery Used For Dog Attack Victim