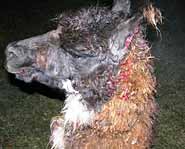 Graham, WA - Two rottweilers declared "potentially dangerous dogs" under Pierce County law continue to roam freely. The dogs were given the label after attacking livestock. On January 24, 2008 Marcie Kephart's llama, Danner, was injured so badly in the attack it had to be put down the following day.
Michael Tyler, the owner of the rottweilers called Bonnie and Clyde, continues to evade responsibility and the law. Meanwhile, Kephart and other neighbors fear loss of more livestock and can't get authorities to enforce the "potentially dangerous dog" (PDD) label. The labeling requires that a dog be leashed and muzzled when off owner property.
The problems in Pierce County are duplicated a hundred times across the US in regions populated with small towns and farming communities. One look at Lubbock County shows you just how alarming the problem of dangerous dogs living near livestock is becoming. Owners of these dogs refuse to properly constrain them and suffer hardly any consequence because of it.
In a nutshell, these are the issues many livestock owners face:
The central issue is lack of animal control resources. In a recent incident involving Bonnie and Clyde, animal control officer Brian Bowman had to drive from Gig Harbor about 30 miles away, to respond to a complaint that they were loose again. By the time he arrived, the owner had a friend remove the dogs from his property. Tyler told officer Bowman that the dogs were "gone" and that someone had cut the lock on his fence.
Another issue is a break down in communication between agencies. When neighbor Lisa Scheimfer saw that Tyler's dogs were loose, she called 9-1-1. The operator had no idea what a PDD label was. Both Kephart and Scheimfer wonder why the sheriff's department didn't respond. Two loose rottweilers that have killed livestock in the past are a recipe for disaster for unsuspecting human beings and livestock.
Image depicts Kephart's llama, Danner, after the attack.