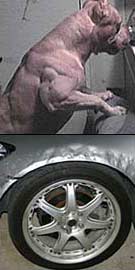 Car Used as Chew Toy for Pit Bull?
Culturegarage.com -- an intersection of cars and culture -- recently posted some remarkable and frightening photos of a Honda S200s that appears to have been used as a chew toy for a gigantic, potentially steroid-enhanced, pit bull dog. As the author states, context is lacking, so speculate to your heart's desire.
In an article about Michael Vick, The Humane Society says that at least 20,000 -- and perhaps as many as 40,000 dogs -- are involved in dog fighting contests a year. Henry McMaster, also quoted in the article, said he's heard of pit bulls being injected with steroids to make them stronger and having cocaine rubbed on their gums so they will be even "more hyped up" for a fight.
This dog may have some of both.