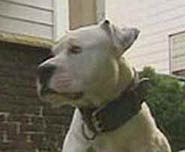 Toledo's Pit Bull Problem
Lucas County Dog Warden Tom Skeldon has seen too many pit bull attacks on people and pets. He tells the local ABC news affiliate that he wants City Council to pass an ordinance requiring pit bulls 6 months and up to be spayed or neutered.
Illegal pit bulls are a growing problem in Lucas County too. The drug trade and pit bull attacks seem to go hand in hand, he says, which can make hostile entries for responders very dangerous. Skeldon reports that just 5 days ago, his department confiscated 12 pit bulls from a home after a drug raid.
Skeldon also reported that his department confiscated more than 1,300 pit bulls last year, up more than 30 percent from the previous year. He says it's time for city officials and lawmakers to step in and help fight this problem.