Friday, April 6, 2018
Babysitter Charged with Felony Manslaughter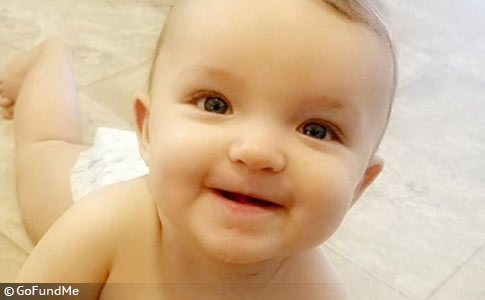 Loxli Chavez, 13-months old, was killed by a dog while under the care of her babysitter.
Babysitter Charged
UPDATE 04/06/18:
Police have charged a babysitter in connection to the mauling death of a baby under her care last month. Erica Nancy Jordan, 33, was charged with one count of second-degree involuntary manslaughter, a felony, for acting with criminal negligence that resulted in the death of 13-month old Loxli Chavez. Jordan admitted to police that she knew the dog was dangerous around children; the animal had "attacked" her own son last year, biting him in the head.
The dog belonged to Jordan's brother. After the baby's death, her brother told police the dog was a mixture of Labrador retriever, Alaskan malamute and pit bull terrier, only noting the pit bull aspect in the last part. Yet, it was a male dog that only weighed 40-pounds.
1
We also now know the dog was 6 or 7 years old. Court documents more accurately depict "pit bull" as being the predominant breed (listed first), calling the canine a "pit bull labrador malamute-mix named Smokey."
Jordan was "temporarily" taking care of a known biter for her brother while she babysat two new children = felony manslaughter charges.
At the time of the deadly attack, Jordan was also watching the baby's older sibling. In the probable cause statement, the mother of the baby stated the attack happened in the first week Jordan had babysat her children. She said it was never disclosed to her the dog had previously attacked Jordan's child or that it was unsuitable around kids. Jordan told police the dog had been neutered since it attacked her son;
Jordan falsely believed this would remove
the dog's aggression.
The
Southeast Missourian
provided more details from the probable cause statement. Jordan said Smokey was
drinking water from a dog bowl
within a few feet of Loxli just before the attack. She said she suddenly "heard screaming and crying" and saw "blood everywhere," according to the statement. Jordan said she tried to pull the dog away, but "he was so aggressive" and "just kept going for the baby." If convicted, Jordan faces a maximum sentence of four years in prison.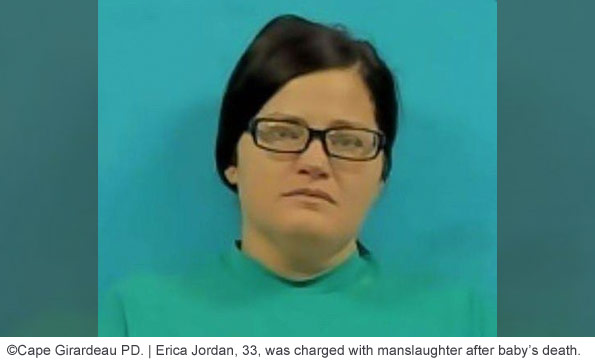 ---
03/13/18: Attacker was Part Pit Bull
On Monday, KZIM KSIM Radio spoke to Cape Girardeau Police Public Information Officer Sergeant Rick Schmidt who said that the owner of the dog that killed the 13-month old baby stated the
dog was a mixture
of Labrador retriever, Alaskan malamute and pit bull terrier. Cape Girardeau Police also reiterated this on their Facebook page. The
Alaskan pit bull
is a designer breed involving 50% Alaskan malamute and 50% pit bull. One website even calls it a "Mally Pit."
Schmidt also confirmed the child was at the babysitter's home when the dog attacked the baby in the face. On Friday, police responded to a call about a "dog bite" incident at 2:12 pm to a home on North Hanover Street near Themis Street. When they arrived, they found the baby girl critically injured and quickly transported her to an area hospital. She was pronounced dead about 3:30 pm. The male mixed-breed dog, which weighs about 40-pounds, belongs to the owner of the home.
03/12/18: 13-Month Old Killed by Dog
Cape Girardeau, MO - On Monday, Cape Girardeau Police issued a media release about a 13-month old baby girl that was killed by a dog. Police did not release this information until three days after the child's death. Police received a call about 2:12 pm Friday regarding an animal bite in the 000 block of North Hanover Street. They discovered a dog that lived in the residence had attacked the young child. The baby was transported to a local hospital where she was pronounced dead.
The animal was impounded. Police have
not released any breed information
about the attacking dog. Various comments on the Cape Girardeau Police Facebook page suggest a babysitter was watching the child at the time of the deadly attack. "The child was not in the care of her parents," states one. It remains unclear if the baby lived at the North Hanover Street residence or if that residence is the babysitter's home. Ownership of the attacking dog remains unclear as well.
Afternoon Updates
The baby was attacked in the babysitter's home on North Hanover Street. Police described the dog as a 40-pound "mixed-breed" -- which can certainly indicate a pit bull-mix. KFVS reports police were told they were
called in to investigate a "dog bite,"
but when they arrived, they found the baby severely wounded and immediately took her to an area hospital. She was pronounced dead about an hour later. The dog, referred to as a male, belongs to the owner of the residence.
This was not a dog bite; it was a violent dog attack involving a 13-month old baby girl. This information, combined with the description of the dog and questionable behavior of the person watching the baby (and the dog's owner if two people were involved), serve as strong indicators that a pit bull-mix may be involved and that a criminal element may be too. Over the 13-year period of 2005 to 2017, 75% of all dog bite fatalities resulting in criminal charges involved pit bulls.
1
According to the AKC, an adult male malamute is about 85 pounds and an adult male Labrador is from 65 to 80 pounds. The UKC standard for pit bulls lists the desirable weight for a mature male between 35 and 60 pounds. There is a wide rage of variances in the pit bull breed. But there is rarely such a thing as a 40-pound, 7-year old male malamute-labrador mix. This is the type of case where police really should release of a photo of the dog.
Related articles:
03/09/18:
2018 Dog Bite Fatality: Pet Wolf Hybrid Kills 8-Day Old Baby Girl in Virginia
---
Baseline reporting requirements:
Law enforcement departments across the United States should release consistent "baseline" information to the media and the public after each fatal dog mauling,
including these items
.
Labels: 2018 Dog Bite Fatality, Babysitting, Missouri, Visiting Child

Please donate to support our work
DogsBite.org is a 501(c)(3) tax-exempt public charity organization. Learn more »
posted by
|
permalink
|
5 comments
|

email
|

blog rss
|

comment rss

5 comments:

Ka D | 3/13/2018 8:20 PM | Flag
Power breeds and children do NOT mix. What the hell are they thinking? Pit bulls have NO traits that makes it beneficial to breed them to other dogs either.

Christy D | 3/14/2018 6:44 AM | Flag
I don't think anyone on here is surprised by this. "This" being that the dog had pit in it. I suspect there is no lab in this designer dog. Pit people always claim (blame) lab when they try to lie about their dog being a pit. It is amazing how swiftly the rescue claim dogs are labs that are so obviously pits.

Packhorse | 3/15/2018 4:43 PM | Flag
The reason so many crossbred dogs have pit blood is that pit bulls are frequently the only dogs that are reliably intact. In an era when most normal dog owners have accepted spay/neuter, pit owners are once again outliers, with barely a quarter of all pits altered.

If you are a person who wishes to breed your dog--especially if you are a backyard breeder who's not associated with traditional responsible breeding channels, you can pretty much guarantee that you can find an intact pit at anytime with which to breed your animal.

LibertarianThinker | 3/28/2018 6:23 AM | Flag
Unfortunately, some people because of finances or work schedules, have very limited options for child care. Heartbreaking for the parents. Everyone needs to be educated that pitbulls are killing machines, most parents would rather be homeless living in a car with their child, then to to leave their child in the equivalent of lion's den.

Sarah | 4/06/2018 8:29 PM | Flag
What a beautiful baby. That's a terrible story.

There's a vicious circle involved in so many pit bull attack cases. As packhorse mentioned, pit bulls are unique in that intact, breeding pit bulls are common in every community in every part of the US (do NOT let rescue people tell you otherwise - online, I have seen shelters in Alaska, Wyoming and other farflung US states which are as lopsidedly pit bull as the East Coast, and almost all the southern transport dogs now are pit bulls). They are extremely cheap and easy to acquire. Dogs of any other type are now difficult and expensive to acquire in the US. So poor people who want dogs are acquiring pit bulls. Poverty has a way of making life chaotic and people despairing - when things break and you can't fix them and have to live with them, safe situations can easily turn hazardous and you can't find the energy or caring to make them safe again. When the family puppy grows into an aggressive pet, you can't afford a $90 an hour vet behaviorist or a $65-per-8-foot-section secure fence or a $300 pit-proof metal dog crate. You can afford a Petsmart trainer who recommends neutering, a tie-out that wraps around a tree, and a $45 wire cage from Walmart. And none of it will work. Neutering has a negligible effect on aggression; studies since the 1990s have shown that, repeatedly. The calming effect was vastly overstated in the s/n era to sell sterilizing dogs. It actually increases aggression in female dogs, actually. The tie-out will get you fined if your city has an enlightened anti-chaining coalition, and the crate will disintegrate if the pit really puts some effort into destroying it.

Don't get me wrong, I don't excuse this woman's role in getting that baby killed horribly. I'm just saying that as in so many issues, well-off people are making decisions to protect their own 'rights' to property and consumer choices and those decisions are hurting poor people's more basic rights to safety.