Wednesday, June 29, 2016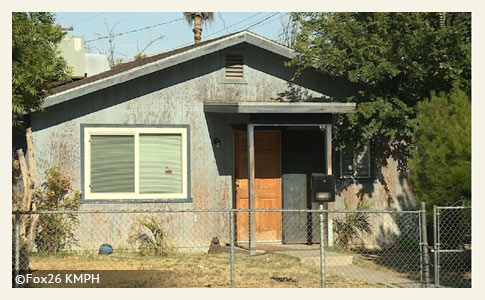 A 3-day old baby was killed by dogs, a mix of Shar-pei and pit bull, at this home.
New Details Released
UPDATE 06/29/16:
More details have been released about Susie Kirby, a 3-day old baby girl that was attacked and killed by her uncle's dogs. Prior to going to the bathroom, the mother placed Susie on a recliner-type couch and placed pillows around her so that she would not fall off, Fresno Police Chief Jerry Dyer said. It was also the mother who propped open the door to let in cooler air, he said. She did not know that one of the dogs with a history of aggression was not tied up.
"While she was in the bathroom, the dog came through the door, grabbed the infant and took that baby outside."

- Fresno Police Chief Jerry Dyer
At that point, the baby's uncle came home -- he had run out to the store -- and discovered the dogs attacking the baby. "When she came out the child was gone," Dyer said. "In fact, when she was in the bathroom, she heard her brother outside yelling and screaming because he had come home from the store and found the child outside," Dyer said. Police have turned the case over to Child Protection Services for a complete investigation. However, no charges are anticipated.
Third 3-Day Old Baby Killed
Susie marks the
third 3-day old baby killed
by a family dog this year. In April a pit bull-mix rehomed by the San Diego Humane Society
killed 3-day old Sebastian Caban
. The young couple was lying in bed with their baby and the dog, when the dog unpredictably lashed out. The couple adopted the
male pit bull-mix, named Polo
, 5-months earlier, while the mother was still pregnant. It was an unwise decision to adopt this dog and an even worse one to allow it on the bed with a newborn.
In February, 3-day old
Aiden Grim was fatally bitten on the head
by a family dog in Youngstown, Ohio. A forensic pathologist did not characterize that bite as a "mauling," but rather the dog picked up the baby by the head and its teeth punctured the infant's soft skull causing brain injuries and death. In the case of Susie, this certainly was a mauling. It was a predatory attack by a
Shar-pei and pit bull cross
with a history of aggression. It also appears that both dogs were involved.
Our heart goes out to the mother. Susie's death, however, was extremely preventable. All three of these baby deaths were. Newborns are entirely defenseless and the most vulnerable of all. All household dogs need to be taken into critical consideration when a baby enters a home. No pit bull-type dogs or
other dangerous breeds
should be near an infant. In this case, keeping the dogs, one known to be aggressive, "tied up outside" was an unreliable solution that ended in death.
---
06/27/16: Dogs Kill Newborn
Fresno, CA - Early Monday morning, Fresno Police responded to a call of a dog biting an infant. Up to two dogs attacked the newborn baby at a home on the 3700 block of North Glenn Avenue about 12:30 am. The baby girl was transported to Community Regional Medical Center, where she later died, according to Sgt. Dan Macias. The baby's 33-year old mother had thought her brother's two male dogs were chained up in the backyard when the deadly attack occurred, police said.
A door was left open to allow cooler air to come in. When the mother went to the restroom, one or both dogs came in and killed her baby.
The two dogs are described as a mix of Shar-pei and pit bull and are owned by the baby's 30-year old uncle. Police did not identify the baby's mother or the uncle, who surrendered both dogs to the Central California Society for Prevention of Cruelty to Animals. The mother told police that one of his dogs is aggressive. The two adults and the baby were the only ones in the house, Macias said. Though charges have not been ruled out, Macias believes this was an "unfortunate accident."
In a late evening report by
YourCentralValley
, family members identified the 3-day old baby girl as Susie Kirby. The news group also spoke to Sgt. Dan Macias, who said it was the uncle who saw the dog attacking the baby. "She was in the bathroom at the time and heard screaming," Macias said. "That's when the 30-year old man, who had come home, saw the dog biting the child." Though only one of the dogs was involved in the fatal attack, both animals will be euthanized.

View the DogsBite.org Google State Map:
California Fatal Pit Bull Attacks
.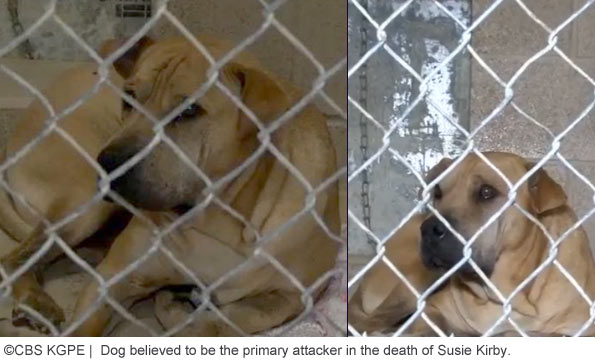 Related articles:
04/29/16:
2016 Dog Bite Fatality: Pit Bull Rehomed by Humane Society Kills Newborn Baby
02/09/16:
2016 Dog Bite Fatality: Newborn Dies After Being Bitten by Family Dog
Labels: 2016 Dog Bite Fatality, California, Fatal Pit Bull Attack, Fresno County, Newborn Fatality

Please donate to support our work
DogsBite.org is a 501(c)(3) tax-exempt public charity organization. Learn more »
posted by
|
permalink
|
11 comments
|

email
|

blog rss
|

comment rss

11 comments:

Your Quiet Neighbor | 6/28/2016 7:56 AM | Flag
Here we go again. Another unfortunate accident.


Small Survivors | 6/28/2016 10:20 AM | Flag
Fresno has had extremely serious and now a fatal pit bull attack for the last three months.

joelande | 6/28/2016 4:38 PM | Flag
So their vicious fighting dogs were usually kept chained, where they could get off the chains and kill a neighbor's baby?


Fighting breeds in your neighborhood, you have a problem

PutMeInCharge41Day | 6/28/2016 4:48 PM | Flag
6 People dead from Ikea furniture and there is a recall.

14 people already dead from Pit Bulls or Pit Mixes just in 2016- 2 in two days and NOTHING.

I just don't get it.

joelande | 6/29/2016 6:39 AM | Flag
Shar Pei or Shar pei mix were commonly used to misdentify pit bulls in the 1980s by shelters who wanted to unload fighting breeds.

I know people who did it and they knew they were hiding the pit bull heritage in order to unload fighting breeds.

Brianne K | 6/29/2016 10:29 AM | Flag
My brother used to own a Shar Pei-pit bull mix. I know anecdotes aren't the be-all-end-all, but those two breeds seemed like an awful combination. His dog used to tear off her lead to go get within a few feet of children (who were innocently playing or walking on the sidewalk) to bark loudly and menacingly at them. And she was a spayed female with an authoritarian owner. She ended up dying of heat stroke at a young age, but I'm very glad things didn't escalate with her, as I'm sure they could have.

This tragedy really underscores that these are zero-mistake dogs. One open door to let some cool air in is all it took.

Ka D | 6/30/2016 10:57 AM | Flag
This exemplifies why ZERO margin of error breeds are not PET animals.

John Charles. Bratram | 7/02/2016 4:29 PM | Flag
my name is John Charles Bartram I'm the father of Susie Kirby I am devastated over this tragedythe mother of my child was irresponsible this was human error susie was left on the couch longer then 4seconds they have turned this into a three-ring circus dog attackPitbull mauling this was human error Trust and Believe there's more to that story and I'm going to get to the bottom of it

Colleen Lynn | 7/02/2016 5:07 PM | Flag
John, we are so very sorry for your loss. It is absolutely devastating. There certainly were human errors. Please check back with us if you can and keep us informed. It is true -- at least in our experience -- that the dog mauling death of a newborn usually has extended and national media coverage. This was true with the other two baby deaths this year and one did not involve a pit bull type dog. The death of a newborn greatly affects the media and the public; there are many emotional responses.

I want a cute purse | 7/04/2016 11:46 PM | Flag
I'm sorry for this poor baby and her family! So devastating!

sarah freeman | 10/31/2016 12:43 AM | Flag
How ironic all 3 babies are 3 days old and killed by pitbul mixes