Tuesday, May 6, 2014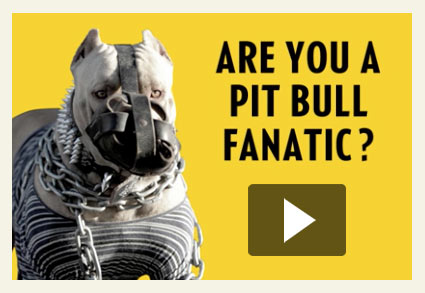 Watch National Post Video
Toronto, Canada -
National Post
columnist Barbara Kay has really crafted gold in her recent video. Barbara Kay often tackles the pit bull issue in her weekly column. The video is fittingly titled, "How to know you're a pit bull fanatic." Kay then dives into the type of people who respond to her controversial columns about pit bulls. "I get a lot of blow back from pit bull fanatics," she states. "I call them fanatics because they are in denial about the inherent nature of the dog they love."
"They think they can convince me that I am wrong, but logic just isn't their strong suit."

- Barbara Kay
Kay next asks, "Are you a pit bull fanatic?" Through a series of examples, she spells out the actions and attitudes that comprise a typical pit bull fanatic and the false myths they propagate. At one point, she states, "You denounce me for 'stereotyping' pit bulls." Then asks, "What is a canine breeding program if it isn't an attempt to produce a stereotype?" Kay even addresses the flawed gun vs. pit bull analogy often used by fanatics, which as Kay shows, are not comparable at all.
Related columns by Barbara Kay:
Related articles:
08/23/12:
Animal People Editor Summarizes Need for Breed-Specific Laws in 600 Words
09/08/11:
Ode to Michael Vick and a Savage Breed of Dog; Columnist Unleashes
05/30/09:
Sports Columnist Michael Felger Blasts Pit Bull Owners and 'Nutty Dog Crowd'
Labels: Barbara Kay, Canada, Columnist, Editorials and Letters, Pit Bull Kills Owner, Pit Bull Propaganda

Please donate to support our work
DogsBite.org is a 501(c)(3) tax-exempt public charity organization. Learn more »
posted by
|
permalink
|
3 comments
|

email
|

blog rss
|

comment rss

3 comments:

Colleen Lynn | 5/06/2014 2:05 PM | Flag
We are hearing feedback that some users cannot see the video when clicking the graphic or link. This may be a browser issue and possibly not having the latest Flash plugin. Running the Adblock extension in any browser may also the video.

Your Quiet Neighbor | 5/06/2014 6:23 PM | Flag
She nailed it!

Garnet | 5/07/2014 10:18 PM | Flag
Yep, she nailed it, especially her last remark!