Saturday, March 20, 2010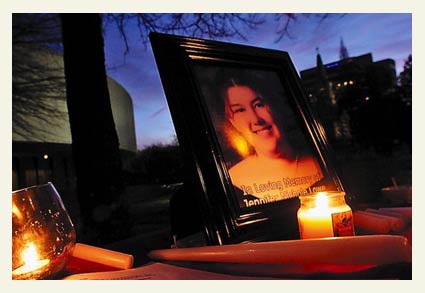 A candlelight vigil held for Jennifer on her 22nd Birthday.
The Death of Jennifer Lowe
DogsBite.org - From time-to-time we publish a "
blame the victim
" comment to show our readers how shameful they are. On March 10, 2010, an anonymous commenter left the following message about the fatal pit bull mauling of Jennifer Lowe. During this lengthily and horrific attack, Jennifer fought back both pit bulls as they tore away her face, neck, shoulder and arms. She died shortly after reaching the hospital. She did not lose consciousness until her death.
1
"FYI, Jennifer Lowe knew those dogs had been deemed aggressive and CHOSE TO LIVE IN THAT TRAILER WITH THE DOGS. They were breeding them and bragging to customers that the dogs had "attacked a cop car." The dogs had never bitten anyone, they had never attacked or killed anyone's livestock or pets.

2

So it's not like they were out biting people and the authorities weren't doing anything about it. They were only deemed aggressive b/c a police car was involved. Jennifer Lowe's death, although tragic, is no one's fault but hers, her boyfriend, her boyfriend's family who also lived there and bred the dogs."
DogsBite.org forwarded this comment to
Kenneth Phillips
, who represents the Lowe family. Phillips recently said that the family received an undisclosed settlement from Knox County. Phillips successfully obtained this settlement since officials knew the dogs that killed her were dangerous. According to
WATE.com
, in the year leading up to Jennifer's death, animal control had deemed both pit bulls "dangerous" and had visited the dog owner's home five times.
3
Mr. Phillips' Response:
"The police had been charged by the dogs and had shot at them one year prior to Jennifer's death, well prior to her being at the mobile home where they eventually killed her. I have that police report. Additionally, the police had regarded the dogs as being vicious because the dogs were doing things like attacking a police car, near a school bus stop and a church, making the presence of the dogs a serious threat. I have the incident on video, I have the police on video advising the animal control officer that the dogs were vicious, and I have on video the reaction of the animal control officer, which was less than satisfactory, to put it mildly. More to the point, Jennifer was not present at any of those times (or she would have been on the videos), so one cannot say that she knew anything about what had happened. Additionally, the County of Knox would have produced such evidence if any existed, but none was produced in the litigation. Whoever wrote this post is relying upon hearsay, not facts. Based on what we know, Jennifer was not responsible in any way for what happened to her. Additionally, her death was so horrifyingly violent and inflicted over such a long period of time, that nobody could ever say that it was her "fault" to have died in that way."
DogsBite.org no longer accepts anonymous comments. Readers must now have a Google, Blogger, WordPress, TypePad, LiveJournal or AIM account.
Related articles:
03/13/09:
Caine -- Producer of Pit Bull that Killed Jennifer Lowe -- Attacks Woman
12/19/08:
Comment: Pit Bull Owners Consistently Blame Victims
08/23/08:
Suing Animal Control Agencies After a Dog Attack
01/12/08:
Family Hopes Vigil for Jennifer Lowe Brings Change, Stonger Laws
11/15/07:
2007 Fatality: Jennifer Lowe, Killed by Two Pit Bulls, No Charges Filed
Labels: Charles Smallwood, Jennifer Lowe, Kenneth Phillips, Tennessee

Please donate to support our work
DogsBite.org is a 501(c)(3) tax-exempt public charity organization. Learn more »
posted by
|
permalink
|
4 comments
|

email
|

blog rss
|

comment rss

4 comments:

cravendesires | 3/21/2010 1:41 PM | Flag
mr phillips, thank you for setting the record straight and thank you for dedicating your career to dog bite victims.

Torn between two nutters | 3/21/2010 6:38 PM | Flag
The breed blind Pit Advocate also failed to realize that this was not a mere "bad owner" of the dogs...Charles Smallwood was a breeder and sold dogs bred from them into the community.

Also, I wish the terms of the settlement could be disclosed, as the A/C Director went on a Pit Bull PR mission after Jennifer's fatal mauling, even claiming "It's the Cocker Spaniels". He really should have lost his job over costing a life and his taxpayers being forced to pay a settlement.

The Taxpayers of Knox county need to know what this F-Trooper cost them.

Tegenpitjes | 3/23/2010 2:39 PM | Flag
I can understand dbo's decision on the comments.

John Denino | 7/28/2015 4:12 AM | Flag
Thank you for educating the public.