Wednesday, February 24, 2010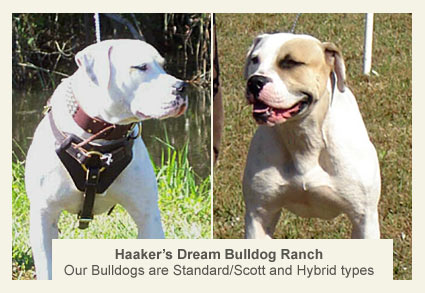 Champion Haaker's Uno of OHK
and
GC Haaker's Uno of OHK GTT2
Breeding Operation Ends
archived
UPDATE 02/24/10:
Officials report that the offending male dog named Uno (right photo) was euthanized Wednesday. Today, the three remaining female American
pit
bulldogs seized at the Haacker's Dream Bulldog Ranch were euthanized as well. "No one witnessed the actual attack on the child, but all of the [dogs] in the pen potentially had access to the little girl during this fatal attack," said Animal Services Director Jill Lancon. "We can't risk another tragedy."
02/21/10:
Mother Ran Breeding Operation
Lori Haaker, the mother of the child, is an active breeder of Scott type American bulldogs and hybrids. The two Haaker dogs depicted in the photo clearly illustrate pit bull type dogs (See:
Pit bull faq
) and once again raises the issue of exactly how to classify the Scott type American bulldog. The Scott type and breed standard is by definition a pit bull-mix, as the breed was
directly developed by crossing
early Johnson lines with the American pit bull terrier.
Pit bull breeders, owners and kennel clubs of have been
disguising the pit bull's name
since 1936. The Scott type American bulldog seems to be the latest outcrop. Though Haaker's website, dreambulldogranch.com, appears to be offline, one can
browse the site's web archives
. We found this page
particularly ironic
: "We are working toward a personal goal in our breeding program where the emphasis is on a temperament that is above all, people and child friendly."
The Department of Child and Family Services is investigating the parents of the little girl, whose name has still not been released. Details of the attack, such as how did the child wander into the pen, remain unclear. Four American
pit
bulldogs were chained to different trees inside the pen. Only one dog is believed to be responsible for the deadly attack. The child was dead by the time emergency responders reached the scene. The couple has four other children.
02/20/10:
Another Child Dead Due to a Pit Bull
Ocala, FL - Another fatal pit bull attack occurred today -- two in one day. The incident happened in Ocala, Florida. Jenifer Fisher, of the Marion County Sheriff's Office, said a woman was in her yard with her daughter, cleaning out the pen where the family keeps four pit bulls chained to trees. The woman went into the house and she didn't see her daughter when she returned. The woman later realized the girl had entered the pen and was being mauled by one of the dogs.
Related articles:
02/18/10:
2010 Fatality: Terry Child, 5-years old, Killed by Neighbor's Pit Bull
01/12/10:
2010 Fatality: Pet Pit Bull Kills 3-Year Old Boy in Apple Valley
09/05/09:
2009 Fatality: 2 Pit Bulls Kill 10-Year Old Boy in Rusk County, Texas
Labels: 2010 Dog Bite Fatality, Breeder-Related Fatality, Chained Dog, Chained Dog Fatality, Fatal Pit Bull Attack, Florida, Lori Haaker

Please donate to support our work
DogsBite.org is a 501(c)(3) tax-exempt public charity organization. Learn more »
posted by
|
permalink
|
32 comments
|

email
|

blog rss
|

comment rss

32 comments:

mrs.poodle | 2/21/2010 10:06 AM | Flag
How many of these nanny dogs did she sell telling the buyers that they are socialised with children - her children?

Anonymous | 2/21/2010 12:57 PM | Flag
I truly hope the media covers this story very aggressively, as this woman has put herself out there very publicly against BSL and is a well known breeder of American Bulldogs. I also hope this brings attention to just how dangerous this particular bully breed is. For years, the pit and American bulldog communities have tried to distance themselves from each other, but the Ambull is definitely a type of pit bull and was called such until 1974. It was an attempt to recreate the original breed from with pits derived, and they are extremely dangerous, unstable dogs.

Anonymous | 2/21/2010 2:58 PM | Flag
One of their dogs is a movie star:
We are proud to announce that one of the dogs we bred has become a movie star

Blue Water's Blitz of DBR can be seen in Cheaper By The Dozen with Steve Martin

The movie will be released Christmas Day

he was supposed to be the stand-in and ended up being the main dog

Good job Blitz!

Anonymous | 2/21/2010 3:16 PM | Flag
So does this breeding business have a sales tax id number? Are they licensed as a business? Do they have a kennel license?

Anonymous | 2/21/2010 3:19 PM | Flag
Chained to different trees inside the pen because THEY ARE AGGRESSIVE AND WILL KILL EACH OTHER!

More high prey drive, fighting dogs being bred.

High prey drive equals DEAD PEOPLE!

Trigger | 2/21/2010 3:52 PM | Flag
For Christ's sake, the woman advertises raising the dogs for hog hunting. There is no such thing as "safe hog dogs" around children. You can't have it both ways!

Anonymous | 2/21/2010 5:17 PM | Flag
Do you know how many families were inspired to purchase or adopt American Bulldogs as pets because of that movie? I too hope that this is well-publicized and used as a lesson in what these dogs really are.

Anonymous | 2/21/2010 8:15 PM | Flag
Oh, just crack it up to a really bad "yard accident," such accidents happened when one breeds across the board historical maulers.
---
http://www.scribd.com/doc/19651175/ROM-Yard-Accidents

Anonymous | 2/22/2010 12:16 AM | Flag
Why is hog catching still legal? Bull-baiting and dog fighting are gone (well, in a legal sense anyway) and this is no less cruel. Are there any groups working to stop this?

Dude I Bagged Ur Pit | 2/22/2010 1:47 AM | Flag
"We are working toward a personal goal in our breeding program where the emphasis is on a temperament that is above all, people and child friendly."

Isn't that what they all say?

Epic FAIL!

Again.

And Again.

And Again.

Because one more dead child is never enough to cure the pathological narcissism of these pathetic, sick bastards.

Anonymous | 2/22/2010 2:02 AM | Flag
@Anonymous: "High prey drive equals DEAD PEOPLE!"

Pit bull aggression has nothing to do with 'prey drive'. It has nothing to do with *any* of the normal forms of aggression in the domestic dog. Pit bull aggression is the result of a selectively inbred, strongly heritable brain malfunction that causes abnormal, unpredictable, explosive aggression.

See: http://www.scribd.com/doc/14810086/Heritability-of-Behavior-in-the-Abnormally-Aggressive-Dog-by-A-Semyonova

for an explanation of this, including links to the original research.

Anonymous | 2/22/2010 2:08 AM | Flag
Never seen dogs that had to be chained apart inside an enclosure...must have been real wigglebutts!

This breed should have been allowed to remain extinct!

Anonymous | 2/22/2010 7:25 AM | Flag
More Ampu-Bull Hi Jinx here:

http://www3.whdh.com/news/articles/local/BO136027/

Anonymous | 2/22/2010 10:03 AM | Flag
What kind of breeder keeps dogs chained to trees?

This is terrible and by no means I am suggesting that is was "how the dogs were treated" that caused one to do this, but, doesn't everyone who knows anything about dogs know not to chain them?

P. | 2/22/2010 10:52 AM | Flag
Rachael Ray's pit was from a breeder in Ocala. They raise them mean in Florida.

Anonymous | 2/22/2010 2:23 PM | Flag
"What kind of breeder keeps dogs chained to trees?"

Dog fighters and hog dog breeders.

That's why they fight so hard against anti-chaining laws.

Anonymous | 2/22/2010 2:28 PM | Flag
"Pit bull aggression has nothing to do with 'prey drive'"

It most assuredly does. That is a PART of the problem.

Pit bulls are bred to have a high prey drive.

They also have other aggression problems. As well as the physical ability to cause extreme damage with even simple bites.

But the high prey drive is why they are attacking other pets, and also plays a large part in their attacks on children.

They are intentionally bred to have a high prey drive because they are bred to be fighting dogs. This is an advantage to fighting dogs, a disadvantage to pets and a bad problem for society.

P. | 2/23/2010 9:41 AM | Flag
Seems they had an illegal kennel and now there is a question as to whether they were running a kennel at the time of the attack.

http://www.ocala.com/article/20100223/ARTICLES/2231008/1402/NEWS?p=1&tc=pg

Anonymous | 2/23/2010 12:26 PM | Flag
So they were pretending not to be breeders anymore so they could evade taxes.

From the look of their place, they were making a good income from their dogs. What do you want to bet they want the other 3 back so they can keep breeding them?

Anonymous | 2/23/2010 12:28 PM | Flag
So who runs this sideshow? Is this an ADBA game?

"This is the first time since I've been with the National Kennel Club that I've ever heard of something like this," said Del Morgan, president and CEO of the National Kennel Club, a group that registers varying breeds for shows."

Anonymous | 2/23/2010 12:30 PM | Flag
On countless breeder boards I have seen breeders discussing hiding away dogs for their fellow breeders before inspections, when there have been complaints, etc

Very often the operation is run primarily from some other location in the name of a relative or friend.

No income gets reported and no taxes are paid.

Sales are over the internet, primarily.

Anonymous | 2/23/2010 12:33 PM | Flag
"Meanwhile, county officials reported on Monday that the Code Enforcement Department in November 2007 received a complaint about a possible illegal kennel being operated at Haaker's Dream Bulldog Ranch in Oak, the site of Saturday's tragedy northeast of Ocala.

That complaint was dismissed, though, when investigators, who visited the site in January 2008 and did photograph four dog cages on the property, could not uncover sufficient evidence of a breeding-for-profit operation.

County spokeswoman Heather Danenhower added that there still was not enough evidence to conclude the property owners, Alan and Lori Haaker, were running a kennel."


Does listing dogs for sale on the internet count?

Got a complaint in 2007 and don't inspect until the following year?

Giving plenty of time for "adjustments" to be made on premises.

Anonymous | 2/23/2010 12:36 PM | Flag
And American bulldogs are very much to be found WITH dog fighters and in the dog fighting world.

Missouri arrest reported on http://cravendesires.blogspot.com/2010/02/big-missouri-bust-back-in-news-for.html


"56 yr old RICK P. HIHATH went before the judge today. he pled for leniency and probation, citing a concern that his family would lose their home. HIHATH said he genuinely loved dogs but he could not explain his "drift" into dog fighting. the prosecutor responded that HIHATH has been involved with the blood sport for 30 years and then played a 5 minute video of a dog fight being directed by HIHATH and HIHATH directing CRIS BOTTCHER to shoot the loser.

HIHATH was sentenced to 16 months in a federal prison.

the government is seeking legal ownership of hihath's 7 apbts and 5 ambulls (American bulldogs)."

Trigger | 2/23/2010 1:24 PM | Flag
Here's an ambull owner that distinctly states:

"how can i tell if my 10 week old pup is a scotts type or a johnson type? I asked the breeder and he says johnson and started telling me what scotts type look like. I thought that johnson types resembled pits while scotts types looked like... well... bulldogs... some help please?"

http://www.pedigreedatabase.com/dogs/american_bulldog/forum/25642.html

Anonymous | 2/23/2010 1:37 PM | Flag
I would love to see a comparison between the declared family income and the assets owned (house, vehicles, property.)

Why am I thinking there is a discrepancy?

That's a job for super IRS.

http://www.irs.gov/individuals/article/0,,id=106778,00.html

FoolMeOnce | 2/23/2010 1:59 PM | Flag
Somebody must have just looked the other way at their bully dog operation. Again, another so-called mother throwing her own child under the bus because of her pathological love for freakin' DOGS!!!! I hate that the newspaper states, as if fact, that the child became entangled in the dog's chain, and then was attacked. No body knows, because no one was there. I think it is much more likely that the dog attacked the girl and in the process of shaking her like a ragdoll, the child became entangled. I need to go scream again....

Anonymous | 2/24/2010 12:21 AM | Flag
I'm really tired of seeing officials say that the parents have suffered enough in losing a child. That is BS! The parents would not have "lost" a child if they weren't running an illegal breeding operation in their own back yard and didn't have the hubris to believe they could control their self-admitted "extremely high prey drive" dogs. Their own negligence and illegal activity led to the death of their child. It's not just some tragic accident like a drowning or a fall. These people have direct culpability. What about the child? Did she "suffer enough", too? Does she deserve no justice? Press no charges, return the dogs, and these breeders will continue to endanger other children with the maulers' offspring. How is that just?

Anonymous | 2/24/2010 5:06 AM | Flag
Lori Haaker's 911 call released:

http://www.clickorlando.com/news/22622136/detail.html

Champion hogdoggin' pedigrees all over the internet and the county inspectors couldn't find evidence of breeding.

The State DNR also supports hogdoggin' as the only way to safely control feral hog populations...somethin' stinks here!

Anonymous | 2/25/2010 1:40 PM | Flag
I firmly believe that only a portion of the breeding stock was kept at this house, enough to stay within the limits of 4 dogs so a license didn't have to be obtained (and more documentation, including just how many dogs being sold and bred, which means that income isn't so easy to hide.)

After all, the breeder was given a head's up before the 2008 inspection and was able to secrete dogs away then.

This operation is also being run in another location, I am sure, under another breeder's name or even a fictitious name.

It is probably tax authorities who can find out for sure.

And what about the offspring of the aggressive dogs that has been sold? What maulings have THEY been up to, or will be?

Anonymous | 2/25/2010 1:56 PM | Flag
Yeah, I agree -- it's pretty common as well to house the dogs at other locations. It's the bloodline that's important and Uno shows up in quite a few pedigrees.

Anonymous | 2/26/2010 5:28 AM | Flag
"Champions" from the Haaker man-killing line are all over Texas.

Cull early and cull often!

Deborah | 2/26/2010 3:34 PM | Flag
Violet Haaker is the little girl's name. Here is her obituary as it was published in the Star Banner today.

HAAKER, VIOLET SERENITY
Ocala - Violet Serenity Haaker. 1/27/2007 - 2/20/2010. Our little Angel Violet was the heart of our family and our joy and comfort. We are releasing her to be with Jesus as a family. Personal friends who want o celebrate her life in Praise with us are welcome and can contact us for information on this private gathering. Forever in our hearts. Parents; Alan & Lori J. Haaker, brother Lucas, Curtis, Vincenzo, Anthony, Dillan, sister Hailey, uncle John, grandparents Nana & Papa Wicher. Instead of flowers please we would like donations to be sent to not for profit Advocates For Children and Families Adoption Agency in her name (Violet Serenity Haaker) to assist in an adoption for a waiting family so another family can experience the joy she brought to us, 16831 Northeast Sixth Avenue, North Miami Beach, Florida, 33162, 305-653-2474 Phone, info@adoptionflorida.org.
Arrangements by Robert Funeral Homes, Downtown Chapel. 352-622. 4141 Published in Ocala Star-Banner from February 26 to February 27, 2010 print