Monday, November 9, 2009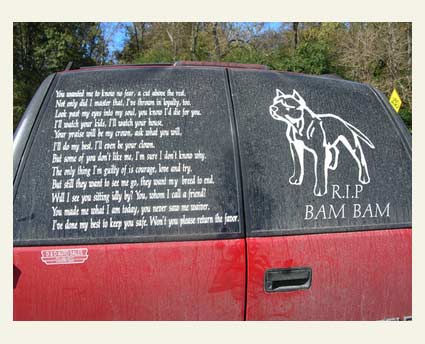 Pit bull owner Jerry Westmoreland, has a "pit bull memorial" painted on his vehicle.
"Boyfriend's" Pit Bull
UPDATE 11/09/09:
The New Albany Gazette published an update to the fatal pit bull mauling of Destiny Marie Knox. At the time of the attack, Destiny was under the care of her babysitter Tonya Graham. According to Union County Sheriff Tommy Wilhite, Graham and Knox were at Graham's boyfriend's residence, the home of Jerry Westmoreland, when the incident occurred. The offending pit bull, named Foolish, was shot and killed at the scene by a police officer.
The mother of the victim is Nicole Howard and the father of the baby girl is Detrick Knox. In regards to possible charges, Wilhite told reporters, "We have not been able to prove any neglect and haven't established a criminal violation at this time." Charges, if any, will be determined in the March term of the grand jury. Westmoreland, who has a "pit bull memorial" painted on his vehicle, surrendered his four remaining pit bulls to the Oxford Humane Society.
11/07/09:
Dog Was "Very Healthy, Very Stout"
New information concerning the death of Destiny Marie Knox has been released. The pit bull owner had a total of five pit bulls, one of which "slipped its collar" and chain and entered into the owner's home. The dog quickly attacked the toddler, who had not been left unattended as previously reported. Investigators found no signs that the pit bull had ever been mistreated. Chief Deputy Jimmy Whitten said, "This dog was very healthy, very stout. It was well-kept, well-groomed."
According to Whitten, Union County had not had a fatal dog attack in his memory, but he and fellow officers said vicious dogs are a frequent problem. Sheriff's Investigator Anthony Anderson said he'd favor a ban on pit bulls and other vicious breeds. "
Every dog bite case I've worked at the hospital has involved a pit bull
," he said. Investigator Roger Garner agreed. "When I was at Tupelo and we had attacks by dogs,
almost 100 percent of the time
it was by a pit bull or some pit mix," he said.
Both Whitten and Anderson believe that state legislators need to look at the growing pit bull problem and take action to
prevent future maulings
.
11/06/09:
Victim Named: Destiny Marie Knox
Union County Coroner Mark Golding has released the identity of the Union County toddler killed by her babysitter's pit bull Thursday evening in the Martintown community. Golding identified the 16-month old child as Destiny Marie Knox. According to Union County Sheriff Tommy Wilhite, sheriff's deputies are continuing their investigation into the killing. No other names of people involved, including the babysitter, have been released.
The child was killed at the home of its babysitter when the babysitter's chained pit bull "slipped out of its collar" and followed the people into the house as they unloaded groceries. A 19-year old man in the house tried to stop the attack, but by the time sheriff's deputies arrived the child was dead. The pit bull was later killed by sheriff's deputies, presumably by gun fire.
"It's devastating anytime you have the loss of a child," said Sheriff's Investigator Anthony Anderson. "Especially in these circumstances, where the child was mutilated, it's devastating."
The vehicle identified as belonging to the owner of the pit bull bears a "pit bull memorial." The dog, named Bam Bam, is apparently a former pit bull owned by the person. Two of the lines in its poem state, "But some of you don't like me, I'm sure I don't know why. The only thing I'm guilty of is courage, love and try." (
Read full poem
.) This pit bull owner is a "classic pit bull advocate" who undoubtedly stated on many occasions: "
My dog would only lick you to death
."
11/06/09:
Child Killed by Babysitter's Pit Bull
New Albany, MS - In a developing story, a 16-month old child was attacked and killed by a pit bull in Union County on Thursday, November 5. Union County Sheriff Tommy Wilhite said a family was
babysitting the child
and left the child unattended in a room when the dog attacked. The incident happened on County Road 87 about 5:30 p.m. A 19-year old, who was at the home at the time, hit the pit bull and stabbed it several times trying to get it off the toddler.
This death marks the
third death of a child
by a pit bull mauling in less than two weeks. Each of these instances involved a "babysitter."
Related articles:
10/29/09:
2009 Fatality: Toddler Wanders from Babysitter's Home; Killed by Pit Bull
10/27/09:
2009 Fatality: 17-Month Old Boy Killed by Pit Bull-Mix at Babysitter's Home
Labels: 2009 Dog Bite Fatality, Babysitting, Destiny Marie Knox, Fatal Pit Bull Attack

Please donate to support our work
DogsBite.org is a 501(c)(3) tax-exempt public charity organization. Learn more »
posted by
|
permalink
|
18 comments
|

email
|

blog rss
|

comment rss

18 comments:

Anonymous | 11/06/2009 11:45 AM | Flag
Unbelievable. Another baby dies a horrific death that is entirely preventable.

What is the body count at for this year?

Donnie Brasco | 11/06/2009 12:52 PM | Flag
Why isn't this HEADLINE NEWS MATERIAL? CNN WILL COVER A COYOTE ATTACK IN THE MIDDLE OF CANADIAN MOUNTAINS, A SHARK ATTACK IN THE OCEAN, BUT NOT A PIT BULL KILLING AN ABSOLUTELY DEFENSELESS BABY?

WHAT THE (BLANK!).

mrs.Poodle | 11/06/2009 3:08 PM | Flag
I can't find another report on this either. Maybe two in three weeks is the maximum they want to report on. ??

Trigger | 11/06/2009 6:12 PM | Flag
"Several Union County officers said Thursday's tragedy highlights the need for statewide legislation against vicious dogs. "I think it's something that the Legislature needs to hear about," said Chief Deputy Jimmy Whitten. "Something's got to be done. You hear more and more about (this kind of attack) every day."

That is correct!

Anonymous | 11/06/2009 6:21 PM | Flag
Here is the full poem:

A Pit Bulls' Plea
(author unknown)

You made me what I am today,
courage at its best.
You wanted me to know no fear,
a cut above the rest.
Not only did I master that,
I've thrown in loyalty too.
Look past my eyes into my soul,
you know I'd die for you.
I'll watch your kids and your house,
your praise will be my crown.
Ask what you will I'll do my best,
I'll never let you down.
But some of you don't like me,
I'm sure I don't know why.
The only thing I'm guilty of
is courage, love and try.
But still they want to see me go,
they want my breed to end.
Will you sit idly by,
you whom I call a friend?
You made me what I am today,
you never saw me waiver.
I've done my best to keep you safe.
Won't you please return the favor.
---
http://www.thebestpitbull.com/pitbullpoems.htm

Trigger | 11/06/2009 6:26 PM | Flag
Comment by lurchaddams:

"I personally have seen the "BAM BAM memorial" driving around Tupelo and Shannon. If I am not mistaken, there is a bullet hole about two inches from where that picture ended."

Anonymous | 11/06/2009 11:28 PM | Flag
Not very Nanny-like!

RIP Little one....

Who in their right mind drops a toddler off at a sitter with a Pit Bull?

PLEASE STOP!

Anonymous | 11/06/2009 11:41 PM | Flag
Another Nanny gone bad episode results in infant being in critical condition:

http://www.newson6.com/global/story.asp?s=11460799

Anonymous | 11/06/2009 11:48 PM | Flag
Piticide number 79 since January 1 2005.....I wonder how many times this nutter has typed "it's the owner" on post attack threads?!?

Once again a mandatory covered enclosure would have saved a life.

Anonymous | 11/07/2009 10:36 AM | Flag
Hmmm...what is it about pit bull owners?

http://www.tylerpaper.com/apps/pbcs.dll/article?AID=/20091107/NEWS01/911070318

The owners of the pit bulls that killed little Justin Clinton are demanding a makeshift memorial to him...a wooden cross surrounded by flowers...be removed, because the sight of people coming to the memorial is "disturbing them".

Anonymous | 11/07/2009 12:25 PM | Flag
Only a narcissistic sociopath would construct a memorial to a child killer. Even in the context of a specific pit bull that actually killed a child, the poem includes, "But some of you don't like me, I'm sure I don't know why. The only thing I'm guilty of is courage, love and try."

Sick. Despicable. And a lie. What pit bulls are guilty of is killing more children than all other breeds combined. That's neither love or courage.

This pit bull owner and advocate is every bit as deranged as Charles Manson or Jeffrey Dahmer.

Anonymous | 11/07/2009 5:14 PM | Flag
Are the nutters going to try to pass off this pit bull fanatic as an irresponsible and abusive owner too? I don't see it flying this time. More proof that it doesn't matter who the owner is or what the training and care is, if the dog is going to attack, there is nothing that can stop it.

Anonymous | 11/08/2009 5:34 AM | Flag
What happened to Bam Bam the Pit Bull eulogized in the poem?...Shot by Police?!?

Yes unfortunately for this Nutter, she is about to be outcast and thrown under the bus as a bad owner.

It is the Pit Nutter code...continue the current, grotesque breeding standards at all costs!

Anonymous | 11/08/2009 11:06 AM | Flag
Well, wait a minute...the "tribute" poem to pit bulls praises them for being guard dogs..."I'll watch your kids and your house". It basically memorializes them as protecting/defending its home and family...by being aggressive to strangers, perhaps?

But wait a minute...I thought that a "real" pit bull was SO friendly to humans, including strangers, that they made TERRIBLE guard dogs! Isn't that what all the pit bull propaganda web sites insist? So which is it? Is the pit bull a dog that is fearless and "brave", and ready to fight at a moments notice, or is the pit bull a "lovable wigglebutt", who wants to lick everyone to death?

It seems that the pit bull fanatics can't make up their minds as to what their "breed" really is. They keep spinning the fairy tales about pit bulls; they are great with children, they are non-human aggressive... dog aggressive pit bulls pose no danger to people, they only fight other dogs if they are "forced" to or 'trained" to.... they contradict themselves over and over again. That is why the public, and lawmakers, should ignore these pit advocacy groups

Anonymous | 11/08/2009 1:11 PM | Flag
Yes, it's all "bad owner, chained dog" on the nutter forum. One of them that she doesn't "even leave her 2 year old niece alone with" her dog. And hey, it's a great start, but from her picture she's a small woman who doesn't understand that if her dog decides to kill her niece she won't be able to do a damn thing about it because her dog is WAY beyond her physical control. They just don't get it and they never will so these little kids will keep paying the price until the laws change.

Anonymous | 11/09/2009 2:59 AM | Flag
When are they going to name this perp-nutter-child killer?!?

Pinkerton | 11/12/2009 7:28 PM | Flag
Destiny Knox Obituary

NEW ALBANY – Destiny Marie Knox, 16 months, died Thursday, Nov. 5, 2009, at the home of her babysitter. She was born July 2, 2008, in New Albany to Nicole Howard and Detret Knox of Myrtle. Services will be at 12 p.m. on Tuesday at Victory Life Center in New Albany with Bishop Henry Finley officiating. Burial will be in Gerizum Cemetery. Serenity Funeral Home of New Albany is in charge of arrangements.

Survivors include her parents; a sister, Jasmine Howard; a brother, Damien Knox; her grandparents, Ella and Ricky Cook, Catherine and Billy Blackwell of New Albany and Jack and Julie Howard of Burlington, Wisc.; her great-grandparents, Elsie and James Blackwell of New Albany and Jack and Cheryl Schweitzer of Oak Creek, Wisc.; her godmother, Lynn Jeffries; her godsister, Ingrid Christian; her babysitter, Tanya Graham; and a host of uncles, aunts and other family and friends...

http://tinyurl.com/ydkafpw

Anonymous | 11/17/2009 5:12 AM | Flag
Has this Pit-Perp been named yet? Why all the hush-hush on this one?