Monday, November 17, 2008
Reno, NV - On November 2, 2007, the Reno Gazette-Journal reported that a quarterhorse named Zack was put down in Smith Valley as a result of injuries inflicted by a neighbor's four pit bulls. The neighbors had moved in one day prior to the deadly attack, which also injured two human beings. The owner of Zack, Lisa Adams, has written DogsBite.org to share her story.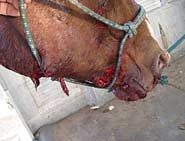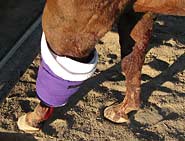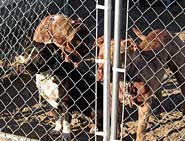 Please click on an image to enlarge it. Note the dogs are still covered in blood.
In Lisa Adams Words
"On Oct 28th, 2007, my husband had left for work at about 7:30 a.m. Dust, screaming and the most horrific event shortly followed. "Four" pit bulls came from the house next door; we did not know they were even there? The new people moved in on Saturday and the attack took place on Sunday morning. My Barrel Racing horse "Zack" was attacked in his stall and was so severely torn apart he had to be put down. People were hurt badly as well. I myself will never get over this, and I am hoping I can do something to help with these horrific attacks. I truly from the bottom of my heart would like to do something regarding these careless people that own these dogs that do not take care of them properly. The female part in the couple walked out to a small man-made kennel and let these vicious killers out and they turned right instead of left. This changed our lives forever. In our small neighborhood we have horses, birds, goats, dogs and small "children." We are all animal loving people."
Dog Attack in SV Results in Death of Horse


The incident began about 7:30 a.m. Sunday in the neighborhood between Day Lane and Artist View in Smith Valley as Mrs. Adams got up and saw a neighbor who had apparently moved in the day before let four dogs out of a small fenced kennel. She said she couldn't tell what kind of dogs they were but admitted she was a little concerned seeing a neighbor with dogs. Her husband Steve, a LCSO deputy, had already left for work.
Lisa Adams then walked to the other side of the house and noticed her 26-year-old mare, who can barely move, walking in circles, dust kicked up.
She ran outside and heard noise in the other horse's stall (a third horse the Adams own is on the other side of their five-acre property). She saw an apparent owner crouched down with one dog to the side and three pit bulls in the stall.
So she ran inside to call 911, Mrs. Adams related, and apparently was screaming for help so the three neighbors arrived. Two tried to get the dogs away from the horse, but one was kicked and injured in the leg, so the other and Mrs. Adams dragged her out of the stall.
"Thank God the dogs didn't turn on her," she said.
Eventually, Adams went into her home to get a pistol and shot one of the dogs, although it survived, as Bolzle said it was a superficial wound. However, Adams said the other dogs then left her horse alone.

(Keith Trout, "Dog attack in SV results in death of horse," Reno Gazette-Journal, November 2, 2007)
When Adams went to help her horse to try to stop the bleeding, the horse being in severe pain, struck her in the head. She also had chest pains from the stress, which resulted in a hospital trip. Adams described the ordeal as happening fast, but it also seemed "to be in slow motion." She said, "It was a horrific thing." She said the pit bulls "shredded a 1,200 pound horse." The horse had part of its face torn off. Its left front leg was seriously damaged, almost completely detached as well.
After the Attack, in Lisa's Words
"I spent the night in the hospital with chest pain and feeling horrible about what had happened. Who wouldn't? In the story it says that my neighbor was kicked but she was actually run into by the horse as he tried to fight off the dogs. The dogs had him pinned in his stall. He had made numerous attempts to jump or get out of his pen, it's all horrible...I just hope by telling this story I can save a life of a human or animal. The people that owned these dogs should be in jail. I feel very strongly about this, and I hope someday they get caught breeding and selling these animals. They moved to another area in Nevada by the name of Gardnerville, which is a beautiful small town that sits under South Lake Tahoe. I am sure without a doubt that their "new" neighbors have NO idea what has or will happen. I truly feel for them. We were caught completely off guard and still feel sick this happened. These careless owners need to be punished."
Charges Brought Against Dog Owners
The two dog owners were issued a citation by Lyon County Animal Services, cited for a violation of NRS 68.370, which says permitting dog to chase, worry, injure or kill domestic animals on open range or private property is unlawful, a misdemeanor offense. Nearly seven months later -- June 23, 2008 -- the two pleaded guilty to the charges. They were ordered to pay fines, court costs, and restitution. Each were sentenced to six months in county jail, which was suspended for one year with the following probation terms:
Pay all fines, fees and restitution
No violations regarding animals
No further ownership of pit bulls (and similar breeds)
Lisa also told DogsBite.org that the conviction will be entered on the two dog owners' national criminal history since it was a violation of state law, not a county ordinance. She said the conviction might be the first for this type of crime in her area. Now, she and her partner wait during the next year for the small amount of restitution to be paid. If the dog owners do not pay, she promises to do all within her power to have their probation violated and the six-month jail sentence imposed.
Related articles:
10/13/08:
Apple Valley Attack: Pony Attack Victim Shares Photos
05/03/08:
Flashback: Companion Trained Pit Bull Attacks Police Horse
Labels: Nevada

Please donate to support our work
DogsBite.org is a 501(c)(3) tax-exempt public charity organization. Learn more »
posted by
|
permalink
|
7 comments
|

email
|

blog rss
|

comment rss

7 comments:

Anonymous | 11/17/2008 5:41 AM | Flag
This makes me very, very angry. My heart goes out to you Lisa -- and to your partner, helping neighbors and family. I can't imagine the DUST and the CHAOS and all of the resulting injuries. I can't imagine Zack trying to get out of his pen.

Anonymous | 11/17/2008 1:08 PM | Flag
Lisa, my heart breaks.

Unfortunately, too many legislators have caved to the demands of breeders and dog fighters who only care about the money they make from these dogs.

The breeder lobby comes up with terrible propaganda (such as ridiculous claims of "racism") when the issue of breed specific law comes up.

But when honest citizens fight back, laws can get passed.

I hope you will get together with citizens of your community and demand that legislators pass better laws and enforce them.

And please sue those dogs owners, for your horse and injuries any people have suffered.

That is the only thing that makes an impression on these criminals.

If your town or city has not been enforcing the laws, and has allowed these people to break them, then sue the town or city as well. Their negligence caused your injury and loss.

Anonymous | 11/17/2008 1:18 PM | Flag
"has a litter of pups, remained at the home"

Animal Control allowed a dog fighter breeder to keep their hands on their profits.

I would sue the city for sure!!!!

They leave a dangerous dog in that house, someone could die.

Every single dog should have been seized

Animal control should not be following orders from a dog fighter breeder.

Please find a lawyer skilled in handling dog attack cases.

bluesmom | 11/17/2008 9:21 PM | Flag
Confined horses have NO chance to survive a pit bull attack. Poor Zack, standing where he should have been the safest, in his own stall, should never had to face this. Horse owners and owners of other livestock should feel confident that their animals are safe on their own property. The death of this good horse is a disgrace!

Anonymous | 11/17/2008 10:56 PM | Flag
Please please sue these people!!!

Dee | 11/19/2008 4:17 AM | Flag
You are heroic Lisa. Thank you for sharing your story. I know it must have been painful.

ft4kc | 3/06/2009 10:32 PM | Flag
Just know Lisa, your story has reached and helped me with mine. On Thanksgiving morning '08, my little mare KC, was cornered and hung on a fence when she tried to jump it to get away from the neighbors pit bulls. Unfortunately, she, like Zack, could not get away. I have another horse, that did live through this horrific event only because my neighbor decided to feed early as a favor because I was preparing dinner for that evening. There is no doubt in my mind that these dogs would never have stopped until he was down as well.
My gelding still walks with a pronounced limp from one of the over 40 bites just to his right front leg. He had numerous, enormous chunks of flesh completely removed from his lower lip, girth, neck, shoulder and chest. Since his prognosis is still guarded at best and he is still under the veterinarians care, the final chapter to my story is not yet written. For now we wait. In the mean time the dogs responsible have been euthanized, but not before the owner appealed the decision of the Animal Control to declare them vicious. I am thrilled to know that the terms of your (owners) probation prevents them from owning another dog like this. Your story has given me and many others, hope that someday this nonsense will stop and there will be appropriate laws established pertaining to these dogs, holding such derelict owners responsible. Zacks death was not in vain. Your case will set a standard/precedent in the state of Nevada for those cases yet to come.
Thank You for sharing your story Lisa.
I am truly truly sorry for your loss.