Thursday, July 24, 2008
Omaha, NE - As officials in Omaha continue to debate various pit bull regulations, a comic strip artist points out the obvious. Before a pit bull ban was seriously considered in Omaha -- and prior to the attack the ripped off a little girl's scalp -- a separate pit bull cartoon ran in Omaha titled, "
How to Play Fetch with a Pit Bull
." Charlotte was severely attacked about month later.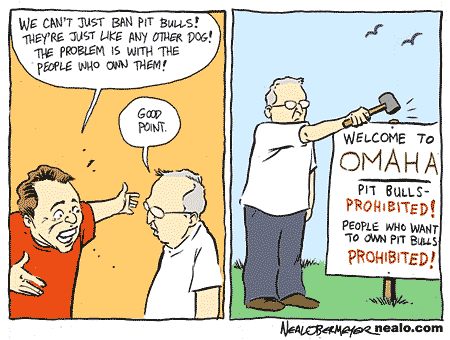 Related articles:
06/28/08:
Coverage of the Omaha Pit Bull Attack - DogsBite.org
Labels: Comic Strip, Nebraska, Pit Bulls in Pop Culture

Please donate to support our work
DogsBite.org is a 501(c)(3) tax-exempt public charity organization. Learn more »
posted by
|
permalink
|
3 comments
|

email
|

blog rss
|

comment rss

3 comments:

Anonymous | 7/24/2008 10:26 AM | Flag
Hahahahahahaha! Great cartoon and so true!

I do have a couple of worries about living in a community where pit bulls aren't allowed...

Isn't it going to be more difficult for me to spot people with flawed characters when making decisions about hiring, which neighbors to trust, etc.? The 'Pit Bull Filter' has been a very reliable indicator.

Anonymous | 7/24/2008 6:57 PM | Flag
It sounds like the cartoonist has heard this line one too many times. So has the public! Humor always has truth too it!!!

Anonymous | 7/27/2008 5:10 AM | Flag
"But explosive animal aggression is easily manageable!"