Thursday, May 15, 2008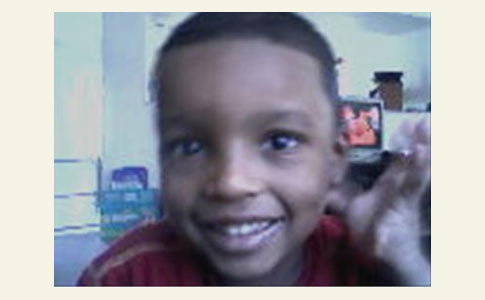 Julian Slack, 3-years old, was mauled to death by a pit bull at Camp Lejeune.
Mauling Victim Identified
UPDATE 05/16/08:
Onslow County medical examiner, Dr. John Almeida, has released more information about the fatal pit bull attack that occurred. Julian Slack, 3-years old, bled to death as a result of dog bite injury. The manner of death is listed as accidental on the death certificate. Slack was at home and under the care of a babysitter at the time of the incident.
The attack occurred about 4 pm, when an acquaintance of the Slack family, who is neither a Marine nor a base resident, stopped by the family's Tarawa Terrace home with the dog. At some point, the dog was let into the residence and became "excited or startled" by something Slack may have done and attacked. It is undetermined who allowed the dog into the home.
Near the time of the attack, the child's parents arrived and transported the child to Onslow Memorial Hospital. He arrived at OMH without a pulse.
05/14/08:
3-Year Old Attacked on Base
Camp Lejeune, NC - Base officials at Camp Lejeune say a three-year old boy was bitten by a pit bull on base and died. A base spokesman says the incident happened at Tarawa Terrace. It's unclear what led to the attack. Onslow County Memorial Hospital spokesman says the father of the boy drove him to the hospital. The boy did not have a pulse when he arrived.
Last year,
Dandre Fisher
was mauled to death by two pit bulls at the Hunter Army Airfield in Georgia. In the past 10 years, more military bases have imposed breed-specific regulations on base housing communities to prevent tragic maulings. Camp Lejeune was not one of them (see bases with
breed-specific laws
). Furthermore, Camp Lejeune was sued for 5 million dollars in 2007 for a vicious attack by a rottweiler on a young girl.
Related articles
05/17/08:
2008 Fatality: Julian Slack's Death Brings Back Bad Memories
12/08/07:
Rottweiler Attack Prompts Military Base to Revisit Pet Policies
Labels: 2008 Dog Bite Fatality, Camp Lejeune, Fatal Pit Bull Attack, U.S. Marine Corps

Please donate to support our work
DogsBite.org is a 501(c)(3) tax-exempt public charity organization. Learn more »
posted by
|
permalink
|
6 comments
|

email
|

blog rss
|

comment rss

6 comments:

Anonymous | 5/15/2008 2:45 AM | Flag
Roughly a third of the comments on the site running the article are from pit bull loons. So on the very evening that pit bulls kill one 3 year old and gravely wound another, we're asked to believe this could have been ANY breed, or that pit bulls are USUALLY misidentified, or mismanaged, or... blah-blah-blah.

These people are out of their damn minds! And, for sure, I don't buy any of their feigned sympathy for victims. They couldn't be anymore transparent with their disingenuous nonsense.

Dee | 5/15/2008 3:58 AM | Flag
Last time I checked, the comments that opposed pit bulls had "comment edited" written beneath them by the news source! Pro mauling news source? I still managed to sneak a few on. Furthermore, only DogsBite.org caught the connection with last year's 5 million dollar lawsuit with the same military base about a separate vicious dog attack.

Anonymous | 5/15/2008 8:27 AM | Flag
It interesting that the Federal Gov't mandated that Vick's Pit Bulls could only be given to rescue organizations with $1Million liability insurance, yet they allow the Ultimate Canine Gladiator in high density miliary housing areas with tons of kids.

Jersey | 5/15/2008 9:25 AM | Flag
There is a poll attached to the article asking if pit bulls should be banned - so far almost 60% say yes. Please vote!

Also, saw a comment that said pit bulls and other aggressive dogs should be banned from bases because the military can't insure the owners are doing their jobs. If the military can't do it, neither can regular towns or animal controls.

Anonymous | 5/15/2008 10:30 AM | Flag
Exactly!

Anonymous | 5/15/2008 4:31 PM | Flag
If were the parent, I would have been arrested for beating the babysitter to death.