Thursday, April 17, 2008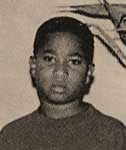 Boy Shot in Face Remains in Critical Condition
North Bellport, VA - An 11-year-old boy who was critically wounded by gunfire as he sat in his home remains in critical condition. Jeffrey Langhorn, a sixth grader at Frank P. Long Intermediate School, underwent surgery, where he is being treated for a gunshot wound to the face and spinal injury.
Police said that Langhorn's father, also named Jeffrey, argued with three or four men in the backyard of the boy's North Bellport home before one of the men fired three times, missing the elder Langhorn but hitting his son in the nearby kitchen. Police said the victim's father knew the suspects, and that he is cooperating.
Suffolk officials also seized more than a dozen pit bulls from the father's home on Provost Avenue. Officials believe they were kept for illegal dogfighting purposes. Injuries to the dogs indicated extreme neglect, including "big, open wounds on the neck," "torn ears from bites" and "very serious ear trauma" that had been left long untreated.

Please donate to support our work
DogsBite.org is a 501(c)(3) tax-exempt public charity organization. Learn more »
posted by
|
permalink
|
2 comments
|

email
|

blog rss
|

comment rss

2 comments:

Anonymous | 4/18/2008 3:25 AM | Flag
Hmmm... another kid who is a victim of the Pit Bull sub-culture.

Anonymous | 4/18/2008 9:19 PM | Flag
A bad photocopy, like on the back of a milk carton. How many other kids like this are there?