Saturday, February 9, 2008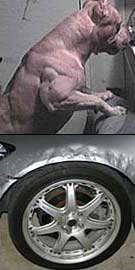 Car Used as Chew Toy for Pit Bull?
Culturegarage.com -- an intersection of cars and culture -- recently posted some remarkable and frightening photos of a Honda S200s that appears to have been used as a chew toy for a gigantic, potentially steroid-enhanced, pit bull dog. As the author states, context is lacking, so speculate to your heart's desire.
In an article about Michael Vick, The Humane Society says that at least 20,000 -- and perhaps as many as 40,000 dogs -- are involved in dog fighting contests a year. Henry McMaster, also quoted in the article, said he's heard of pit bulls being injected with steroids to make them stronger and having cocaine rubbed on their gums so they will be even "more hyped up" for a fight.
This dog may have some of both.

Please donate to support our work
DogsBite.org is a 501(c)(3) tax-exempt public charity organization. Learn more »
posted by
|
permalink
|
4 comments
|

email
|

blog rss
|

comment rss

4 comments:

Anonymous | 2/10/2008 11:47 AM | Flag
Looks like this sweetie doesn't get enough hugs and kisses...

Dog Lover | 2/10/2008 12:17 PM | Flag
This picture is horrific...if it's not doctored, the website owner should contact the SPCA and law enforcement, and try to track the IP address. That animal has been injected with steroids, and is being trained to kill other dogs, or protect some drug dealers operation. That is not a pet.

I would bet my life that the owners of that dog are criminals.

Anonymous | 2/11/2008 5:02 AM | Flag
It is astounding that the creature is considered a domesticated dog!

I see another chain breaking incident in the near future.

bitbypit | 2/11/2008 11:53 AM | Flag
Done Dog Lover.