Sunday, January 20, 2008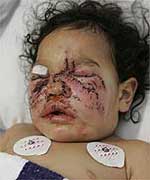 Dog Owner Ordered to Pay $3,500
New Zealand - The owner of a staffordshire cross dog which clamped its jaws onto the face of a girl playing at Christchurch's Jellie Park has been ordered to pay $3500 to her family for emotional harm.
DogsBite.org doesn't purport to understand New Zealand's health care system
, but in the US, this child's injuries might reach well beyond several hundred thousand dollars.
The girl, now aged three, faces medical treatment for years ahead. Last summer, the dog unexpectedly got out of his owner's fenced yard. The dog seized the girl by the face causing cuts, which required 290 stitches, and broke her jaw. She has a metal plate in her mouth to help her jaw repair. She also lost several teeth and suffered tear duct damage, leaving her eyes to continuously weep.
The judge noted that the dog had been in an enclosed yard but had "proved to be rather more resourceful than anybody had foreseen" in getting out of the yard and into the park. He was shown a photograph of the dog sleeping peacefully with the Lees' infant daughter.
Note to self:
"Staffords are excellent climbers. To prevent vertical exits from the yard, you can top the fence with a horizontal overhang or choose an unusually tall fence."

Please donate to support our work
DogsBite.org is a 501(c)(3) tax-exempt public charity organization. Learn more »
posted by
|
permalink
|
2 comments
|

email
|

blog rss
|

comment rss

2 comments:

Anonymous | 1/22/2008 9:41 AM | Flag
Where, in God's name, are child welfare organizations? Why are these children expendable?

Why am I laible if I fail to put a fence around my inground pool and my neighbors child falls in and drowns....but not liable when I buy an animal that is bred SPECIFICALLY for aggression and fighting, and allow it to maul my neighbors child?

Are we that violent a society that the right to keep a certain type of "pet" that appeals to our vanity trumps the right of children to live and play safely in their own back yard, neighborhood, or public park?

schultz | 1/22/2008 6:03 PM | Flag
this poor little girl.
$3500 ought to cover it!

people whose dogs do this, should be living in a cardboard box.