Saturday, December 15, 2007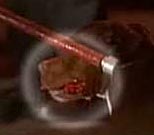 Pit Bull Mauls Owner In Attack
Cincinnati, OH - The owner of a pit bull was recently mauled by his dog. The man has been hospitalized with serious injuries from his shoulder to his wrist. Neighbors were told to stay indoors until the pit bull was captured, which still had blood on his mouth.
Several officers, concerned the dog might next go after them, had shotguns ready. While the uncertainty of the situation kept many residents at bay, the SPCA officer was able to take the dog without further incident. A neighbor said that the the dog must have snapped to go after someone so violently, especially its owner.
In 2003, the City of Cincinnati banned pit bulls. The article does not state if this dog was registered prior the ban and therefore legal to own or if it was unregistered and illegal to own. If the latter is true, the victimized owner will also be slapped with stiff fines.

Please donate to support our work
DogsBite.org is a 501(c)(3) tax-exempt public charity organization. Learn more »
posted by
|
permalink
|
2 comments
|

email
|

blog rss
|

comment rss

2 comments:

Anonymous | 12/21/2007 11:33 PM | Flag
THE MAIN QUESTION HERE IS WHY DID HE ATTACK HIS OWNER? WHAT WAS THE OWNER DOING FOR HIM TO ATTACK HIM. DOGS DON'T ATTACK FOR NO REASON...THERE IS ALWAYS A REASON FOR AN ATTACK.

Anonymous | 1/20/2008 12:01 PM | Flag
Why do you pit apologists insists that the owner had to do something for them to attack. THEY ARE ANIMALS - NOT HUMANS!