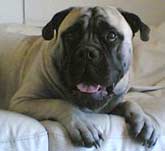 Bull Mastiff Bites Chatham Police Officer's Arm
Chatham, MA -- The Chatham Police Department will investigate whether a dog that attacked a Chatham police officer should be classified as vicious, Police Chief Roy Barnett said Sunday.
On Saturday, Officer Adam Dejaymes shot a dog believed to be a 125-pound bullmastiff after the dog charged him, clamped its mouth down onto his arm, and wouldn't let go. Dejaymes was taken to the hospital, where he received stitches on his forearm and was released. Authorities said Sangamon County Animal Control picked up the dog and took it to an animal hospital.
Existing state law identifies a dangerous dog as "a dog that poses a serious threat or has, without justification, bitten a person but does not cause serious physical injury." A vicious dog, under state law, is one that, without justification, attacks a person and "causes serious physical injury or death or has been found to be a dangerous dog on three separate occasions."
The bullmastiff, a cross between a bulldog and mastiff and weighing between 110 and 135 pounds, was bred in England in the 1860s to protect against poaching on estates, according to the American Bullmastiff Association.