Friday, February 5, 2010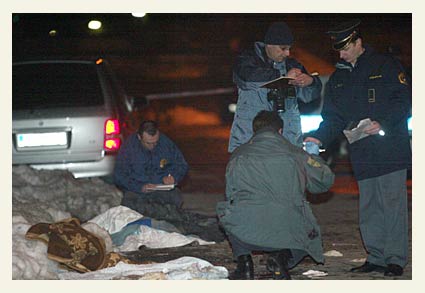 Scene of the 2006 attack that left Stanislav Meglic with permanent injury.
The Irony and Outcry
Ljubljana, Slovenia - It was reported on Wednesday that the owner of three bullmastiffs, who saved his dogs from being euthanized in a lengthily court battle, was mauled to death by them. Dr. Saso Baricevic, 52-years old, was killed by his three bullmastiffs in his garden. What prompted the court battle was a violent attack by the same dogs
March 15, 2006
. The incident prompted wide media coverage, and the victim, 35-year old Stanislav Meglic, suffered life-altering injury.
The 2006 Attack
The incident occurred when three of Baricevic's four bullmastiffs jumped out of his car and attacked Meglic along with other pedestrians. Police shot and killed one of the dogs and wounded two others. The three surviving dogs, Atlas, Joy and Atos were impounded, but before too long attacked an instructor at the shelter facility. Meanwhile, Baricevic continued delaying the compensation trial by supplying the court with medical certificates showing his poor "psychological state."
1
In June 2009, Atlas and Joy were returned to their owners
2
sparking a national controversy (Atos was determined to be less dangerous and was returned to its owners in Spring 2008). The return conditions included that Baricevic must erect "dangerous dog" signs on his property; ensure that the dogs "solely" resided at his property; ensure that the dogs were walked individually with a specifically defined leash and collar and that the dogs remained "insulated" from visitors.
In September 2009, the compensation case finally went to trial. "I remember the severe pain throughout the body. I remember the snarls, tear and crunch of teeth, I could feel my skin market. Everywhere the sprinkled blood. I thought I was gonna die (Google translation)," said Meglic in the courtroom. Attorneys for the Defense argued that Meglic provoked the incident by having a cell phone in his hand. Ultimately, the dogs' owners were ordered to pay Meglic 112,000 euros.
3
Loud Political Outcry
The recent announcement of the dogs killing Baricevic sparked new outcries, including that
Agriculture Minister Milan Pogacnik
, who allowed the dogs to be returned to Baricevic, resign.
4
Thus far, Pogacnik refuses to do so. A separate politician,
Zmago Jelincic Plemeniti
, is now calling on legislation to prohibit the breeding and ownership of dangerous dog breeds throughout the Republic of Slovenia. Many European countries --
and countries across the world
-- have already taken such steps.
This international incident demonstrates three vital issues: 1.) The dangerous dog breed problem is worldwide and many countries face it. 2.) Victims of these attacks often receive little compensation (about $152,000 in U.S. dollars for Meglic) after enduring horrible injury -- Meglic suffered permanent injury to his right hand and extensive bodily scarring. 3.) Finally, the unconscionable "preservation" of
known violent dogs
5
over the protection of human life is also a worldwide phenomenon.
The Social Injustice
After the release of the dogs, but prior to the compensation hearing, one Slovenian newspaper remarked on the social injustice of the 2006 incident. The victim was forced to wait nearly four years for any compensation.
6
The dogs' owners, who were prominent doctors, were able to manipulate the system through influential connections in order to "save" the dangerous dogs. Specifically, the paper states, "Thus,
dogs have many more lobbyists and lawyers
, as a "regular" citizen."
1,3,6
The return of the dogs to Baricevic and his subsequent death escalated the event to a national political battle. What is lost in many news articles is what happened to Meglic. The footnotes here indicate where we used Google Translation to learn more about the victim and his compensation hearing. This information may not be accurate.
2
Both Baricevic and his partner Zora Roter owned the bullmastiffs. In October 2008, prior to Atlas and Joy being returned, Roter died. No explanation is given in news accounts regarding her death.
4
Prime Minister Borut Pahor is being urged to dismiss Pogacnik over allegations that the ministry returned the dogs due to influential connections.
5
According to the STA, the Slovenian Press Agency, the bullmastiffs had been involved in at least two other attacks on dogs and two attacks on humans
prior to attack of Meglic
.
Related articles:
12/03/09:
4-Year Old Boy Killed by "Pit Bull Terrier Type" Dog in United Kingdom
02/06/09:
Ecuador Joins International Trend: Bans Pit Bulls and Rottweilers as Pets
Labels: bullmastiff

Please donate to support our work
DogsBite.org is a 501(c)(3) tax-exempt public charity organization. Learn more »
posted by
|
permalink
|
2 comments
|

email
|

blog rss
|

comment rss

2 comments:

Anonymous | 2/06/2010 2:01 AM | Flag
Since when is having a cell phone legally considered "provoking a dog"? These people are shameless. They will say and do anything to promulgate their vicious breeds, breeds which match them in temperament, instability, and savagery. It angers me that it took TWO attacks by these dogs to get the attention of politicians enough to open a serious dialogue on breed banning, but at least they're taking it seriously. USA, wake up! You're falling behind the whole world in protecting your citizens from vicious dogs and the vicious people who choose to own them. Prevent the deed. Ban the breed!

bitbypit | 2/12/2010 4:16 PM | Flag
After the posting of this story, stunning and disturbing news was released by some Slovenia media outlets, none of which write in English. The central media outlet that does publish in English, STA, has yet to report this information. As the issue of this dog mauling is politically explosive (See: SLS Demands Resignation of Minister Over Bullmastiffs Incident), we can only rely upon English news reports for accuracy from this point forward. The Google translations are highly inaccurate.

The disturbing new information, which may be true or untrue, suggests that the victim, Dr. Saso Baričević, had been sexually abusing his dogs. If this is true, the victim paid with his life. It is important to point out that none of this new information, accurate or otherwise, has anything to do with the 2006 attack that left Meglic with permanent injury, the subsequent incarceration of two the dogs for three years and the horrible political decision to return these dogs to its owner.