Thursday, September 4, 2008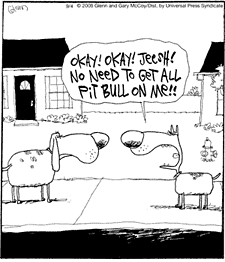 Going "Pit Bull" on Someone
Instances of the word "pit bull" being used as a noun to describe politicians (
Biden
,
Giuliani
and
Palin
) continues to grow. This comic strip uses the term as a verb. What comes to mind is what happened to the US Postal Service after the shootings back in the 1980s. The term "going postal" was invented and it stuck.
This comic strip is only possible in a culture that recognizes its meaning. Nearly all Americans understand the word "pit bull" is synonymous to violence and aggression. The question that remains is why so many politicians fail to regulate these dogs.
Labels: Pit Bulls in Pop Culture

Please donate to support our work
DogsBite.org is a 501(c)(3) tax-exempt public charity organization. Learn more »
posted by
|
permalink
|
1 comments
|

email
|

blog rss
|

comment rss

1 comments:

Anonymous | 9/05/2008 2:19 AM | Flag
Please!...Don't upset the pit bull community with such insensitive comments! Only pit bull breeders can use the badass image to pimp dangerous dogs.