Saturday, March 8, 2008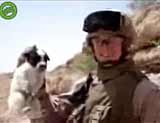 Marine a 'Great Lover of Animals'
Monroe, WA - In a situation where there are still few answers -- for instance is the video a hoax or not -- the marine's family is taking the heat. Outrage has poured in from all over the world, including death threats to the soldier and his family. Shannon, the marine's sister tells the press:
"We have had family pets all our life - dogs mainly," she said. "(My brother) has always been a great lover of animals."
Shannon added, "People talk about all getting angry about this puppy and the loss of this puppy, if this is real, but then on the same hand, they're also threatening a human being's life." Still though, she said, if the video is genuine, she and her family want an explanation.
The video drew worldwide attention after it appeared on the Internet video sharing Web site YouTube. The site has since pulled down several versions of the video.

Please donate to support our work
DogsBite.org is a 501(c)(3) tax-exempt public charity organization. Learn more »
posted by
|
permalink
|
1 comments
|

email
|

blog rss
|

comment rss

1 comments:

Anonymous | 3/08/2008 8:02 PM | Flag
The real story on this needs to come out. So many parts just do not add up. For instance, what the heck was the puppy doing out there?