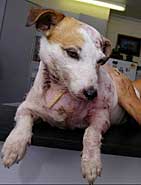 Driver Runs Over Pit Bull Twice
Australia - The driver of a Ute vehicle in the Northern Territory of Australia rammed a crazed pit bull twice as it attacked an elderly couple's dog. After the second ram, the pit bull let go of Tinkie. The couple took Tinkie to her to a veterinarian and paid $4,000 for life-saving surgery.
"Poor old Tinkie -- I thought she was gone," Tinkerbell's owner Aileen Smitt told the NT News. Mrs Smitt, 78, and her 84-year-old husband Eric were in their home in Virginia, 30km south of Darwin, when they began to hear barking and yelps outside. "I [leant] over the fence hitting the pitbull with a plastic broom," Mrs Smitt said.
Then she said, "Out of nowhere, a red Ute came screaming down the road and came up and ran into the pitbull." As the relentless attack continued, the driver backed up and hit the dog again. That's when the pit bull let Tinkie go and she ran off and collapsed. She said that the two men got out of the car and asked if she was okay. She just walked away to find Tinker.
"I was so angry," she said. "We thought about putting her down -- but couldn't do it.