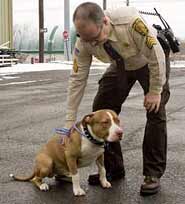 A Weapon on Four Legs
Writer Jim Pfiffer says it the best:
"Drug dealers don't want dogs that lick your face. They want dogs, pit bulls mostly, that rip off your face."
He also points out what we consistently write about here at DogsBite.org:
"The dogs provide almost as much protection as a gun, but you can't get busted for carrying a concealed pit bull. That's important to a dealer on parole."
Due to the integral link between drug dealers and pit bulls, the Elmira police department is cracking down. If seen on the street with a pit bull, the police now stop and ask if the dog is licensed. If it is not, the dog gets taken to the city animal shelter.
The officers are also taking it a step further by checking to see if the owner has any outstanding warrants and whether or not the dog has any fighting scars.