Wednesday, January 31, 2018
The Media Should Ignore Them. Instead, They Often Flock to Them.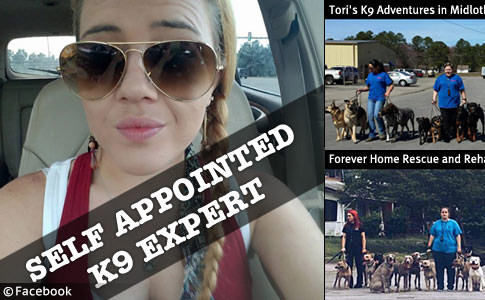 2017 photographs of the year focus on young, self-appointed canine "experts."
DogsBite.org - This year we chose a series of images that portray young, self-appointed canine "experts" who drew attention to themselves due to their lack of understanding canine behavior. All three were part of a
Tweet we sent out January 1
. Tori Trent who runs Tori's K9 Adventures, a day school and boarding facility in Virginia, is the first image. After Bethany Stephens' two
pit bulls mauled her to death then ate her
, Trent launched a crusade claiming her pit bulls were innocent.
"These dogs did not do this especially in the manner it was explained and
as 1 of the top K9 behavior experts you could ever meet
- I want to speak to any news stations and all investigating parties involved by speaking on and explaining K9 behavior,"
Trent stated on her Facebook page
. "
Things do not add up due to k9 behavior and instinct
," Trent went on, and "I could extremely help this investigation simply speaking on K9 behavior, knowing these dogs, and knowing Bethany!"
Trent's ignorance-driven conspiracy theories were then bolstered by irresponsible media outlets, which spread the deceptions further.
We created the central image, which shows Trent's Facebook profile image and parts of her Facebook post claiming her "expertise" after a fatal dog attack involving predation -- an area of canine behavior where she has zero "expertise." Trent's crusade helped fuel a tsunami of misinformation on social media, which negatively impacted the Goochland County Sheriff's Office investigation and forced Sheriff Agnew to
give a second press conference
to halt the rumors.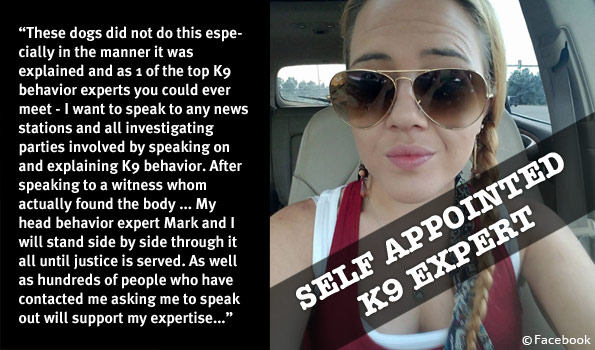 Our January 1 Tweet contains the other two images in this series. The first shows employees at Tori's K9 Adventures taking 14 dogs on a pack walk. The second shows employees of Forever Home Rescue Center taking 20 dogs on a pack walk in Virginia Beach. In late May, Forever Home adopted out a pit bull that required a shock collar as a condition. When the adopter removed the collar a few hours later, the
dog immediately attacked and killed
the adopter's elderly mother.
The two owners of Forever Home, Toni Enright and Jamie Cochran, are also self-appointed canine "experts," who self-describe as "disciples of Cesar Milan" and that his "pack-based philosophies struck a cord." Both are bent on "saving" dangerous dogs from humane euthanasia through their talents of magical rehabilitation. Forever Home also did not disclose to the adopter that the pit bull, which snapped into kill-mode, had a history of bites, aggression and "lack of impulse control."
The images show two sides of the same coin: a self-appointed canine "expert" who disrupted an investigation and another who triggered one.
We also added an image of Cesar Milan rollerblading with a pack of 10 leashed dogs. There is no doubt that Milan has inspired a generation of young, self-appointed canine "experts." It is one thing to train puppy bootcamp and obedience (Tori's K9 Adventures) or to slap a shock collar on a dog with a bite history and "lack of impulse control" (Forever Home). It is quite another to be a real expert in canine aggression, unpredictable pit bull aggression or a vicious fatal dog mauling.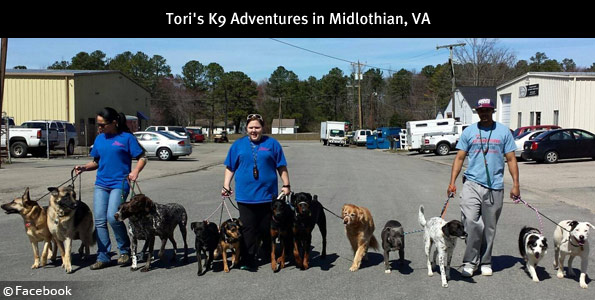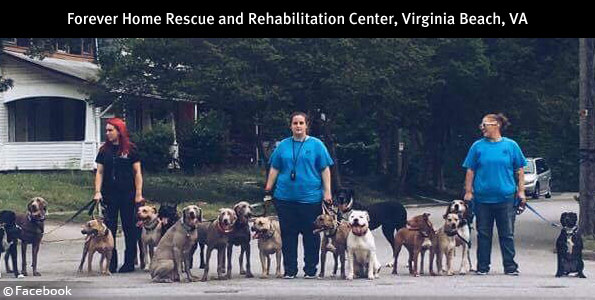 ---
Media Needs to Ditch Self-Appointed Experts
There is no such thing as a 24-year old canine "expert." Simple logic says this is not possible. Tori Trent never should have been given a microphone after a horrific fatal pit bull mauling that resulted in post-mortem predation; an area of research that Trent still may not know exists. Yet, very commonly after a fatal pit bull attack, the media looks to young, primarily female, dog trainers and pit bull rescuers as an "expert" source to explain these gruesome, deadly dog attacks.
"As I had said earlier, this was an absolutely gruesome scene. Mrs. Stephens was terribly, terribly injured..."

- Goochland County Sheriff James Agnew
The fact is, these types are now hindering serious investigations by law enforcement after fatal dog maulings and are also triggering these investigations by adopting out dangerous dogs they claim they have rehabbed, which go on to
seriously injure
or kill a human being. The number of "charlatans" among pit bull "rehabbers," trainers and rescuers is too great to count. The media should be extremely cautious from a public safety standpoint in presenting them as "experts."
Related articles:
12/18/17:
2017 Dog Bite Fatality: 22-Year Old Woman Dies in 'Grisly Mauling' by Her Pit Bulls
11/17/17:
2017 Dog Bite Fatality: Rescue Pit Bull Attacks, Kills Elderly Woman in Virginia Beach
03/31/17:
Newly Adopted Pit Bull-Mix Attacks Little Boy's Face Within Hours of Adoption...
Labels: Post-Mortem Predation, Rescue or Rehomed Dog Kills, Rescuing Dangerous Dogs, Self-Appointed Canine Expert

Please donate to support our work
DogsBite.org is a 501(c)(3) tax-exempt public charity organization. Learn more »
posted by
|
permalink
|
10 comments
|

email
|

blog rss
|

comment rss

10 comments:

Ka D | 1/31/2018 5:58 PM | Flag
The grand bullshit artists of the pit bull propaganda movement. May a pit bull rend them all.

Ka D | 1/31/2018 6:29 PM | Flag
I wonder if she knows she's a blatant liar of if she really thinks she's a legend in her own mind.

Farmer Jane | 1/31/2018 8:43 PM | Flag
These "experts" share responsibility for every mauling and death. They could actually save lives if they were truthful.

rbentrdr | 1/31/2018 8:54 PM | Flag
Another 20-something that thinks she knows what the hell she's talking about. Hopefully she will get a good shift reality kick in the a$$ soon. Lets just hope no innocent person gets hurt before that happens.

Your Quiet Neighbor | 2/01/2018 7:01 AM | Flag
In these cases, BSL is needed. As in Breed-Specific Litigation.

Sarah | 2/01/2018 1:08 PM | Flag
I can't imagine having the gall to protest the humane euthanasia of someone else's dogs involved in killing someone. Emotionally, if it was your dog, I could maybe understand it - although if my beloved dog killed a human? She would not be my beloved dog. But to stand up and demand attention as a member of the public, to demand answers solely as a young trainer, in defense of 2 dogs that were very likely unadoptable even before they lunched on their owner? The cruelty, the inhumane cruelty of it is breathtaking. I'm starting to think that animal cruelty prosecutions should be extended to include people who 'defend' animals by torturing people like this.

I initially wrote this as "forget the breed issue, defending any dog that did this would be insane." That's true enough, but it is also true that there seems to be a link between pit bull owners and this sort of callous behavior.

Unknown | 2/01/2018 5:30 PM | Flag
very true i posted on her pager ''your an expert''? i said based on the catalog the work is very very basic she never replied

Garnet | 2/01/2018 11:34 PM | Flag
I would think the medical experts who actually conducted the autopsy and the crime scene investigators would know a bit more about what happened here than someone with no relevant education and a crazy pro-pit bull agenda to push.




Packhorse | 2/02/2018 10:32 AM | Flag
I think a lot of it is just laziness on the part of the reporters. They're writing a story, they're pressed for time and looking for a colorful quote to maybe punch up their article. And here are these instantly available, media-savvy young people who are always ready to spout off a quote.
If you are a reporter and you don't know or don't care much about dog attacks, you can see the appeal of these easily accessed talking heads.

Ka D | 2/03/2018 6:35 PM | Flag
I think it would be VERY rare for someone her age to be an expert in ANY subject.