Thursday, April 12, 2018
Authorities Charge Grandmother with Multiple Felonies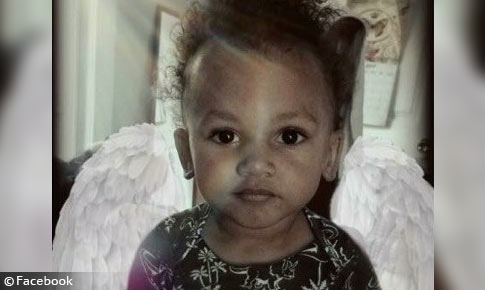 Paris Adams, 20-months old, was mauled to death by two family pit bulls in Georgia.
10 Years Probation
UPDATE 04/09/18:
There will be no trial after two family pit bulls killed 20-month old Paris Adams on August 1, 2017. The day after his death, his grandmother Sandra Adams, 70, was charged with second-degree murder, involuntary manslaughter, and second-degree cruelty to children. The
Atlanta Journal-Constitution
reports that Adams pleaded guilty in Hart County Superior Court to involuntary manslaughter in a plea deal last month. Adams was sentenced to 10 years probation.
Prior to her grandson's death, Adams had been cited multiple times about these same two pit bulls. There were at least six ordinance violations from 2013 to 2015, including the dogs being tangled in their tether, running at large and being aggressive. Earlier news reports misstated her sentence as "10 years in prison." There will be no prison time for Adams, unless she violates her probation conditions, which we hope includes a prohibition of owning or harboring any dogs.
---
08/03/17: Important Clarifications
After viewing raw footage -- nearly an hour long -- published by WYFF on August 2, we learned that the
fenced area is the holding facility
near the sewage plant, not the grandmother's property. Currently, there is no photograph of the "fenced area" on her property. We know from earlier citations the grandmother has a
fenced area where the dogs escaped
. The night shot published by WYFF late August 1 was not labeled; the edit suggested it was on the grandmother's property.
Basically, we got an advance shot of the holding facility, which was unlabled, the night before this raw footage was posted to Facebook.

1
Additional information gleaned from the raw footage is an interview with Hartwell Police Chief Anthony Davis. He explained that the mother of the child, Amy Adams, goes back and forth in her living situation. She sometimes lives with her sister and her mother. Said another way, baby Paris went back and forth living with his aunt and grandmother. Both households have multiple pit bulls and multiple white pit bulls too (See:
aunt's dogs
). Authorities are still piecing this part together.
Notably, there is a
curious post by Amy
on October 13, 2014, seven days after "Whiteboy," one of the fatal attackers, was issued its first citation for being at large (See:
page 7
). "I just found out that i CAME CLOSE to not being able to breed him anymore!
But moms slick when she needs to be- shhhh- its a secret!!
(sic)," Amy wrote. The "Goin for a ride," post suggests she may have whisked the dog away from her grandmother's home at that time to prevent a municipal neutering threat.
This "public" Facebook post Amy hopes is a "secret" also suggests her criminally charged mother lied in some way about Whiteboy back then.
Another post that coincides with a citation was by Laura, Amy's sister. On the morning of October 16, 2014, the grandmother was
issued a citation
after a brown pit bull menaced two joggers. On the same day, Laura tries to
give away this pit bull (Babygirl) for free
, stating, "My mom just cannot keep her anymore." Laura also clears up any questions on whether this dog is a mix. "She is full blooded," Laura writes. "She is jeep rascal and gator gotti. No mixing in that bloodline at all (sic)."
Finally, the
Georgia Bureau of Investigation (GBI)
leads this investigation and filed the charges. The question remains whether the child's mother will also be charged. If she is charged, it will be GBI that makes this determination, along with the district attorney's office. The other unknown factor is how much skipping a 9-1-1 call -- and stopping to pick up Paris' mother before taking him to Urgent Care -- plays into the charges against his grandmother. He arrived dead at the facility.
---
08/02/17: DA Press Conference
District Attorney Parks White gave a press conference today providing new details. On Tuesday afternoon, 20-month old Paris Adams was mauled to death by two family pit bulls while under his grandmother's care. Sandra Adams, 70-years old, was subsequently charged with multiple felonies. After the death investigation is complete, a grand jury will determine if Adams is indicted. White could not provide any details about the autopsy results or the "family relationships."
Adams was arrested and charged with second-degree murder, involuntary manslaughter, and second-degree cruelty to children.
Adams has been cited multiple times in the past about these same two pit bulls. There were at least
six ordinance violations
from 2013 to 2015. The previous citations involve the dogs being
tangled in their tether
(typical shoddy pit bull ownership), running at large (typical shoddy pit bull ownership) and
running at large being aggressive
-- typical pit bull behavior. The citations indicate the child's
mother was the actual owner
of the pit bulls; the two may have been living together.
2
"In March 2015, officers were called to Adams home after a woman said she was walking her dogs and they were attacked by a white pit bull at large. Officers said

Adams told them she was walking her daughter's two dogs

when their leashes became crossed and she dropped one of them."

- Fox Carolina, August 2, 2017
As we have seen in the past, this may be another case of an adult "dumping" her pit bulls on a parent who is 70-years old. No citations have been issued to Adams since 2015. This may be due to an apparent kennel system that was built (
seen in the recent WYFF footage
). At the time of the attack, the pit bulls were inside the home. Adams and baby Paris were outside. When Adams attempted to re-enter her home, the dogs bolted out, knocking her down, and savaged the baby.
The family owns multiple white pit bulls. Pictured below is
Blueboy with baby Paris
in August 2016. Blueboy is the offspring of Whiteboy (also a white pit bull). Amy Adams, baby Paris' mother, writes in the post, "Blueboy kissing Paris. If only Blueboy's parents (
Whiteboy and Babygirl
) were like him!!!" This indicates both of the dog's parents have aggression issues and are likely the two dogs involved in the baby's mauling death. The pair are also siblings; the family bred them together.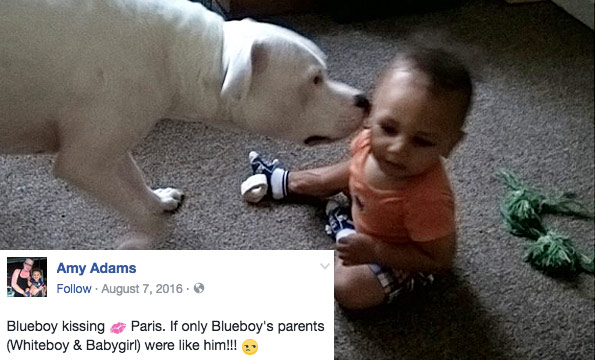 ---
Fox Carolina just posted footage of both pit bulls while under quarantine: Whiteboy and Babygirl. Fox Carolina also posted the previous incident reports -- we are just now going through them.
---
08/02/17: Criminal Charges Filed
Overnight, a number of new developments occurred. Authorities charged the child's grandmother with a range of offenses in connection to his mauling death. Sandra Bowers Adams, 70-years-old, was charged with second-degree murder, second-degree cruelty to children and involuntary manslaughter. A
news release from the Georgia Bureau of Investigation
states Adams had been cited on multiple occasions by the Hartwell Police Department for maintaining disorderly animals.
"Staff at the Urgent Care had requested assistance from EMS and Law Enforcement after Sandra Adams and Amy Adams entered the office with Amy Adams' twenty-month-old son. The child had suffered extensive injuries following an apparent dog attack. Medical personnel and EMS determined the child was unresponsive and the child was pronounced dead at 3:36 pm ...
Preliminary investigation suggests that Sandra Adams, the grandmother of the child, was at her residence located at 64 Highland Avenue Hartwell, Georgia babysitting the child. Adams and the child were outside. Adams attempted to re-enter her residence at which time two pit bulldogs that resided at the residence ran out the back door knocking Adams to the ground and attacking the child. Adams attempted to both shield the child from further attack and to pull the dogs away from the child. Eventually Adams was able to get the dogs back into the residence and pick up the child.

Adams then transported the child to a nearby location where she picked up Amy Adams, the child's mother,

and the two transported the child to the Reddy Urgent Care in Hartwell.

3


Historical information indicates that Sandra Adams had been cited on multiple occasions by the Hartwell Police Department under a city ordinance maintaining disorderly animals."

- Georgia Bureau of Investigation
Last last night, we did uncover the "cast of characters" in the brutal pit bull mauling death of this little boy. The child's mother and her sister have about seven or so pit bulls between them. Both sisters are pit bull owners, backyard breeders and know their "bloodlines" too. It seems the grandmother also owned her own set of pit bulls and likely more than two. "Boilerplate" pit bull advocacy runs heavily in the family. The below two memes are from the mother's Facebook page.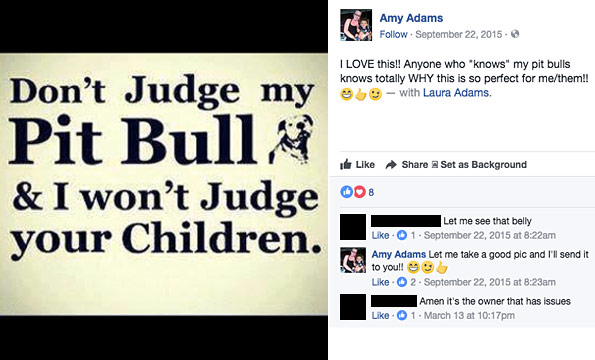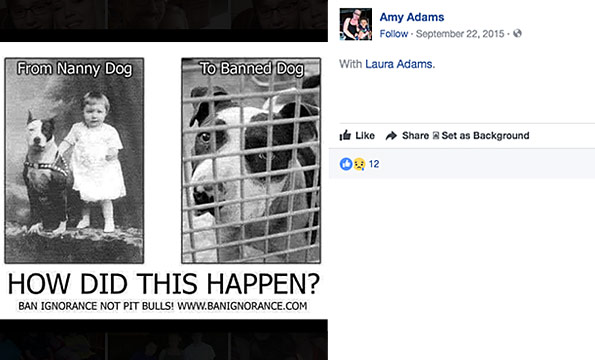 ---
08/01/17: Pit Bulls Kill Child
Hart County, GA - Hart County Sheriff Mike Cleveland confirmed a young boy is dead after being fatally attacked by two family pit bulls Tuesday afternoon. The 20-month old boy was attacked in the backyard of a home on Highland Avenue, near Athens Street. Hartwell Police Chief Anthony Davis said they were called about 3:15 pm. Deputy Coroner Scott Boleman said the parents transported the child to Reddy Urgent Care, where he was called and pronounced the boy dead.
The young child lived inside the home with the dogs, Sheriff Cleveland said. Earlier reports stated one of the family pit bulls was a "
white pit bull
." The Hartwell Police Department, the Hart County Coroner's Office and the Georgia Bureau of Investigation (GBI) are investigating the boy's death. The child's body has been sent to the GBI crime lab for an autopsy. The dogs will be observed for the next 24 to 48 hours before they are put down, according to the GBI, Sheriff Cleveland said.

View the DogsBite.org Google Map:
Georgia Fatal Pit Bull Maulings
.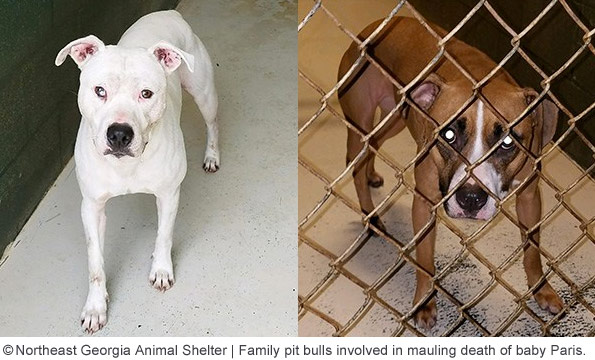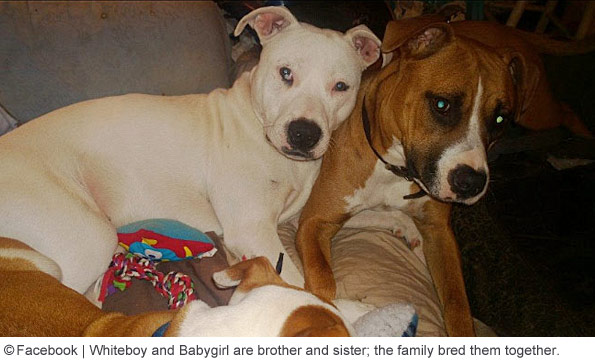 1
It's also the oldest trick in the book to claim someone else owns the dogs when being given a citation. The grandmother does this several times. First she blames an unknown man, then claims her daughter owns the dogs. This is not only to deny responsibility it is to deliberately confuse law enforcement. As noted in the reports, the officer had not checked to see if there were more citations about these same dogs under the daughter's name.
2
If there was any delay in getting this severely injured child to the emergency center -- apparently the family did not call 9-1-1 -- that could result in these types of criminal charges. The grandmother's home is only 1.5 miles away from the Reddy Urgent Care center in Hartwell, but she also stopped to pick up the boy's mother beforehand.
Related articles:
01/19/17:
2017 Dog Bite Fatality: Pit Bulls Kill Child, Critically Injure Another Child in Atlanta.
08/04/17:
2016 Dog Bite Fatality: Woman Mauled to Death by Her Boyfriend's Pit Bull in Georgia
Labels: 2017 Dog Bite Fatality, Babysitting, Criminal Charges, Georgia, Georgia Bureau of Investigation, Georgia Pit Bull Fatality, Manslaughter, Visiting Child

Please donate to support our work
DogsBite.org is a 501(c)(3) tax-exempt public charity organization. Learn more »
posted by
|
permalink
|
38 comments
|

email
|

blog rss
|

comment rss

38 comments:

joelande | 8/01/2017 11:55 PM | Flag
Georgia is one of the sites of heavily entrenched dogfighting interests. A dog fighter actually tried to join antichaining committees to make sure that fighters could keep chaining their pit bulls

In Georgia, there are cops, policemen, nurses, judges, fire fighters, teachers, coaches and all kinds of middle class people participating in wide ranging dog fighting interests. They even sell their dogs to dog fighters in other countries. It is lucrative, and the gambling affiliated with it is even more lucrative.

I know an animal control officer who tried to report dog fighting in her county and got called by a sheriff and told stay away and let it go. The sheriff threatened her!

These people fight to protect their interests in making lots of money breeding aggressive dogs that kill kids, adults, the elderly, other pets, and farm animals.

They gladly join the "pit bull advocates" to make sure their interests are protected. They gladly lie to people and tell them that pit bulls are pets.

Another child lost to this crime.

May the good people of Georgia rise in revolt against this sadism. That is my wish.

joelande | 8/01/2017 11:57 PM | Flag
Also a lot of the surplus fighting dogs of Georgia are getting shipped around the country by the dog fighters' little helpers, pit bull "rescues' aka dog dealers.

They are putting these dogs in your neighborhood, and failing to tell you these dogs have been intentionally bred to kill.

Natasha Nogoodnik | 8/02/2017 12:03 AM | Flag
There's been so many children being killed by their family dogs lately! When are people going to wake up?

Pit bulls (and some other breeds) don't make good family pets, especially around the young and elderly. They might love their human family members as much as other dogs, but signs of weakness can bring out their attack instinct. Why would anybody want to have a dog that can be triggered by children's clumsiness?

Don't fall for the nanny dog myth, people. This is a working and a fighting breed. Do the right thing for your kids and get a poodle or a beagle instead.


Colleen Lynn | 8/02/2017 2:34 AM | Flag
We do have a lot of background on this story -- gathering Facebook photos and more. But the mother has a twin sister and their lives overlap greatly. So we just continue to catalog data…

Christy D | 8/02/2017 8:09 AM | Flag
I am appalled that these parents took the child to an Urgent Care and didn't call for an ambulence. I suspect they knew the child was dead and thought they could keep this quiet by going to an Urgent Care instead of an ER.

I just saw some news video from the home and the kennels they have. The kennels are very elaborate, not just made of chain link fencing. Both are on concrete pads and between the two runs is a reinforced fencing that is likely to prevent an accident breeding through the chain link fence. On the outside perimeter is an extra metal fencing that seems to be reinforcing the chain link at dog height. The white pit bull appears to be male and intact.

Colleen, something tells me you are going to uncover a breeding operation and that these dogs may have been used for some type of sport (agility, pulling, fighting, boar hunting).



Colleen Lynn | 8/02/2017 12:44 PM | Flag
For those following, the mother has a sister named Laura (we believe they are twins). Amy is the child's mother:
https://www.facebook.com/photo.php?fbid=2046972708662088&set=a.153871531305558.30747.100000481356434&type=3&theater

Natasha Nogoodnik | 8/02/2017 1:32 PM | Flag
I'm happy (and surprised) to see that one of the responsible adults are being charged, but why isn't the mother being charged too? She's more responsible, if you ask me.

EyesOpened | 8/02/2017 1:51 PM | Flag
I'm glad to see charges brought. I had wondered why the child was taken to urgent care instead of an emergency room--or better yet, why an ambulance wasn't called. Now we find out the grandmother went to pick up the mother before taking the child to get medical care? I wonder if she knew he was already deceased. How horrible. I also can't help but wonder if she was trying to hide what had occurred and protect her dogs. Terribly cynical, but the pit bull advocates do some crazy things.

Joelande, I'm always amazed at what you know from an inside perspective. If the problems go so high up, what can anyone do to fight against them?

Annie B | 8/02/2017 3:34 PM | Flag
BEYOND DISGUSTED about this one. As a mother I cannot FATHOM the amount of danger this child was put in his whole life. This WHOLE FAMILY should rot in jail then go on to hell. A BEAUTIFUL CHILD EATEN BY DOGS!!! Can't even imagine what he went through. 😡😭😭😡

Dayna Hamilton | 8/02/2017 3:48 PM | Flag
Rest In Peace little boy. What a shame your parents and grandparents cared more about their fighting dogs than they did you.

Da Ninja | 8/02/2017 6:09 PM | Flag
That white mutant standing game and proud with its DISGUSTING genitalia protruding, just about made me hurl.

If this family aren't prosecuted, no owner ever will be. This was child neglect and absolute knowledge and hindsight of a clear and present danger to that child.

Peace, Paris. You never stood a chance.

skoree | 8/02/2017 7:18 PM | Flag
charges have been brought against the grandmother as the child was in her care at the time of the incident. Charges should be filed against mom as well--for child endangerment as she left her baby with pits she knew were vicious.

Christy D | 8/02/2017 9:12 PM | Flag
I've looked at more pictures of the white dog. I think it's been involved in some significant fights with other pits. There is a significant scar on the right front leg and the right eye also appears to be damaged and sitting in a funky angle. The right ear also seems to have part of the ear missing at the lateral part of the ear right where it attaches to the head. Again, it makes me wonder why anybody would think a dog like this would make a good family pet.

Colleen Lynn | 8/02/2017 9:27 PM | Flag
Christy, the boyfriends are wrapped up in this too -- certainly Amy's. I don't think they have locked down their FB pages yet. You can find more images of the dogs:

Boyfriend
https://www.facebook.com/jesse.tru

How about that "airborne" chained up pit? Amy talks bloodlines too.
https://www.facebook.com/photo.php?fbid=391312101008285&set=t.1533446609&type=3&theater

Amy
https://www.facebook.com/profile.php?id=100003884951134

Twin sister Laura has more!
https://www.facebook.com/laura.adams.1610

nowhereman1968 | 8/03/2017 12:42 AM | Flag
"From nanny dog to banned dog. How did this happen?"
Well now you have your answer. Not that they were ever nanny dogs but people want them banned because stupid owners keep letting pits kill children and adults. I am hoping for charges against the mother as well but frankly I am surprised they charged anyone. So many of these cases are ruled "tragic accidents" it is ridiculous. If I have a pet alligator or lion do I get one free attack before I am supposed to know it is dangerous?
How about if I put a bear trap in the yard?
Until someone loses a leg I don't know for sure it is dangerous.


nowhereman1968 | 8/03/2017 12:45 AM | Flag
Look at the kids leg in this pic?
Are those scars?
http://www.dogsbite.org/img/blueboy-paris-2016.jpg

Colleen Lynn | 8/03/2017 12:53 AM | Flag
nowhereman1968 - You bet they look like scars!

deniseyweesy | 8/03/2017 3:29 AM | Flag
I think his hand is over his leg there.

Christy D | 8/03/2017 6:35 AM | Flag
I saw that picture the little boys like to. I thought that was scoring but it's actually his arm laying down on top of the leg and there's some motion. Look close you will see his hand.

Unknown | 8/03/2017 7:52 AM | Flag
If anyone would like to help the family involved for funeral expenses here's the link https://www.gofundme.com/adams-family-baby-paris-tragedy

Christy D | 8/03/2017 9:23 AM | Flag
And... this family lawyered up.

http://www.foxcarolina.com/clip/13551063/raw-aunt-of-baby-killed-in-hartwell-dog-attack-speaks-out

Packhorse | 8/03/2017 11:45 AM | Flag
Facebook comments on this story have a bunch of people offering to adopt these two dogs who just killed a child.
One or two brave souls are commenting about the risks of fighting breeds and getting attacked, of course.
Just let that sink in, for a moment. A significant number of people think that two dogs who just unquestioningly mauled to death a baby would make desirable pets.

Matthew Smith | 8/03/2017 12:39 PM | Flag
Notice that in every post on social media & on the Gofundme acct, never do they mention he was killed by his OWN FAMILY'S DOGS !!
Darwin at work, let's hope they stop breeding dogs, and let's hope no one else in that family breeds either !!

K-Hart | 8/03/2017 2:12 PM | Flag
Apparently beauty and innocence are triggers for pit bulls this year.

I just have one question for the birth vessel (I refuse to call her a mother) and her family involved. Was it worth it? Was it worth the loss of your gorgeous little blessing to prove to others what "misunderstood" dogs pit bulls are? Your son is dead - his little body broken and mutilated - and it's ALL YOUR FAULT for bringing those killing machines around your children. You still believe that nanny dog bulls**t?! Screw pit pushers. They're sick in the head. Pit Bull Depravity Syndrome is real and innocent people keep dying as a result.

Christy D | 8/03/2017 2:26 PM | Flag
I have been the gofundme. The funeral home is doing the funeral free of charge. Someone is also donating the headstone. There is a comment by someone saying not to give money to that fund and to give it directly to the funeral home.

Colleen Lynn | 8/03/2017 3:40 PM | Flag
CORRECTION: The "metal fenced pen" is the "holding facility" near the sewage plant. This was not made clear by WYFF in their video published late August 1. We don't know what the "fenced area" on the grandmother's property looks like (As of August 3, 2017)

Bailey | 8/04/2017 12:23 AM | Flag
Extreme pit nutters should not procreate. They care more about their demon hounds' reputation over their children. The grandmother tried to hide this poor boy's murder to protect the dogs that killed him instead of immediately taking him to the hospital, which is sick. I'm glad to see changes being filed. Poor Paris never stood a chance when he was brought into a family of nutters.

Ka D | 8/04/2017 11:02 AM | Flag
Blueboy 'KISSING' Paris? That doesn't look like a kiss to me, that looks like a kid about to be bit in the face. I wouldn't allow ANY dog to put its face in a toddlers like this. How freaking delusional!

nowhereman1968 | 8/05/2017 8:09 PM | Flag
"She is jeep rascal and gator gotti. No mixing in that bloodline at all (sic)."

Lest there be any doubt wht that means meet Jeep:
https://scratchindog.com/collections/shirts/products/jeep-1

That's right he is listed with Zebo and the other "greats" of dog fighting. If you google "Gator Gotti" you find grotesque pit mutants and ads for pit bull "vitamins".

Colleen Lynn | 8/05/2017 10:20 PM | Flag
Correct, sort of nowhere man. Jeep and Rascal are real champion fighting bloodlines. Gator is mainly just backyard breeder terminology and Gotti is the modern American bully mutant type (squat & grotesque). Anyone who knows bloodlines would gag at this combination, assuming it can be believed at all. These people are the worst kind of backyard breeders imaginable! This dog was not even worth a dime either -- they were trying to give it away for free! We just find it interesting that both of the sisters like to "talk bloodines."

Sarah | 8/06/2017 9:14 PM | Flag
Pit bull owners do love to talk bloodlines. I think it makes them feel justified in breeding despite knowing very well that it's like throwing gasoline onto a forest fire.

I'm not sure people understand how obsessed the pit owners are with breeding. I've been looking for a dog, myself, recently and apart from the sheer numbers of unwanted pits at shelters, in rescues and on craigslist, there are an enormous number of forums, FB pages and classified websites devoted to sale ads for pit bulls. It is stunning - there seems to be a total disconnect from the current anti-breeding attitude of the American public, and the constant, deliberate breeding attitude of the pit bull owners.

rbentrdr | 8/07/2017 1:44 PM | Flag
White pit bulls bred by white trash. I hope this sets a precedence in indicting the people who own dogs that kill.

mauricio zafra | 8/08/2017 11:26 AM | Flag
Very loable work these dogs become in great danger world wide i made a petition in change org in mexico city please sing it ! https://www.change.org/p/camara-de-diputados-de-cdmx-legilacion-a-la-propiedad-de-pitbull-y-bullterries

EyesOpened | 8/09/2017 2:48 AM | Flag
That's a great point, Sarah, about the disconnect in attitudes toward breeding. I saw an argument in the comments section of one of these news articles recently with pit advocates going on about how terrible dog breeders are, yet they talked about rescuing pits and didn't really say anything negative about the irresponsible pit bull breeders or the owners who didn't bother sterilizing their dogs.

I hope you find a wonderful dog! Have you considered a retired show dog? My family was blessed to be able to get a puppy from a very responsible breeder, and as a bonus we were able to adopt his mother who was a retired show dog. She'd become a champion, had two litters (all with waiting lists of people for them), and was ready to just "eat bonbons, lie on the couch, and watch Oprah," as her breeder put it. We got a lovely, well-behaved, well-trained, very sweet, 6-year-old, healthy dog for nothing more than the cost of her spay operation, and we thoroughly enjoyed her for the last 7 years of her life. Greyhounds rescued from the track are another great option, depending on what traits you're looking for in a dog.

Ka D | 4/10/2018 5:13 PM | Flag
Who really benefits from the unchecked proliferation of a kind of dog most people don't want? Dog fighter, backyard breeders and pit rescues. That's it. None of these people deserves an ounce of sympathy and all of these people are keeping the pit bull breed alive against its OWN best interests. The work these dogs were BRED to do is a felony in all 50 states. The world these dogs were BRED for is mostly gone. There is no further need for pit bulls.

Cathy | 4/11/2018 10:39 PM | Flag
Sandra Adams in Hartwell Ga did not get 10 years in prison for the death of her grandson She only got a fine and 10 years probation. Media has been retracting their statement

Colleen Lynn | 4/12/2018 10:53 AM | Flag
Seriously?

Colleen Lynn | 4/12/2018 11:00 AM | Flag
Cathy, please cite your source(s) -- we are not seeing this anywhere yet.