Monday, January 16, 2017
"Just Lean On Me" - Cleveland Heights Police Officer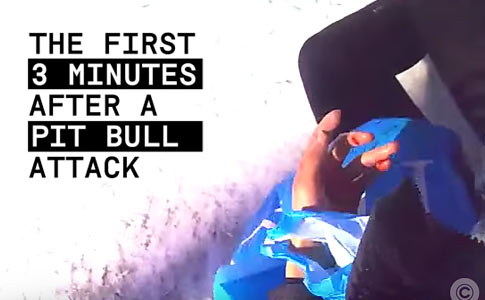 Caution dog attack victims! This video may cause you to relive your attack.
Raw Bodycam Video
DogsBite.org - Nearly one year ago today, on January 24, 2016, a Cleveland Heights police officer rescued a young woman who had just been attacked by a vicious pit bull. Prior to reaching the victim, the officer shot and killed the violent animal. Several days later, the Cleveland Heights Police Department released this dramatic bodycam video showing how this officer came to her aid. The young woman is not gravely injured, and surely is partly why they chose to release it.
This video is not intended for dog attack victims. It is for victims to send to friends and family who do not understand the gravity of your attack.
The immediate and stunning raw footage shows the first three minutes after the attack. The young woman is in shock and believes she is dying. Nearly all victims of serious dog attacks believe they are dying; that is how violent these attacks are. The police officer tells the victim she is going to be okay. "Stay with me, look at me, look at me, stay with me. You're okay," he says. He quickly tells her too that the life-threatening event is over. "The dog's right there. It's dead. I had to shoot it."
An officer arrived and saw the dog biting the woman's arm. The dog then jumped on the woman and tried to bite her neck.
The officer pushed the dog off the woman. The dog charged at him, and he fired a shot that hit the animal's neck, the report says.
The dog backed off before trying to attack the officer again. The officer fired a second shot that hit the dog below its eye. The dog collapsed.

- Cleveland.com, January 29, 2016
After we watched this video last year, and cried a thousand tears, we wrote to the Cleveland Heights Police Department, thanking them for releasing it. At that time we did not place it on the blog, fearing too many of our readers who have suffered a serious dog attack would react the same way. That fear still holds true today. This video is so tactile that it may cause victims to relive their own attack. We mean that too. It could unleash a torrent of powerful emotions and tears.
The video shows the vulnerability of a traumatized victim and the comforting words of this officer,
"Just lean on me."
That is truly how it happens and what first responders do every second of every day in our country when responding to life-threatening emergencies. In this instance, the officer arrived just in time too, shooting the pit bull and averting additional injuries. But arriving just in time is not always possible and is another reason
why some cities regulate this dog breed
.
The video also shows how the officer helps the victim breath. "In your nose, out your mouth. In your nose, out your mouth," he says while placing his hand on her shoulder to stabilize her. "Stay awake for me. The ambulance is coming," the officer says. At this time (about 2 minutes and 20 seconds in), more police officers arrive and a siren is faintly heard in the background. The officer quickly explains to the others what happened. The bodycam video ends when the firemen arrive.
Portion of our letter to Cleveland Heights Police Chief:
There are two extremely jarring, but heavenly moments in a violent dog attack. The moment you realize you are not dead, and the moment you realize you will be okay. That is exactly what that video showed and the part of my own attack experience that came back to me. The victim had not reached this point yet, but the officer had and the viewing audience had too. We knew she was safe and was going to be okay.
Watching the officer help this young woman was just sheer powerful awesomeness! Up close, intimate and hands on. The way it really goes down!
Thank you and God bless the Cleveland Heights Police Department!

- Colleen Lynn, Founder of DogsBite.org, January 29, 2016
A day after the news media aired the raw footage, Chante Pray, 22, spoke with Fox 8 Cleveland.
She describes the attack as the media cuts back to the video
. "I'm dying, that's all I could think was, that I was dying," she said. The dog was "clamping down tighter" as she struggled to get away, she explained. Pray was amazingly able to call 911 and shout out the address. Moments later, Cleveland Heights police officer
Everett Haworth
arrived on scene and shot the pit bull.
Holding back tears, Pray says, "I really appreciate the officer saving me, because if he wouldn't have saved me, I wouldn't be with my daughter. My daughter would not have a mom." At the time of the attack, the pit bull was "supposed" to be in quarantine after biting a child on January 13. Pray knows the dog's owner and believes the false myth, "It's all how they're raised." After Pray was attacked, police cited the owner for keeping a vicious dog and failing to have insurance.
This story is not over. Several days later, Pray thanks Officer Haworth in person at the police station, where she runs into an unexpected event.
On February 2, Pray and her mother
went to the Cleveland Heights Police Department
bearing gifts. They brought him balloons, stuffed animals, a photo of Pray with her daughter and a box of chocolates. At about one minute into the sweet reunited video, a police K-9 passes behind Pray with an officer. Like a sudden rogue wave, a blanket of fear engulfs her. She lets out a long breath. Pray said it was the first contact she had with a dog since the pit bull attack on January 24.
1
Pray's mother thanked Officer Haworth as well. "You were there, pretty much almost stroking her hair, telling her everything was going to be okay. You were there when I couldn't be," Michelle Augustine-McClendon said. Officer Haworth replied that he did what he thought she needed. "She'd just been through something pretty traumatic," he said. Now Pray and her mother call Officer Haworth a "guardian angel." He says he was simply keeping his oath to protect and serve.
Marginalizing Victims
Many parts of our society marginalize victims of dog attacks and their injuries, even times family members and friends. Some go beyond marginalizing them by blaming them too, because in their minds, a dog cannot be a bad actor. This societal influence is so strong that even some victims cannot call a
vicious
dog a bad actor -- like Pray, who blamed the dog's owner for its actions. Pray also stated the pit bull
"was not letting go,"
a trait the dog was selectively bred to perform.
Our call to action for victims is to share this blog post with those who marginalize or fail to grasp the gravity of your traumatic dog attack.
We know of only three groups who will not marginalize dog attack victims in any way. The first are the emergency responders who arrive at the scene, just like this video shows. The next are the medical doctors who treat the victims' injuries, which may include a long list of doctors with different specialties. The third are the personal injury attorneys who take their case -- assuming a case exists at all. Many dog bite victims have no case because the dog's owner lacks insurance.
The Power of this Video
In the 9 years of DogsBite.org, we have never seen a video as powerful as this one. It took us a full year before we were able to write about it too. This is the reality, in real time, showing what happens when first responders arrive to a 911 call about a vicious dog attack. In this case, after Pray was able to scream into her cell phone the location of the attack. Do not forget to look at the snow tracks and blood below either, which shows the struggle and violence during this attack.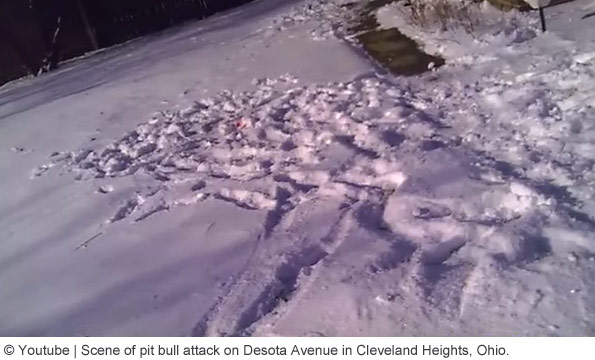 ---
Editorial note: We greatly thank Fox 8 Cleveland for following up and showing the full version of this honest and heartfelt story. Very seldom does a pit bull attack have a happy ending in this way. We again thank the Cleveland Heights Police Department for releasing this powerful video, and for the valor and amazing care by Officer Everett Haworth. We cried another thousand tears writing this post; they were bittersweet tears of pain and relief. As Chante Pray nears the first anniversary of her attack -- which is the hardest one of all -- our hearts go out to her. We hope she is surrounded by loving family on this day.
---
1
On may truly have to be a dog attack victim to understand the magnitude of fear and the expression on Pray's face when the police K-9 passes by. This response would be to any medium or large-sized dog independent of breed.
Related articles:
01/02/17:
Pit Bull Named 'Scarface' Mauls Family After Owner Tries to Put a Sweater on Dog
11/29/16:
Doctors Restore Little Girl's Face After Disfiguring Pit Bull Mauling; a Miraculous...
10/10/16:
Special Report: Level 1 Trauma Center Dog Bite Studies in All U.S. Geographical...
10/10/16:
Table: Retrospective Level 1 Trauma Center Studies of Dog Bite Injuries Published...
Labels: Bodycam, Cleveland Heights, Ohio, Pit Bull Attack Survivor, Police Shoot Aggressive Pit Bull, Victim Advocacy, Video

Please donate to support our work
DogsBite.org is a 501(c)(3) tax-exempt public charity organization. Learn more »
posted by
|
permalink
|
12 comments
|

email
|

blog rss
|

comment rss

12 comments:

Your Quiet Neighbor | 1/16/2017 4:13 PM | Flag
The dog owner's lack of insurance doesn't mean that a suit can't be filed. And won.

Here in Tucson, an attorney-friend won a $500k judgment in a pit bull mauling case. The victim was a toddler who lived next door to the property where the pit bull was.

The dog's owners didn't have insurance. But the owner of the house they were renting? He was insured. And was sued. Bigtime.

willy | 1/16/2017 5:50 PM | Flag
Pit bulls must be banned into extinction


Farmer Jane | 1/16/2017 10:32 PM | Flag
That is an amazing video. You can hear the stress in the officer's voice also, when he's explaining that he shot the dog to the other first responder.

Colleen Lynn | 1/16/2017 11:00 PM | Flag
It is amazing isn't it Farmer Jane? On so many levels!

Lucu Lencia | 1/17/2017 5:09 AM | Flag
I've never been seriously attacked (just a few puncture wounds and bruising) so I can't really appreciate the victims fear but the officer did really well to keep her calm and stop her going into shock.

Her hand looked a bit mangled - she may have some loss of dexterity and movement in that hand for the rest of her life.

I can't believe this girl still believes the "how they were raised" myth after this :S

I want a cute purse | 1/17/2017 3:09 PM | Flag
This such a powerful and telling video. I'm so glad she survived the attack. Prayers and peace to all the victims out there. You have a friend in me.

I want a cute purse | 1/17/2017 3:14 PM | Flag
She believes the myth because it's spouted at every God given place I know of. How can you think for yourself that something's wrong with Pitbulls when EVERYONE is telling you they are not only good dogs but the best dog. For every one of us that knows the truth there are a handful of idiots trying to cover up what they know nothing about. You know it and I know it.

K-Hart | 1/17/2017 9:13 PM | Flag
I couldn't agree more!!

EyesOpened | 1/19/2017 3:18 PM | Flag
The myths, especially the "how they're raised" one, are what people use to reassure themselves that something bad won't happen to them. Believing the myths gives them a sense of control. I've noticed this kind of thinking in other areas of life, too, but we certainly see it displayed constantly on comment threads for pit bull and dog attack articles--and particularly by pit bull owners.

I love dogs and would love to think that one would never hurt me. Many of us have been raised on stories like Old Yeller and White Fang, but adults have to face reality.

I hope this young woman regains full use of her hand and recovers from this trauma. Kudos to the wonderful police officer!

Your Quiet Neighbor | 1/20/2017 8:11 AM | Flag
Remember how the Old Yeller story ended? With the dog becoming rabid?

EyesOpened | 1/20/2017 4:13 PM | Flag
Yes, I thought about that. Pit advocates would just love it if, like Old Yeller, all the attacking pits had that excuse, wouldn't they? Yet none of these dogs test positive for rabies (though of course many of them haven't been vaccinated).

I just think a lot of us have been conditioned to believe that treating an animal nicely means it will respond in kind. That may be where this attitude of "it's never the dog's fault" comes from. Sigh.

Heath Pliler | 4/19/2017 4:22 PM | Flag
Fantastic job by the officer. I had my face ripped off by an Akita just over 2 years ago. I watched the video and completely understand her feelings in that state of shock. I still suffer from PTSD as a result of the attack and can't be near any large dog without feelings of panic.

I hope the dog is held accountable i.e. sued and/or prosecuted.

Also, I'm glad the dog is dead and no longer in a position to harm anyone else. I was the 3rd victim of the dog that mauled me, so if that dog had been put down after the first or second attack, I would have never had to go through what I went through.