Thursday, August 4, 2016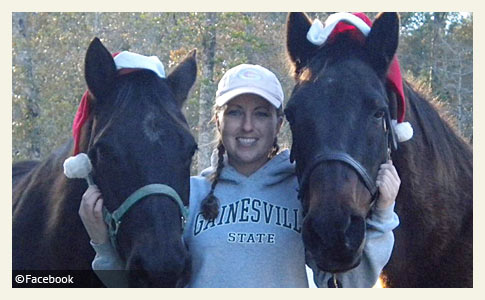 Michelle Wilcox, 30, was killed by her boyfriend's pit bull in Screven County, Georgia.
No History of Aggression for Any of the Dogs?
UPDATE 08/04/16:
Since news broke Tuesday about the fatal dog mauling of Michelle Wilcox, the public has been told that no dogs belonging to her boyfriend had "any known history of viciousness or aggression," according to Screven County Sheriff' Mike Kile's news release. That information is no longer valid; one of the male pit bulls had previously attacked. We also now know the identity of the boyfriend and that he owned four adult pit bulls -- two females and two males.
Devin Bannon
is the boyfriend of Wilcox and clearly states so on his public Facebook page. His male pit bull Conan is still being used as his cover photo.
On July 18, Bannon posted an image
of his pit bulls: Muffin, Kaos, Conan and Molly. We presume Muffin is a female, so that leaves
Kaos
or
Conan
as the male fatal attacker. According to Kaos' former owner, Troy Johnson,
"Kaos, ended with some legal charges over an attack, sent him to a farm in Statesboro with Devin."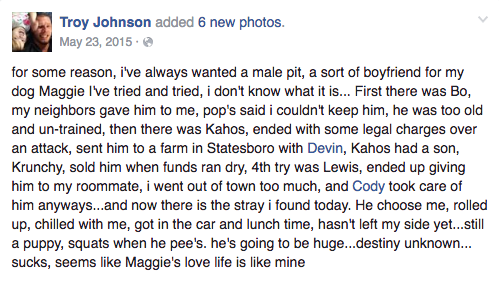 Johnson
posted this status update on May 23, 2015
along with photos of Kaos at different ages. The name "Devin" links to the profile of Bannon. In the update, Johnson commiserates about his inability to find a suitable male pit bull for his female pit bull, Maggie. By that point he had gone through four male pit bulls and was starting on a fifth. It is unknown exactly when Johnson sent Kaos to Devin. The first photo of Kaos appears on Bannon's Facebook page on
May 26, 2014
.
Yesterday, we wrote to Sheriff Kile with this information and also asked for clarification on whether the fatal attacker was Kaos or Conan. We emphasize
again
that Conan continues to be Bannon's Facebook
cover photo
after the death of Wilcox. What is also notable about his photographs is that his four pit bulls are of the larger variety and mainly seen "outside." Yet, he was quick to tell authorities his pit bulls were "indoor" dogs. Maybe Bannon meant they were "garage" dogs.
Pit Bull Milestone
Attorney and author J. Thomas Beasley
wrote about this attack
at his website. Last April, Beasley published
Misunderstood Nanny Dogs?
A Critical and Objective Analysis of the Facts & Myths Concerning Pit Bulls. We wrote an excellent
book review
for it, and
others have as well
. We encourage readers to purchase a copy. In his post about Wilcox, Beasley reminds us of her expertise with animals, yet even this expertise could not prevent or stop the deadly mauling.
"Michelle Wilcox worked as an inspector for the U.S. Department of Agriculture, and had studied pre-veterinarian medicine and animal science at the University of Georgia. She was an avid and skilled equestrian rider, and by all accounts, an "animal expert." But that expertise did nothing to thwart the unprovoked, unexpected and uncontrollable attack by her boyfriend's pit bull on August 2, 2016.

Police investigators stated that the dog was well cared for, had been raised from puppyhood as an "inside dog" and had no history of violence or aggression."

- J. Thomas Beasley
Read in full:
Pit Bull Milestone - J. Thomas Beasley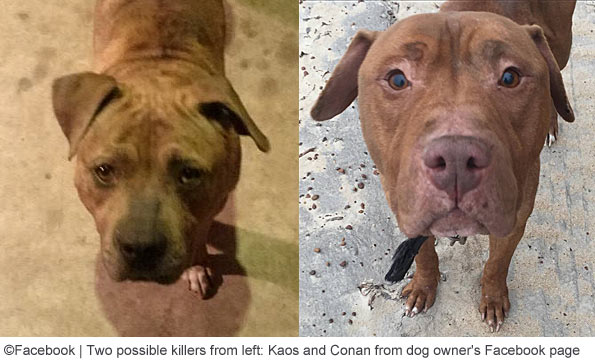 ---
08/02/16: News Release Adds Details
An autopsy conducted by the Georgia Bureau of Investigation (GBI) Medical Examiner's Office confirmed Michelle Wilcox, 30-years old, died due to injuries inflicted by the pit bull, according to a
news release issued by Screven County Sheriff
Mike Kile late Tuesday. "No one else was in the home at the time of the incident," Sheriff Mike Kile states. "The dog, a male pit bull, was put down by the owner immediately following the discovery of the attack," Kile states in the release.
Wilcox was familiar with the dogs at the home and had handled them safely many times in the past. None of the dogs in the home had any known history of viciousness or aggression, states the release. The
Statesboro Herald
adds that
Wilcox's Facebook page
indicates Wilcox was employed as a meat inspector with the Georgia Department of Agriculture and had studied pre-veterinary medicine at Gainesville State College and animal science at the University of Georgia.
08/02/16: Pit Bull Kills Woman in Georgia
Screven County, GA - In a developing story, a woman was brutally mauled to death by her boyfriend's pit bull near Newington, Georgia. Investigators say Michelle Wilcox died after being attacked by her boyfriend's pit bull while he was away at work Monday. About 6 pm last night, county investigators responded to a 911 call of a dead person at the boyfriend's home. Authorities arrived to a "horrific scene," reports WTOC, a woman mauled to death by a family pit bull.
"We will never know the reason why. It was raised from a small puppy in the house to the 95 pound dog it is now," Screven County Sheriff Mike Kile said. "She came home and let it out and seemed to be doing the normal routine. The dog just attacked," Kile said. Like many law enforcement officers, Kile responds to the "lack of reason" for the deadly attack, yet the nature of a pit bull attack is often
explosive, unpredictable aggression
and the execution of the killing bite.
While writing this post, more news was added, including there were multiple dogs in the home. "Investigators say none of the dogs in the home had any known history of viciousness or aggression," reports WTOC. It is very likely the family was backyard breeding pit bulls. The owner also destroyed the attacking pit bull immediately upon discovering his girlfriend dead. The Georgia Bureau of Investigation (GBI) assisted local authorities in this investigation, reports WTOC.

View the DogsBite.org Google Map:
Georgia Fatal Pit Bull Maulings
.
Related articles:
06/24/15:
Anchorage Pit Bull Attack: The Mechanics of a "Classic" Unprovoked Pit Bull Attack
11/05/13:
2013 Dog Bite Fatality: Kernersville Woman, 25, Killed by Her Boyfriend's Two Pit Bulls
05/05/09:
Alexandra Semyonova: Heritability of Behavior in the Abnormally Aggressive Dog
Labels: 2016 Dog Bite Fatality, Fatal Pit Bull Attack, Georgia, Georgia Bureau of Investigation, Georgia Pit Bull Fatality, Pit Bull Kills Family Member, Visiting Adult

Please donate to support our work
DogsBite.org is a 501(c)(3) tax-exempt public charity organization. Learn more »
posted by
|
permalink
|
15 comments
|

email
|

blog rss
|

comment rss

15 comments:

truthbirdtoo | 8/02/2016 7:34 PM | Flag
This could be the boyfriend. He is one of her friends on FB (https://www.facebook.com/roman.arevalo/media_set?set=a.161705803843671.37652.100000127574692&type=3)

Colleen Lynn | 8/02/2016 7:49 PM | Flag
Roman Arevalo (above) is a friend of the victim on Facebook and Myspace. He's backyard pit bull breeder and sells them for 1k each.

truthbirdtoo | 8/03/2016 12:11 AM | Flag
Oh my God, this is horrible! Look at what Chuck Christmas has to say on the related Statesboro Herald Facebook post. A complete denier and an "avid" pit bull defender.
------

"Chuck Christmas This was my nephew's dog that attacked my nephew's girlfriend. She had overseen a "slaughter" at a local farm as a part of her job as a meat inspector that day. It's quite possible that the slaughtered animals give off pheromones that the dog detected on her person, inducing it into a "fight or flight" response. It's also possible that any dog of comparable size might have reacted in the same fashion."

https://www.facebook.com/statesboroherald/posts/10153771932786361

joelande | 8/03/2016 3:14 AM | Flag
If what Chuck Christmas said was true, then millions of people who came home with their grocery shopping every day would be killed by their dogs.

This excuse nonsense is just pit bull breeders making excuses so they can go on intentionally breeding vicious fighting breeds.

Pit bull advocacy has made the world a worse place for all, including the dogs themselves. It is just breeder lobbying.

Munimula | 8/03/2016 8:39 AM | Flag
Add "pheremones" to the list of triggers. So....other dogs will just sniff you but these dogs are triggered to kill.


Webb Signworks | 8/03/2016 9:38 AM | Flag
"Fight or flight"? Seriously? Are you familiar with the term' "form follows function"? A pit bull has powerful jaws lined with an array of sharp teeth, specially designed to rip off chunks of raw flesh and swallow them whole. It's it's brain is wired and it's body is built around one thing; using those jaws to instinctively pursue, attack, pull prey down, go for the neck, hold-shake, kill and eat. From follows function; pit bulls are not designed to be people, friends or pets.

BeKind StopbreedingBullyDogs | 8/03/2016 11:52 AM | Flag
Such a waste. Her poor family, her poor normal pets.

joelande | 8/04/2016 7:08 AM | Flag
Game bred means fighting dogs.

These people are breeding fighting dogs, and selling them when they know they will kill.

Georgia has dog fighting going on in plain sight. Terrible problem, even the middle class there is into dog fighting.

PutMeInCharge41Day | 8/04/2016 7:50 AM | Flag
I am not surprised by the comment at all. I joked to my husband the night I read this post that "no doubt the smell of dead animals was a trigger".

After all who can forget the pit bull who chewed off the toddlers fingers and the reason given by the nutters was "he had a hot dog the day before".

Yesterday as I drove by the local skateboard park there was a really large pit bull on a leash being "walked" by a 10 year old on a bike....that is not going to end well. I am sure skateboards must be a trigger because everything else in life is for this kind of dog.

Colleen Lynn | 8/04/2016 12:08 PM | Flag
There have been significant updates to this post, including, previous aggression by one of the boyfriend's male pit bulls.

joelande | 8/05/2016 1:33 AM | Flag
I know some of the people involved in animal issues in Georgia.

In one instance, an animal control officer found out about dog fighting at a pit bull breeders' place in her county. She called up the sheriff who told her off, and told her she was to do and say NOTHING about it or she would feel some pain. She later found out this sheriff attended dog fights at the same establishment.

Yes, even some of law enforcement is into dog fighting and pit bull breeding in Georgia. Politicians and community leaders too.

And many of the pit bull advocacy groups there are led by dog fighters and pit bull breeders. They are shipping the game bred surplus into your state via "rescue" dealing.

KathyT | 8/10/2016 11:40 PM | Flag
I saw Wilcox page and she was such a beautiful woman. It is so tragic and so completely unnecessary too. There is just no good reason to breed dogs into any weird shape your heart desires especially if that particular shape is one best designed to kill men, women and children quickly and efficiently, not to mention other pets. Dogs are our best friend and we should act like a friend and not breed them in ways that hurts them and others. Dog breeders should be held legally and financially responsible for any death or injury caused by any animal that leaves their breeding program. When will we start blaming the breeders?

PutMeInCharge41Day | 8/11/2016 2:16 PM | Flag
I think this story adds significant insight into just how unpredictable these dogs are.

Here we have a person who has made a career/profession around animals. If anyone should be able to recognize any sign of a dog turning into a land shark- she should have.
My guess is she was lulled into all the pro nutter crap and because "the dogs were raised right" they certainly would cause no harm.

Meanwhile there is a tragedy/death at an amusement park last week-makes all the national and local news- and right away Legislation is being drawn up to regulate theme parks more stringently.

The pit bull carnage continues and all we here from the legislators is silence.

Lucu Lencia | 8/15/2016 8:26 PM | Flag
I think pit bulls don't really display any warnings before they are "set off" into fight mode. And after killing someone they can go back into "wigglebutt" mode and look all cute again until the next trigger sets them off.

She didn't recognize the signs because there WEREN'T any signs. All she saw was the cute "wigglebutt" mode, right up until the point one (or more) of them decided to kill her.

At least that's my theory - I'd like to think she was smart enough to have got the hell out of that relationship if the dogs ever showed any aggression prior to the attack that killed her.

EyesOpened | 8/17/2016 3:11 PM | Flag
It's amazing the boyfriend took in a dog with a known history of aggression. I wonder if he feels guilty. It's more likely, though, that he's found some excuse for the dog. So very sad...such a young woman.

There seems to be a real trend in the dog world of people thinking any and every dog can be saved. Just reading comments on dog attack or dog training articles shows the histrionics about euthanasia. I love dogs and wish it was true that all could be saved. That's just not reality. These attitudes are disturbing to me. It's either the rescue angel mentality or some sort of arrogance in people thinking that they can change every single dog with love and their superpowers or whatever. I was just reading comments on an article about dog training, and those defending Cesar Millan and his methods are adamant that it's all in how they're raised and all in how the owners treat them and that it's the owner who needs to be trained while the dogs need to be rehabilitated. They claim that he saves dogs that other trainers gave up on and they treat him like he's some kind of god for saving the dogs. They act like that's the highest possible good. Some dogs should not be saved, and it can be to their detriment to be forced into a life of fear, instability, harsh management, restrictions, kennel confinement, and so on. It seems to me like the human/canine relationship just gets more messed-up by the day!