Sunday, March 12, 2017
Pit Bull Owner Found Guilty of Harboring a Vicious Dog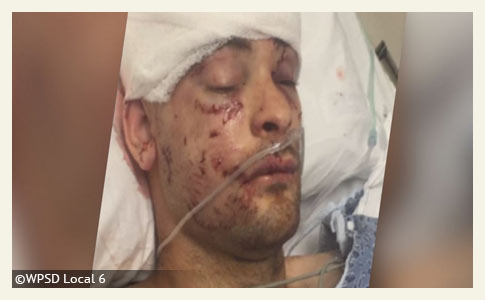 Mitchell Slayden was attacked by two pit bulls on July 2 in Farmington, Kentucky.
Bouland Found Guilty
UPDATE 03/12/17:
Multiple events have occurred since we last published about this severe attack. Last July, 22-year old Mitchelle Slayden was riding his bicycle when he entered the driveway of a home belonging to 27-year old Chris Bouland. Mitchell was looking for his cousin, who formerly lived at the home. When Mitchell entered the driveway, he was confronted by Bouland's two pit bulls. When he tried to leave the driveway, the pit bulls viciously attacked him.
Mitchell suffered life-threatening injuries. He was immediately airlifted to Vanderbilt University Medical Center in Nashville, Tennessee.
Four months after the attack, a judge
released the pit bulls back to Bouland
and set a date to stand trial for harboring a vicious animal. In early January 2017, less than two months later, Graves County Sheriff's Deputies responded to a neighbor dispute and
arrested Bouland on contempt of court charges
. Bouland had been ordered to keep his dogs out of Graves County, but he failed to comply. In the dispute, one of his pit bulls charged a neighbor and ended up shot.
Upon further investigation on Thursday, the sheriff's office and the Graves County Attorney's Office determined that the dog that was shot by the neighbor was, in fact, one of the dogs that was involved in the attack of Mitchell Slayden last summer. The other dog that was involved in the attack was also on the property on KY 129.
With both dogs being in Graves County, Bouland violated the orders set by the Graves County District Court. Bouland was arrested Thursday night on a contempt of court charge. He was also arrested on a separate warrant for bail jumping.

- Associated Press, Jan 6, 2017
On Sunday,
The Paducha Sun
reported that a jury found Bouland guilty of harboring a vicious animal, but did not sentence him to any jail time. Bouland still must contend with the contempt of court charge, as well as another pending trial -- his legal troubles are not over. The worst news, but predictable, is that both of Boulands pit bulls are still alive; he refused to forfeit them. The dogs remain at the Mayfield-Graves County Animal Shelter until court proceedings are complete.
When we last wrote about this case, we called Bouland
"just another 'exhausted cliché' owner of a dangerous pit bull."
His initial and ongoing actions prove us right over and over again. Bouland not only lied to the court and judge, he refuses to responsibly enclose his two pit bulls anywhere, even after being charged with harboring a vicious animal. Despite these facts and his recent conviction, Bouland is still slated to get his dogs back as long as he meets the court's conditions for release.
---
07/14/16: Pit Bull Attack Survivor
Farmington, KY - On July 5, the Kentucky State Police
issued a press release
about a young man who was badly mauled by two pit bulls. He was airlifted to Tri-Star Skyline Medical Center in Nashville with life threatening injuries. Mitchell Slayden, 22, was riding his bicycle when he entered the driveway of a home on Dove road belonging to Chris Bouland, 27. Mitchell was looking for a man he thought lived at the home, however, that person no longer lived there, states the release.
"When he entered the driveway Slayden was confronted by two pit bulls. As he attempted to leave the driveway the two pit bulls attacked him. Slayden sustained lacerations to his face, head, arms, and legs. He was airlifted to Tri-Star Skyline Medical Center in Nashville, TN with life threatening injuries. The two dogs were taken into custody by the Graves County Animal Control."

- Kentucky State Police
Days go by and we learn very little else. However, we did look up the owner of one of the pit bulls,
Christopher Bouland
and his
near lethal mauler
. Bouland
has been in trouble
with the Kentucky State Police in the past, and is a stereotypical owner of a dangerous pit bull. Mitchell did not stand a chance against the two unrestrained pit bulls kept in Bouland's unfenced backyard. All he had wanted to do was visit a man who he thought still lived at the home. He nearly paid with his life.
On July 13, we learned that Kentucky State Police
charged Bouland and Tina Dykes, 45
, both of Farmington, with harboring a vicious animal, a class B misdemeanor. If found guilty, the two could face a $200 fine, up to 60 days in jail or both. This is a pittance for the life-altering injuries the dogs inflicted on Mitchell. One commenter noted on the article, "$200 and 60 days? And those are max penalties. What a joke. That's the reason people keep vicious dogs. The penalty is so light."
"Since the attack, the Graves Fiscal Court is considering action regarding vicious dogs. During a meeting Monday night, Judge-Executive Jesse Perry said he and commissioners Todd Hayden, Tyler Goodman and Richie Galloway would be taking a look at a McCracken County proposal -- and possibly others -- to decide what can be done concerning vicious animals."

- The Paducah Sun
Why Cities and Counties Ban Pit Bulls
The gravely damaging attack, combined with insufficient criminal penalties afterward, are two of three fundamental reasons
why municipalities regulate pit bulls
. The third reason is the predictable lack of civil recourse. Pit bull owners are often uninsured renters or otherwise uninsured. Even when there is insurance, the standard policy is only $100,000, which is grossly inadequate after a pit bull tears off part of a person's scalp, as was the case with Mitchell's near fatal injuries.
On Wednesday, Mitchell's father spoke out in a
troubling piece by WPSD
, which partly focused on "why" the attacking pit bulls still had not been released by the Mayfield-Graves County Animal Shelter. WPSD quotes kennel attendant Mickie Bailey, who foreseeably responds to the vicious designation of the dogs as,
"I don't think they're mean. Misunderstood, maybe, and scared."
Bailey
should be fired for embarrassing the county
, whose prosecutors have filed these charges.
Walter Slayden, Mitchell's father, said the scene was a bloody mess. Slayden found his son lying in a ditch across the road from Bouland's home. Mitchell had tried to run away from the dogs. The pit bulls attacked his face and scalp and his body was covered in dog bites. "I did not think he was going to make it," Slayden said. Doctors will begin reconstructive surgeries next week, he said. When asked what he would say to the pit bull owners, he states, "I don't need to talk to them."
Correct. Bouland is just another "exhausted cliche" owner of a dangerous pit bull and could care less about the health and well being of Mitchell.
At the very end of the WPSD video, reporter Brianna Clark noted that she was told that when Bouland and Dykes went to
pick up their pit bulls
after the 10-day quarantine on Tuesday, "they were very upset they could not take their dogs home." We rest our case about Bouland. If these two pit bulls are put down, Bouland and Dykes will immediately acquire new pit bulls and the process will begin all over again. The only way to stop it is for the
county to regulate the breed
.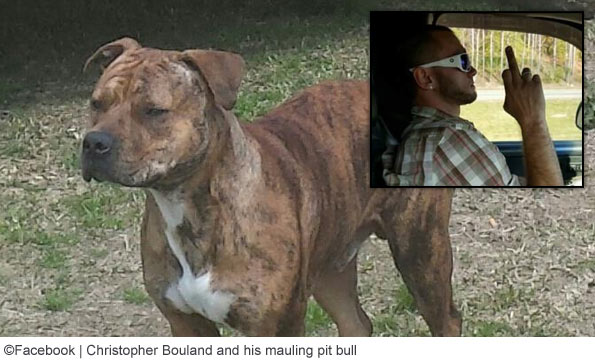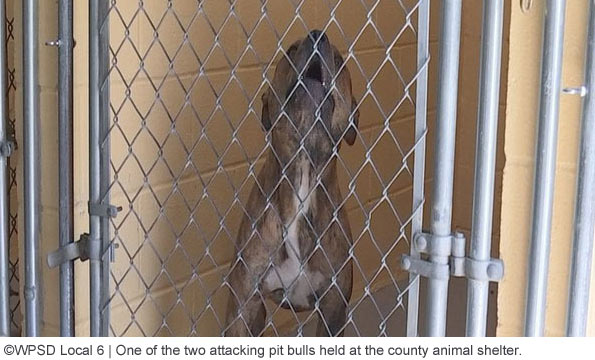 These are just "some" of Bouland's Facebook Likes about pit bulls; he prefers the large ones.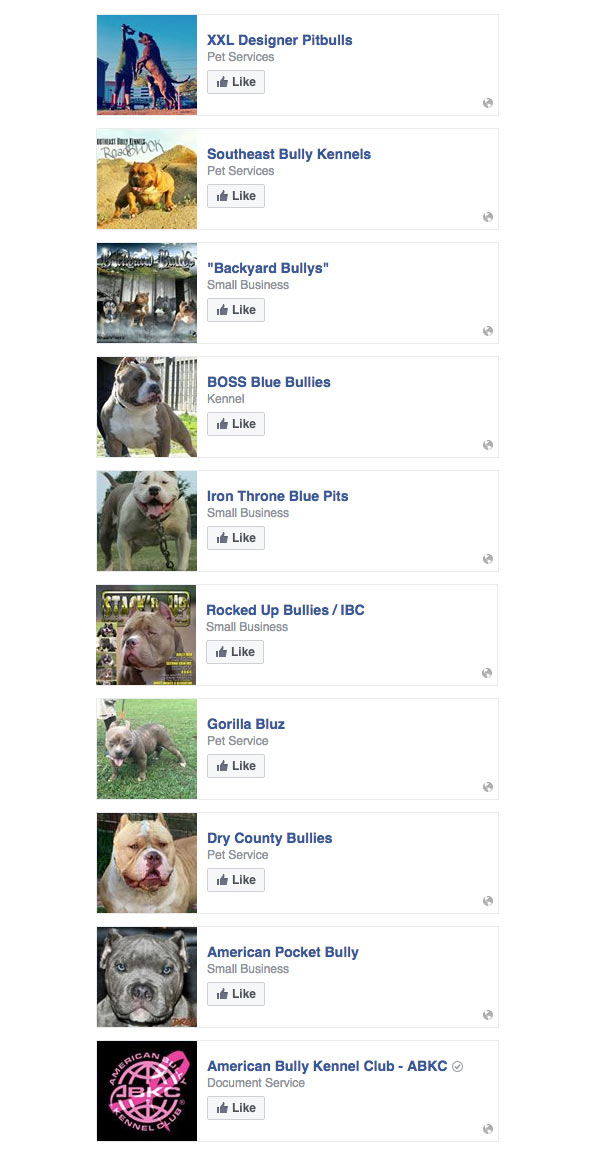 Related articles:
01/25/16:
Pit Bulls Lead 'Bite' Counts Across U.S. Cities and Counties
09/01/15:
Cities with Successful Pit Bull Laws; Data Shows Breed-Specific Laws Work
06/24/15:
Anchorage Pit Bull Attack: The Mechanics of a "Classic" Unprovoked Pit Bull Attack
Labels: Chris Bouland, Criminal Charges, Exhausted Cliche Pit Bull Owner, Explosive Aggression, Kentucky, Pit Bull Attack Survivor, Pit Bull Owner, Predatory Attack, Scalp Injury, Severe Pit Bull Injury, Vicious Dog Loop

Please donate to support our work
DogsBite.org is a 501(c)(3) tax-exempt public charity organization. Learn more »
posted by
|
permalink
|
18 comments
|

email
|

blog rss
|

comment rss

18 comments:

Lucy Muir | 7/14/2016 6:42 PM | Flag
This is a horrific attack and this is really the ultimate example about why we need regulation, this guy IS going to continue breeding and being irresponsible!!! The comments are also atrocious. Lot's and lot's of victim blaming. and tons of people saying it is the job of dogs to tear human beings apart for touching the sacred ground of a private residence. What idiots. BSL NEEDED STAT!

Ka D | 7/14/2016 9:25 PM | Flag
Dogs are like their owners-asshole people choose asshole dogs.

Sarah | 7/14/2016 9:46 PM | Flag
It's interesting that the article specifically says the pits attacked as the victim was leaving - surely a real indication that they were not guarding the property, as an actual guard dog wants an intruder to leave.

I'm forever horrified at how many people interpret property rights to mean that they now have the right to kill other people - as if their ownership (or partial ownership, if renting or paying a mortgage) of a piece of land gives them the right to murder anyone who trespasses. It seems very prevalent in states with very rural areas - there was a recent mauling in, I think, Vermont, with non-pit bulls, where a woman was nearly killed by dogs while walking up her neighbor's long, country driveway to ask if she could pick blueberries in their woods. The comments in local media stories were insane, all about how it's a guard dog's job to attack and kill intruders.




mary conner | 7/15/2016 1:07 AM | Flag
And yet anther pit bull attack. It just never ends.

joelande | 7/16/2016 7:17 AM | Flag
This is all that pit bull advocacy has accomplished -exploded the numbers of pit bull breeders and unwanted pit bulls.

They labor for the breeders, and they oppress the very dogs they claim to love

Will any of them stand up to the leaders that recruit & train them to be servants to breeders?

juliewall | 7/16/2016 8:44 AM | Flag
Why should public safety depend on how someone raises their dog? There are irresponsible owners of poodles, beagles, greyhounds and I could name 300 dog breeds that will not lead to severely maimed or dead neighbors, pets and children. It shouldn't be a death sentence for any of us to depend on all pit owners to raise their pit right. That's impossible. If you think it's how they are raised, then they should be regulated or banned.


Fred Phillips | 7/16/2016 8:54 AM | Flag
I hate this "guard dog" excuse too. Fine. Home defense. When you choose a method of home defense you should be held to the same standard as everyone else. You are off to jail for a long time if you--Shoot some salesman knocking on your door.----Set up a pit full of spikes in the yard to impale people.---Rig a m-18 claymore mine to get those kids that came over the back fence to get their ball. DOGS SHOULDN'T GET AN AUTOMATIC PASS because it is their nature to guard. They are too damn dumb to make the call. It is not 1630, it is 2016, better methods have been dreamed up. If your dog mauls or kills someone on your property it should be held to the exact standard that it would if you did it yourself with a sword! Even police dogs get it wrong all the time. They continue to bite until the perp holds still. Bwahaha, try holding still while a GSD has you by the crotch. So of course numerous breeders are cranking out highly reactive dogs for these jobs and warping the gene pool. I have a REAL guard dog. 17 month old Lab that barks a couple times when she hears or sees something weird, then lies down somewhere and eats my socks. I can check it out and make the call myself whether or not to kill those pesky kids. These people think their dogs are allowed to defend their home to the death, and I guess they are right. We need strong guidelines/laws on home defense. They wouldn't need to be breed specific either. Treat all dogs as firearms being wielded by the home owner. I chose my dog because she is just a BB gun.


Keeping Dogs Safe | 7/17/2016 4:15 PM | Flag
It's illegal to place landmines in your yard. It's illegal to play catch with a hand grenade.

So why is it legal to breed more mutant dogs who were and are created to do more damage than hand grenades or landmines?

Keeping Dogs Safe | 7/17/2016 4:26 PM | Flag
At the very least, we should charge all owners and caregivers of dogs that severely maim or kill (pets/people) with animal abuse and neglect. Ban them from any dog ownership for life.

This breed neutral, low cost, readily implemented law would have prevented this woman's horrific death.

Any dogs found later on their property or in their care shall be immediately confiscated.

The FBI recently added animal abuse to the crimes they track, so they can become the national registry.


Keeping Dogs Safe | 7/17/2016 4:28 PM | Flag
Excellent post. Trespass shouldn't be a capital offence. Or make it fair. Decriminalize attacks on pits in all the places pits kill.

EricDalnas | 7/17/2016 10:42 PM | Flag
Honestly I hope this man can sue the owner, landlord, homeowners insurance and anyone else involved. If the costs to insurance companies go up high enough for this breed (and they would if ligation was always pursued), this might dissuade at least some people from owning the breed. I know many insurance companies already refuse to insure pit bull owners, but a nationwide push for dog bite victims to sue, could help towards expanding this.

Your Quiet Neighbor | 7/23/2016 8:35 AM | Flag
Right on, Eric.

BTW, a lawyer-friend recently won a $500k judgment in a pit bull mauling case. So, it can be done.

Natasha Nogoodnik | 3/12/2017 11:15 PM | Flag
I don't understand why the judge gave Bouland his dogs back and ordered him to keep them dogs out of Graves County. Will they stop attacking if they're in a different county? Too bad the judge doesn't have the power (or is that willpower?) to lock Bouland up.

joelande | 3/13/2017 4:40 AM | Flag
Ultimately it is the court and authorities that are responsible for protecting the public. They have failed the public again and again.

It is not possible to contain dangerous dogs. They need to be euthanized. I hope the victim is suing the property owner.

joelande | 3/13/2017 4:56 AM | Flag
Another woman attacked and seriously injured by her son's pit bull. As usual, the media deceives by calling it an American bull dog. which is a pit bull.

http://www.necn.com/news/new-england/Woman-Hospitalized-Following-Attack-by-2-Dogs-in-Barnstable-415981333.html

Ka D | 3/13/2017 11:06 AM | Flag
One thing the authorities cannot do is continue to return known vicious dogs back to irresponsible, delusional owners until someone is DEAD. These dogs should be put down. Public safety MUST come before the self imagined right to own a well documented vicious breed.

Cissy Robertson | 3/17/2017 7:38 PM | Flag
Neighbor report website. Higher insurance rates or cancel homeowner insurance: ie insurance reports to bank no insurance, bank repo. the end. Hit them in the POCKET!

Catherine Hobbs | 3/18/2017 7:21 AM | Flag
Why is the county releasing the dogs instead of euthanizing them? This is akin to the police handing the gun back to a felon shooter after their investigation is over. Wth!?!