Wednesday, November 18, 2015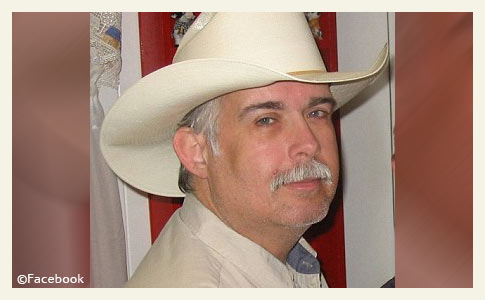 Anthony Riggs, 57, was killed within hours after adopting a rottweiler from a county shelter.
No Evaluation Policy
UPDATE 11/18/15:
Earlier this week,
The Jackson Sun
reported that the rottweiler that killed Anthony Riggs was a stray picked up by a city employee 5-days before its adoption, according to Kim Tedford, the director of the Jackson-Madison County Regional Health Department. At about 10:30 am on November 12, Riggs brought his new dog to show to his son Thomas Riggs. That was the
last time Thomas saw his father alive
, the animal brutally killed him about 3-hours later.
Tedford said the dog showed no signs of aggression during its short stay at Rabies Control. She also denied any rumors of the dog biting any Rabies Control Officers, which had gained steam on social media after the attack. Tedford said that officers handle the dogs while they are at Rabies Control and look for basic signs of aggression, such as growling, showing teeth and lunging. "We by no means would adopt an animal out that showed any signs of aggression," Tedford said.
Tedford explained the stray pick-up and owner surrender protocols, which involves a 3-day hold. During this period, the dogs are fed and watered, but not examined or tested, she said. If they remain unclaimed, they are put online for adoption, subject to euthanasia when kennels are full. That is when
URGENT no-kill rescue networks
like,
Save Madison County Animals
, kick in to "save" the unevaluated dog at all costs through their social media and "transport" networks.
Outdated Shelter Policy
Rabies Control does no evaluation or assessment testing at all. Rabies Control releases animals unaltered and unvaccinated too.
1
"Vaccinations and spaying or neutering are arranged by the owner after adoption," according to Tedford. This is untrue in other states, mandated either by state law or county policies. The current Tennessee law is many years out of date. Tedford even stated that she hoped this deadly attack would not stop people from adopting at the facility!
The director of the county health department is asking the public to accept the risk of death after admitting they have no evaluation policy.
What more could stop people from losing faith in a public pound than adopting out a dangerous breed with an
unknown history
, with
no evaluation or testing
, that in 3-hours kills its new owner? State-of-the-art temperament tests are not "science," and they
do not measure unpredictable aggression
. When administered properly, however, they can provide insights into the dog's behavior. Temperament tests are the
very least
a county shelter can do to protect public safety.
Family Members Dismayed
Adrienne Riggs, Anthony's ex-wife, and her son Thomas, the victim's son, spoke to Rabies Control after Anthony's mauling death. "I don't believe what they said," Adrienne said. She also expressed dismay and concern about the county's lack of evaluation policy. "They don't assess the dogs, they don't vet them, they don't evaluate them, they just adopt them out," Adrienne said. "You just can't put a dog that may be dangerous out with an unsuspecting family. That's just wrong," she said.
Adrienne hopes that Rabies Control undergoes policy changes, including evaluating animals over a period of time. The Madison County Sheriff's Office continues to investigate Riggs' death. More details will not be released until the investigation is complete. Meanwhile, over at Rabies Control it's business as usual.
Currently available for adoption
are five stray pit bulls, the
top killing dog breed
, with unknown histories and no evaluation or temperament testing performed by the county.
11/15/15: Comments Left by Family
The victim's ex-wife, Adrienne Riggs, left several comments on the WBBJ Facebook thread. Anthony Riggs is the father of her son. The county shelter told the family the rottweiler was a stray -- no one knows its history, she said. The dog attacked two people after killing Anthony, her son's stepmother
and
a neighbor. Anthony was also an experienced dog owner and handler, she wrote. The two had raised many large breeds together over the years, including a rottweiler.
"Dogs loved him and he had a way with them. He only had this dog for about 3 hours before the attack," she wrote.

- Adrienne Riggs
Like many family members who go to Facebook after a severe or fatal dog attack to express their grief and share information, Adrienne was shaken by the negativity of many commenters. From the crazy rescuers -- appalled the killer dog "was put down" -- to others who blamed the victim, she had no idea people could be so cruel. Normal people like Adrienne, however, are unaware that these zealots are
solely on the thread to defend violent dogs
, not to offer condolences.
In Summary
The mauling death of Anthony Riggs is the single most disastrous shelter "adoption" in modern times. Riggs was an able-bodied adult man and an experienced dog handler who had owned large breeds in the past. This rottweiler suddenly attacked and killed him 3 hours after being adopted. Of the
104 rottweiler fatalities we have on record
, not a single one besides this dog, inflicted a fatal attack on an able-bodied middle-aged man. The others involved "pairs" or more of rottweilers.
Another person on the WBBJ thread, Shelby Hodges, who came close to adopting this rottweiler stated: "I saw that dog and thought about adopting. So glad I didn't !!!" If Shelby had, she would be dead presently. A dog this powerful and aggressive with an unknown history
never should have been available
for adoption at a public pound. This is outrageously inappropriate. At this stage, the public must consider the shelter adoption of a
dangerous breed
to be a "life or death" decision.
11/13/15: Killed Day of Adoption
On Thursday morning, Anthony Riggs adopted a 5-year old male rottweiler from
Jackson-Madison County Rabies Control
-- the county animal shelter. By 3:30 pm that afternoon, the rottweiler had attacked and killed him. A rottweiler from a public shelter killed its new owner just hours after being rehomed. The dog was not finished after fatally attacking Riggs either; it also tried to attack a woman in the home. Responding Madison County sheriff's deputies had to dispatch the animal.
The Madison County Health Department refused to comment on their pet adoption policy until the sheriff's office investigation is over.
According to Animals 24-7
, with the inclusion of this fatal rottweiler attack, 42 dogs rehomed by U.S. shelters and rescues have participated in killing 39 people since 2010. These dog breeds include: 30 pit bulls, 7 bullmastiffs, 3 rottweilers, a lab and a husky. The website adds that only 5 shelter dogs killed a person from 1988 through 2009. The numbers since 2010 are staggering and reflect the "reality" of modern sheltering --
adopt out at all costs
to keep euthanasia rates low.
We remind readers that
no temperament assessment test
, not even a "state-of-the-art" one, can measure unpredictable aggression. This is the risk every person accepts, knowingly or not, when adopting a pit bull, rottweiler or other
dangerous breed
. Facebook
commenter and witness
Teresa Sanchez wrote: "He wasn't growling or showing teeth, he just bit us like he did it all the time or something. It was unreal what that dog did and he should have NEVER been adopted out period."
11/13/15: Adopted Rottweiler Kills Owner
Madison County, TN - The Madison County Sheriff's Office reports that a pet rottweiler killed a 57-year old man yesterday. The sheriff's office responded to a call about a dog attack about 3:30 pm Thursday in the 2200 block of Highway 70 East. Deputies found Anthony Riggs, 57, on the floor and unresponsive. EMS pronounced him dead at the scene. The investigation showed that Riggs was attacked and killed by his newly adopted rottweiler, according to the sheriff's office.
Arriving deputies shot and killed the animal. A commenter on the
Jackson Sun Facebook page
, Jennifer Dinkins, added more details: "The dog was shot because he was also attacking two other people who were first to arrive; they were bit also," she wrote. "The dog rushed the officer, so yes it was killed." Dinkins added, "He was family, my husband was there that's how I know." No information was provided about the shelter or rescue that adopted out the fatally attacking dog.
2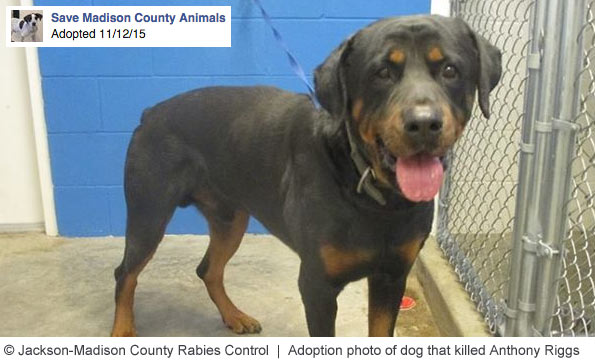 View the DogsBite.org Google Map:
U.S. Fatal Rottweiler Attacks By State
1
This county agency calls itself "Rabies Control" and does not even vaccinate?
2
Facebook commenters are pointing to an entity named JRC, Jackson Rabies Control, and saying the dog was adopted yesterday. This would indicate the rottweiler carried out a lethal attack the very same day it was adopted.
Related articles:
08/06/15:
2015 Dog Bite Fatality: Recently Adopted Out Pit Bull Kills 6-Year Old Boy...
03/13/15:
2015 Dog Bite Fatality: Texas Woman Mauled to Death by Pet Rottweiler
11/19/14:
2014 Dog Bite Fatality: 7-Year Old Boy Killed by Trained Protection Dog...
05/04/14:
Fatal Rottweiler Attacks - The Archival Record
Labels: 2015 Dog Bite Fatality, Adopted Dog Kills, Fatal Rottweiler Attack, Rescue or Rehomed Dog Kills, Temperament Test, Tennessee

Please donate to support our work
DogsBite.org is a 501(c)(3) tax-exempt public charity organization. Learn more »
posted by
|
permalink
|
25 comments
|

email
|

blog rss
|

comment rss

25 comments:

Your Quiet Neighbor | 11/13/2015 3:53 PM | Flag
Oh, lookie! It's a RESCUE! And we all know that RESCUE dogs are the most wonderful dogs on earth! How do we know this? Because their fur mommies and daddies keep telling us so!

(Sarcasm off.)

Bailey | 11/13/2015 7:37 PM | Flag
Yet another reason why I'd never buy a dog from a shelter. Not only to they lie to their customers about the aggressiveness about their dogs, but they also send off dogs to the most unfitting people. Who in the hell lets a 57 year old man take home Rottweiler?

I hope we get some details on whatever shelter sold this man this monster. I can't imagine a 57 year old man going to a shelter with the intention of getting a Rottweiler over safer, more manageable breeds.

Colleen Lynn | 11/13/2015 10:49 PM | Flag
Bailey -- we have updated the post with more details. They are grim. It was the county shelter. Also, both ages of 57 and 67 are currently being used in different media reports.

Jane Candela | 11/14/2015 5:11 AM | Flag
I'm more afraid of Rottweilers. I was taking a walk yesterday and a man with two leashed Rottweiler were walking towards me. I felt so scared. I passed with a hello and afterwards turned around and saw the dogs sniffing where I had just walked. These are not pets in my mind. They are German military service members. May the victim in this new attack rest in peace.

PutMeInCharge41Day | 11/14/2015 10:03 AM | Flag
I am surprised they have not pulled the dogs listing off their Facebook pagr.

Typical so eone,after reading about the dog killing a person hoped the doggie was ok.
Unreal.

Cole I presume you save these kind of pages before they disappear.


https://www.facebook.com/SaveMadisonCountyAnimals/photos/a.858411644208557.1073741829.338272516222475/870854236297631/?type=3&hc_location=ufi

Your Quiet Neighbor | 11/14/2015 10:06 AM | Flag
I hope that this shelter gets sued into the ground.

Breed-Specific Litigation. That's the BSL that will change things in a hurry.

Your Quiet Neighbor | 11/14/2015 10:07 AM | Flag
BTW, I know I've said it before, and I'll say it again:

Shelters Lie

truthbirdtoo | 11/14/2015 8:08 PM | Flag
A relative left a comment yesterday at the WBBJ post:
--------
Adrienne Davis Riggs Please all, I am a dog lover and animal lover but speculating what coulda, shoulda, mighta happened to the dog prior to yesterday really doesn't matter anymore. The pound said it was a stray so we will NEVER know. What IS important, is that a gentle man, a loving father, and good person is DEAD. Getting that phone call last night from my hysterical son on the verge of collapse is not something I want to go through ever again. The dog not only killed Tony, but it attacked my son's step-mother and a neighbor. The police had to shoot it because it was threatening and preventing anyone from entering the house. Forgive me but I don't care about the dog anymore!! I DO care about my son who is grieving so deeply that he cannot eat or sleep and with his health issues, could end up in the hospital. I care about the pain in my son's eyes and the hopelessness in his face right now as he faces the rest of his life without the most important man in his life. I care about the loss of a man I loved and friend I will miss. My priorities lie with my son and mourning the loss of a good human being. My son is reading every comment people make about his father. Please don't add to his grief and pain.

https://www.facebook.com/WBBJ7/posts/10153835730424742

Geri Addison | 11/15/2015 11:18 AM | Flag
I work in rescue, and I believe that not EVERY dog needs to be rescued. Some dogs simply need to be euthanized. Period.


Marti | 11/15/2015 2:36 PM | Flag
I pray that your son can get through this time. It is devastating to lose a parent to the unexpected and suddenly. Prayers


PutMeInCharge41Day | 11/15/2015 6:52 PM | Flag
If I read the sale requirements from the pound they offered a small refund on the dogs purchase after proof of neutering. I had no idea any county/city pound let anything out without strilization, and certainly not a powerful tyou of dog. They have since pulled down the dogs listing on facebook so I can not go back and look.

Colleen Lynn | 11/15/2015 7:27 PM | Flag
Yes -- we saw this. That rottweiler was not neutered. We have a screen capture here:

http://www.dogsbite.org/img/madison-county-rottweiler-killed-man.png

Jackson Madison County TN Rabies Control 146 Miller Ave
Jackson, TN
731-668-4211
320 male rottweiler in 11L...stray...ready 11/12/2015
5 yr & 111 lbs

$63 adoption fee...fee covers rabies shot at a Madison County TN vet...and a $25 refund for spay/neuter within 30 days — with Maria Dias.

Jensen Family | 11/15/2015 8:15 PM | Flag
Plan A: dog gets adopted. Dog kills a man and wounds 2 others. Dog creates a wake of disaster and devastates a family and ends up getting shot and killed as a result.
Plan B: since we have no idea this dog's history let's humanely euthanize.
Is it ever worth taking a chance on plan A? To save 1, countless others may die.

Colleen Lynn | 11/15/2015 10:35 PM | Flag
Jackson-Madison County Rabies Control still won't answer any media questions -- they were also closed today. It is unknown what they are going to say when they do finally issue a statement. Someone knows something about this dog's background (did they guess the age of 5-years old?). On the "save" dangerous dog FB page, there were rumors stating the dog had previously attacked a shelter worker. This rottweiler was an absolute extreme man killer -- its behavior falls outside of any recorded fatal rottweiler attack (a single rottweiler killing an able-bodied middle-aged man). The statement from witness Teresa Sanchez was chilling too: "He wasn't growling or showing teeth, he just bit us like he did it all the time or something."

Peachtree413 | 11/15/2015 11:13 PM | Flag
111 lbs??? And not an once of fat on him! Intact huge adult male, a naturally aggressive breed, unknown history, absolutely irresponsible to release him.

No obvious scars on the dog, so probably not used in fighting, but definitely looks like it has had some physical training. I would guess a "protection" dog for a business that became too much to handle so they dumped him.

Colleen Lynn | 11/15/2015 11:16 PM | Flag
We are thinking along those same lines Peachtree.

Bailey | 11/16/2015 8:15 PM | Flag
Thank you for the updates Colleen. It's great we can have someone to provide us with details since the shelter itself will not.

I hope this shelter gets its butt sued off. Selling an un-neutered aggressive breed, to a man nearly 60 (or possibly 70 since there are conflicting stories), and then not saying anything after the man is KILLED by the monster on the same day he bought it; and even going to the point of taking the thing's picture off Facebook. That's the pinnacle of IRRESPONSIBILITY and ENDANGERMENT. How people still have the mindset "all breeders bad, all shelters good" I'll never understand.

Colleen Lynn | 11/17/2015 12:22 AM | Flag
We want to remind readers of this post that if you have information about this case that you are afraid to share, please know that you can send it into DogsBite.org completely confidentially at:
info --at-- dogsbite.org

Or any of the emails listed on this page:
----
http://www.dogsbite.org/dogsbite-contact.php

Dayna Hamilton | 11/21/2015 8:40 PM | Flag
The dog was only in the shelter for 5 DAYS?! When a dog is quarantined for rabies after biting someone the standard is 10. I thought all states went by the 10 day quarantine.

Your Quiet Neighbor | 11/22/2015 8:10 AM | Flag
But Dayna, you don't understand. This dog is a RESCUE! And RESCUE! dogs must be adopted out! ASAP, in fact!

Sarcasm off.

And I hope that this man's widow sues the HELL out of this shelter.

Which leads me to another point: I favor BSL. But it's not the BSL that is often discussed here. Face it, *legislation* can take years to get enacted.

But Breed-Specific Litigation? Oh, man. It will change things in a hurry.

Money talks. And you-know-what walks.

Sarah M | 11/22/2015 12:20 PM | Flag
Was the dogs brain tissue tested for rabies after they killed him? All dogs with unknown history have to be quarantined for at least 10 days before being put up for adoption (since there's no rabies test for live animals) they monitor for clinical signs of the disease. Most shelters test for food agression (placing a stick in thr dogs bowl as he is eating) and other common aggression triggers. Did none of this happen? On a ONE HUNDRED AND ELEVEN POUND rottweiler with zero history. If so, theit policy needs to change or they need to be shut down. I've never worked in a shelter that didn't do these standard simple things to protect future adopters and the dogs from homes with potential triggers (kids, other dogs, cats). Makes me sick and I really would like to know if this dog was rabid and not quarentined long enough. Sounds like no one was looking for signs anyway and that's terrifying.

Colleen Lynn | 11/22/2015 1:08 PM | Flag
The county is now consulting with a dog bite expert about this case, but it remains unknown which "expert" this is -- there are only a handful in the US. WBBJ interviewed Berman, the same expert that was dealt a defeat in the Jena Wright case -- babysitter's pit bull killed little Jordyn. Of the many issues that came out during that trial, a serious blow to the expert was in admitting he had never met Jordyn and never met the pit bull or observed his interaction with other dogs or people.

Berman concluded his multi-thousand dollar testimony predictably saying, "nothing in Brutus' behavior could have predicted the attack on Jordyn Arndt." Then cross-examination began, kicking court tension up a few notches Tuesday. After grilling Berman on his education and previous experience, prosecutors unveiled the undoing of his testimony. Berman had to state to the court that he had never even evaluated the pit bull -- Brutus was put down shortly after the attack. -DogsBite.org

Rabies Control has hired this unnamed dog bite expert, despite the fact that no one apparently had any knowledge about this dog's past and it was shot to death after killing Anthony (it no longer can be observed). In the dog's 5-day stay at the pound, no evaluation or temperament test was given either. It is unclear what help this expert can provide, given so little information to evaluate. Crime scene photos will likely indicate it was a horrific fatal attack, not unlike other fatal rottweiler attacks.

Officials call in 'bite expert' in dog attack death

Ka D | 11/22/2015 1:17 PM | Flag
Doesn't animal control have to hold an animal for TEN days just to be sure it doesn't have rabies? This entire incident seems incredibly negligent on AC's part.

Colleen Lynn | 11/22/2015 1:26 PM | Flag
Apparently not according to Tennessee state law. There is only a 3-day hold on pick ups and owner surrenders, according to Rabies Control. Again, we have to express the irony in the agency's name, given that they do not even vaccinate.

Per Tennessee law, a dog picked up on the street or given up by its owner must be held for at least three days, Tedford said. If the animal has an identification chip or a collar with a name, they keep the dog for five to seven days. During the three days, the animals are fed and watered, but not examined or tested, Tedford said. If unclaimed, they are then put online for adoption. Vaccinations and spaying or neutering are arranged by the owner after adoption. -Kim Tedford, director of the Jackson-Madison County Regional Health Department.


Your Quiet Neighbor | 11/23/2015 6:01 PM | Flag
Has the family retained an attorney?