Monday, February 23, 2015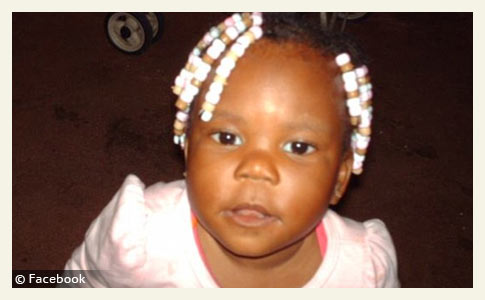 Pit Bull Kills Toddler
West Mifflin, PA - On Sunday evening, 2-year old TayLynn DeVaughn was viciously attacked and killed by a family pit bull-mix while visiting her aunt's home on Fleetwood Drive in West Mifflin, a Pittsburgh suburb. The pit bull belongs to her aunt's boyfriend. The child's father, Cory DeVaughn, told
WPXI
, "I came out of the kitchen and the dog dropped the baby. His name was Jake and my baby was gone." The toddler was rushed to Jefferson Memorial Hospital and pronounced dead.
The distraught father also said that it was the second time his daughter had been around the pit bull-mix.
DogsBite.org adds, the second time and last time
. DeVaughn said he doesn't blame the owners and that everyone is hurting right now. "She has a lot of people that love her a lot. People all over love my baby," DeVaughn said. Allegheny County police said the county district attorney's office would review the case for possible charges once the police investigation is complete.
"You gotta be careful whose house you take your child to, so it won't happened to your child what happened to mine."

- Cory DeVaughn
The West Mifflin animal control officer who impounded the dog, Ken Ferree, has now handled at least two fatal dog attacks.
Ferree also impounded Nikko
, a recently adopted husky that killed a baby in McKeesport in 2012. Nikko was seized after the violent attack then quickly adopted out to a new family -- prior to even
undergoing the standard 10-day rabies quarantine
. Thus setting up the
ethereal court battle over a baby-killing dog
whose life was ultimately spared by a judge.
1
Ferree told the
TribLive
on Monday that the dog is a 3- or 4-year-old pit bull mix and weighs about 80 pounds. "It's a good-size, powerful dog," he said. "It fought me a bit ... when we had to remove it." Though using a catch-pole to handle the dog, the animal attacked him again at the kennel. "He wasn't a cooperative dog," he said. Ferree said he would keep the dog in his McKeesport kennel for the standard 10-day quarantine period.
Let's hope for everyone's sake that is true this time
.

View the DogsBite.org Google Map:
Pennsylvania Fatal Pit Bull Maulings
.
1
Onion's life was ultimately spared as well after a 2-year court battle. Both cases involved New York-based Lexus Project intervening to spare the lives of child-killing dogs.
Related articles:
09/11/14:
2014 Dog Bite Fatality: Visiting Child Killed by Family Pit Bulls in Miami-Dade County
08/08/14:
2014 Dog Bite Fatality: Visiting Child Killed by Aunt's Pit Bulls in Fanning Springs...
07/29/14:
2014 Dog Bite Fatality: Visiting Child Killed by His Uncle's Two Pit Bulls...
07/22/14:
2014 Dog Bite Fatality: Visiting Child Under Babysitter's Care Killed by Family Pit Bull...
05/08/14:
2014 Dog Bite Fatality: Visiting Child Killed by Pit Bulls Owned by Friends in Felton...
03/08/12:
2012 Dog Bite Fatality: Newborn Dies After Severe Dog Bites in McKeesport
Labels: 2015 Dog Bite Fatality, Fatal Pit Bull Attack, Ken Ferree, Pennsylvania, Visiting Child

Please donate to support our work
DogsBite.org is a 501(c)(3) tax-exempt public charity organization. Learn more »
posted by
|
permalink
|
8 comments
|

email
|

blog rss
|

comment rss

8 comments:

Your Quiet Neighbor | 2/23/2015 2:46 PM | Flag
Forget the 10-day quarantine. Save the taxpayers' money and put this killer down!

Russ | 2/23/2015 4:14 PM | Flag
Agree with Your Quiet Neighbor...kill the dog & test for rabies...no reason to wait.

PutMeInCharge4OneDay | 2/24/2015 9:37 AM | Flag
How tragic to read this.
Another death by pit bull.

Meanwhile those pushing pit bulls continue to reap financial rewards as this carnage continues.

Yesterday it was announced that ASICS and the Los Angeles Marathon chose a pit bull rescue as the charity for the event. Our Local channel KTLA-5 had a news reporter with the pit bull rescue and they did several reports throughout the morning. Their purpose (the rescue) was to promote the pit bull as a "family dog" and "dispel myths" about the breed.
(Notice when they are touting them suddenly they are a breed)

I am appalled that a company as big as ASICS would chose this kind of group.



PutMeInCharge4OneDay | 2/24/2015 11:58 AM | Flag
I forgot to add this to my post.
Here are some of the PR Pieces on the pitbulls from KTLA news

http://ktla.com/2015/02/23/official-l-a-marathon-charity-angel-city-pit-bulls/

Baby RadFem | 2/24/2015 12:22 PM | Flag
I am so sorry for this family, I cannot imagine how awful it would be to have this happen.

I don't get it- rescues of all types are struggling for money and resources, while pit bulls are handed the golden ticket. The ONLY breed that kills regularly, but they get the lion share of the funding. The ferret shelter I volunteer for is more worthy, but don't see a dime of city money, while the local HS is begging for tax dollars for a bigger shelter (to house- pit bulls!!! they already refuse feral cats, and charge big fees for rehoming pets, so it's all pits because pit owners will dump the maulers on the street so they get taken in.)

Your Quiet Neighbor | 2/27/2015 10:22 AM | Flag
Yesterday evening, I was heading home from an event. Was walking on a narrow sidewalk, and what should come from the other direction but a pit bull dog-walking parade! Wow! What fun!

Fortunately, the parade and I passed each other in a place where there was enough room for me to get off the sidewalk and continue my walk in the street. No cars were coming.

I made sure that I kept my eyes on the un-dogs. The owners said nothing to me -- and why would they? They have nothing to say that I consider hearing.

Cold shoulders to the pit bull owners, everyone. That's what they get from me, and I recommend that you give them the same treatment.

Dayna Hamilton | 3/01/2015 7:33 PM | Flag
Poor baby girl.

@ PutMeInCharge4oneday, I could not agree more... Why don't greyhounds get promoted more??? They are beautiful sweet, people friendly dogs...

1crosbycat | 3/13/2015 11:28 PM | Flag
Newspaper Tribune-Review March 5 says the dog is to be euthanized (dog's owners decided this) and district attorney still deciding If charges warranted.