Friday, May 30, 2014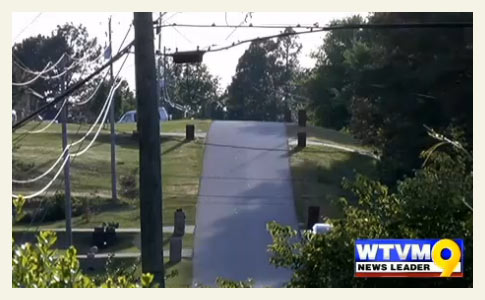 'Ponytail' Excuse
UPDATE 05/30/14:
In case readers missed
Blackfish
, a 2013 documentary about a killer whale living in captivity involved in the deaths of three people, most recently a trainer at SeaWorld, you might not fully understand the
"ponytail" excuse
. This excuse is not a product of Steve Klemetti -- owners of killer dogs rarely have original ideas -- but rather an excuse popularized by SeaWorld after the death of Dawn Brancheau in 2010.
Blackfish
pulverized SeaWorld's "ponytail theory."
1
Pit bull owner:
Klemetti said the day of the attack, his wife, Victoria, was with Morrison, who had looked after the dogs before. When Morrison knelt down to pick up a tennis ball they were playing with, the first thing the dogs went after was Morrison's ponytail.
"I think what happened is that she had a ponytail and she reached down to get something and one of the dogs said "Hey, this looks like my rope toy" and jumped up," Klemetti said.

- Steve Klemetti, speaking to Opelika-Auburn News
SeaWorld:
The killer whale that drowned a veteran trainer was just curious about her ponytail and dragged her into the water to investigate a new toy, the former head of animal training at SeaWorld Orlando said Friday…
It was playful curiosity, Lacinak said, and not a bloodthirsty attack. Brancheau's ponytail was merely a "novelty item" to the whale ...
"It was a novel item in the water, and he grabbed hold of it, not necessarily in an aggressive way," he said.

- Thad Lacinak, speaking to CBS News

2
We remind readers that Klemetti's three pit bulls completely scalped 20-year old Katie Morrison right in front of one of their owners, his wife Victoria Klemetti, who was helpless to stop the dogs. Steve Klemetti does not stop with the "ponytail" blame game either. He insinuates that being "down on their level" -- aka Katie bending down to pick up a tennis ball -- is an excuse for his dogs to "go primal" and to "go instinctual," which is why "I never get down on their level," he said.
Finally, as if on "Classic Pit Bull Owner Cue" Steve Klemetti called the brutal attack a "freak incident," despite the fact that pit bulls kill more people than all other dog breeds combined. In the first 101 days of this year,
pit bulls maintained an average kill rate of every 9.2 days
. Klemetti also claims to cry every time he recalls a touching moment with one of his killer dogs. He regrets his wife's decision to put the three dogs down, "It's like part of your family is gone," Klemetti said.
05/16/14: Attacking Dogs Put Down
On May 15, the
Opelika-Auburn News
published an alarming news article
about the three pit bulls that brutally attacked a 20-year old woman on April 28, peeling off her entire scalp, in front of their owner.
3
Katie Morrison died in the hospital due to her severe injuries on May 3. Lee County Sheriff Jay Jones said there is not a state law or local act that mandates putting the dogs down. Further, Jones explained, "the dogs' owner has gone back and forth on bringing the dogs home."
This is not the first time such horrific, pathological behavior has been demonstrated by the owner of a fatally attacking pit bull.
Residents were appalled to learn that the three pit bulls might be returned to their owner. Lee County District 3 Commissioner Gary Long said, "I was shocked that the potential was there for those dogs to go back to the neighborhood." A hearing was held in district court to determine the outcome of the dogs, but the court declined to issue a ruling, citing it had no legal authority to do so. "Absent of criminal activity," Jones explained, at least at this point, the court declined to rule.
The following day, May 16, the
Opelika-Auburn News
reported that the dogs were put down that evening. The report also named the owners of pit bulls, Steve and Victoria Klemetti of Phenix City. Lee County Sheriff Jay Jones said the owners ultimately chose to have the animals put down. According to a court order, the Klemettis had the option to give the dogs away provided that they inform the new owners of the dogs' violent history and that the Sheriff's Office be notified.
The investigation is ongoing and will be presented to a grand jury sometime in the future.
05/04/14: Scalping Victim Dies
Smiths Station, AL - The Lee County coroner reports that a young woman hospitalized for severe pit bull injuries last week has died. Katie Morrison, 20-years old, was getting acquainted with the dogs, preparing to "watch" the four dogs
4
while their owner left town,
when three of the dogs, pit bulls, turned on their owner and Morrison
. The May 2 WTVM article also noted that Morrison's "critical condition is not improving." She was added to the DogsBite Fatality Watch list at that time.
The dog owner's sister, Billie Mixon, said the two were in the company of the dogs for about three hours but then, "when she bent down to grab the tennis ball, one jumped on, then the other jumped on, and the dogs turned different than they've ever been before."
Neighbors on Lee County Road 504 in the Heather Brooke neighborhood recall what happened next. They said three of the four pit bulls turned on their owner and the visiting 20-year-old woman was nearly scalped. The owner also sustained injuries trying to pull them off.
"I looked over the fence and I saw that lady laying there. What I remember was her head -- there was almost no hair left. The head and the face were covered with blood," said Gabby Witt.

- Dante Renzulli, WTVM.com, May 2, 2014
WTVM interviewed several neighbors after the attack. Jodie Marshall said, "Even the animal control officer was frightened. They didn't know how they were going to get the dogs out, they were very aggressive." David Witt said he was not too surprised. "I figured that sooner or later it was going to come down to that because these dogs had
previously attacked other dogs in the neighborhood, and it was just a matter of time before they went after a human
," Witt said.
Morrison was transported by ambulance to Midtown Medical Center in Columbus and then transferred to Grady Memorial Hospital in Atlanta. She succumbed to her injuries Saturday night. Coroner Bill Harris said she suffered severe head injuries and multiple laceration and puncture wounds all over her body. The dogs' owner voluntarily transported her dogs to animal control and surrendered them after the attack. The dogs remain in the state mandated 10-day quarantine.
---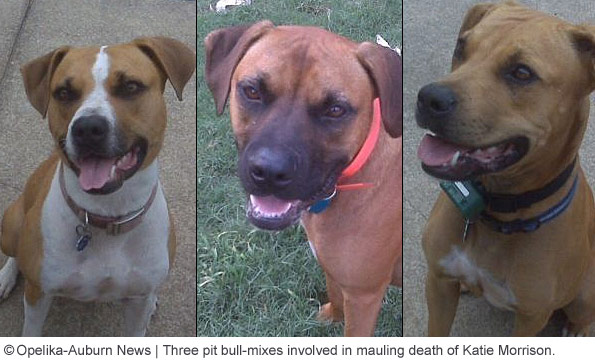 ---

View the DogsBite.org Google Map:
Alabama Fatal Pit Bull Maulings
.
1
Film response: "Although eye witness accounts and a video of events just prior to the take-down seem to strongly contradict the notion that Dawn was pulled in by her ponytail, it is most important to note that according to SeaWorld's own Management during courtroom testimony, Tilikum was desensed to ponytails and therefore did not find them a novelty. The brutal nature of the prolonged, aggressive attack and the facts in the autopsy strongly suggest that Tilikum's behavior was anything but novel curiosity. These facts were internally corroborated by senior level training staff at SeaWorld." See full Blackfish documentary online. See also a review by Ken Brower in National Geographic.
2
In April 2014, the U.S. Court of Appeals for the District of Columbia Circuit upheld a federal occupational safety agency's finding against SeaWorld Entertainment Inc. after the death of Dawn Brancheau.
3
News articles cite conflicting dates of the initial attack, April 28 and April 30. They also refer to "Monday" of that week, which was the 28th.
4
According to an Opelika-Auburn News article, Lee County Sheriff Jay Jones said, "The three dogs that attacked the victim are pit bulls. The fourth, which was not involved in the attack, is of a different breed, Jones said."
Related articles:
04/21/14:
U.S. Fatal Dog Attacks Accelerate During First Part of Year (January 1,2014...
04/11/14:
2014 Dog Bite Fatality: Pit Bull Kills 5-Year Old Boy in St. Clair County, Alabama
02/28/14:
2014 Dog Bite Fatality: 4-Year Old Girl Killed by Dogs in Tallassee, Alabama
09/23/13:
Collection of Pit Bull Scalp Attack Victims - DogsBite.org
Labels: 2014 Dog Bite Fatality, Alabama, Dog Sitting, Fatal Pit Bull Attack, Scalp Injury, Visiting Adult

Please donate to support our work
DogsBite.org is a 501(c)(3) tax-exempt public charity organization. Learn more »
posted by
|
permalink
|
15 comments
|

email
|

blog rss
|

comment rss

15 comments:

Deanna Diehl | 5/04/2014 6:47 PM | Flag
No! Pit Bulls are only mean if they are treated mean-----NOT!!! I have such a hard time listening to pit bull owners make excuse after excuse for their dogs aggressive behaviors. Sadly this owner has lost a human friend.

tropical storms | 5/04/2014 7:04 PM | Flag
The one not-a-bulldog wasn't involved, how telling.

Staceyjwsolar | 5/04/2014 10:56 PM | Flag
Everyday, I look to see if this blog is updated.

Everyday that there is no update, I swear, I let out a heavy sigh of relief. This is the only blog I follow that I am thrilled to see no new posts.

Today I saw that it was updated, and I thought, not again, please, not again.

And of course, another innocent person was killed by grippers, in the most brutal of fashion. Again. So predictable. So tragic. She was so young, and only trying to help.

(Shall we add playing with a tennis ball to the list of things that makes pits snap and scalp and kill?)

Colleen Lynn | 5/04/2014 11:56 PM | Flag
This attack has been added to the Triggers attack post Stacey. We are keeping close tabs on a vicious rumor being spread by out-of-state pit bull advocates about this mauling victim; it's a new low for "fanatical" pit bull owners. "She was so young, and only trying to help," you state. Sadly (and exactly), 18 to 24 year old females, also notably prime child-bearing years, are the most vulnerable group to the pit bull propaganda machine and are a targeted age group by animal welfare organizations to become "rescuers" of these dogs. She suffered unimaginably horrific injuries while preparing to do a favor for a woman "she met through church" -- dog-sitting her small pack of pit bulls. She never made it that far. During the "three hours" of getting to know the pit bulls, three hours to prepare for a dog-sitting commitment, she was horrifically mauled while the owner was present. The death of Katie Morrison leaves us with unbearable sadness.

PutMeInCharge4OneDay | 5/05/2014 9:15 AM | Flag
No doubt the victim was fully indoctrinated in the "it's all how you raise em" garbage. She is the right age.

I attended the Pet Expo in Orange County, CA two weeks ago. With hundreds of booths there I of course wound up being very close to the pit bull booth. The pit bull, american bull dogs and the staffordshires had one big booth together. They had their "Nanny Dog" poster out front loud and proud. Along with their other propaganda. As far as I am concerned these kind of people have a hand in every victim of a pit bull attack. Though I did hear one of the booth attendants telling another how they will have a dog available from time to time when they want to get a new dog "in their yard". Odd talk for a show that is geared towards people and their pets.

As Tropical Storms pointed out it is very telling that the non pit did not participate.

What are the chances the dogs will be liberated by some "rescue" organization because no doubt they will pass the "temperament test".

I surmise that unless the test is being given during an attack that every pit bull will pass the TT.

I think the trigger list could be shaved down to just one thing-
"Life" is what triggers a pit bull.




Staceyjwsolar | 5/05/2014 9:57 AM | Flag
I cannot even imagine the pain and terror, and why her family must be feeling.

A vicious rumor? Being scalped, suffering unimaginably, then dying isn't enough torture for this poor women, they must impugn her good name too? Try to make this nightmare her fault? As if there is anything that would make this attack an acceptable response….

Every time I think I cannot be more disgusted with the pit machine, they go and shovel the bottom even lower.

They do target women, and women are more likely to put a bunch of work and personal effort into the whole rescue thing. Just look at the crowd begging for news on their maulers when Spindletop went down.

RSM | 5/05/2014 12:44 PM | Flag
I also wonder how many other critical condition victims have died, but we do not know because it was not reported. Or maybe their death was listed as whatever killed them, like infection, instead of a DBRF?

I always wonder what happened to that NJ boy that was mauled by his Dads 2 pits, when he was visiting. A neighbor saved his life by breaking the door down, but he was very, gravely injured. I think this was late 2013.

Kendra | 5/30/2014 11:58 AM | Flag
One of the dogs' owners, Steve Klemetti, spoke out in the media and blamed the victim for the attack. He said the dogs killed her because she was wearing a ponytail, and ponytails looks like chew toys. Then he spent the rest of the interview feeling sorry for himself about his pit bulls being euthanized.

This was at http://www.oanow.com/news/crime_courts/article_7cea5384-e794-11e3-aa0d-001a4bcf6878.html

I hope there are some charges brought against the owners, because it's clear that they don't care one bit about the woman dying or her loved ones losing her. They only care about themselves and the killer dogs.

Oh, and a new pit bull trigger is "wearing a ponytail".

Loren Weaver | 5/30/2014 4:48 PM | Flag
A horrific tragedy - I'm stunned that being present the owner couldn't do something to save her friend. A person should not own pets they cannot or will not control; it's their responsibility to protect the safety of others. And the lack of remorse from the husband is strange and infuriating. In the photos of the article you linked to the dogs look powerful, but not like pit bulls I've seen. I own a dog that looks much like the dog on the left. He's a mutt/ boxer/boston terrier according to dna tests.

Colleen Lynn | 5/30/2014 7:13 PM | Flag
Loren, remember who we are dealing with here: Steve Klemetti. He selected those specific photographs "to submit." In addition to advancing the horrific ponytail story, feeling sorry for himself, blaming the victim and having no empathy for the victim, he's now also trying to advance the idea that his dogs are not pit bulls, but he admits they could be pit bull-mixes, which can vary widely. We don't know when the photos were taken, or frankly, if they even are the attacking dogs. Notably the bodies are mainly hidden in Klemetti's "selected" photos. Since the dogs were a mother and two offspring, the Klemettis' likely also know who the Papa dog is, so "mystery" breeding is not a likely option. Pit bull owners have for decades tried to disguise their dogs through multiple naming schemes (http://bit.ly/1nBAVKo), misleading online photograph tests (http://bit.ly/1o8AEue), misleading online photograph "surveys" (http://bit.ly/1mAJJLg) and switch and bait routines (surrender the wrong dog to AC after an attack). Remember too that Klemetti and his wife are still under scrutiny by authorities, so he has every reason to come forward with this type of "pity me and my family dogs" story. Certainly, Klemetti's behavior perfectly matches that of many owners of fatally attacking pit bulls that came before him.

In previous news reports, both Lee County Coroner Bill Harris and Lee County Sheriff Jay Jones identified the dogs as pit bulls. Sheriff Jay Jones specifically noted the following as well: "The three dogs that attacked the victim are pit bulls. The fourth, which was not involved in the attack, is of a different breed, Jones said."


Decatur AL livin nt to 4 pits | 5/30/2014 9:33 PM | Flag
Colleen, did you ever find a picture of the victim Katie Morrison? I was going over all your links and it seems there isn't one. Have I missed it?

Jaloney | 5/30/2014 11:11 PM | Flag
I can't imagine what went through this poor womans mind as she was ripped apart and knew the owner was not going to save her What a horrible way to go. MANSLAUGHTER CHARGES NEED TO BE FILED.

Colleen Lynn | 5/31/2014 12:55 AM | Flag
We have a photo in our internal files Decatur that we "believe" is Katie. Her family and/or friends, however, have not released any images to the media. When this is the case, we don't publish either...Katie was young and beautiful.

maultalk | 5/31/2014 2:05 AM | Flag
Steve Klemetti is really going at it (he posted a comment on the latest news article, but, but, "it says in the article, they were not Pitbulls" according to his statement only). Klemetti is not your average Maul Talk Term, though he certainly has features of many terms, including, Defeated Nutter Syndrome (DNS), Nutterdom, Narcipitism, Pitplexia, Stockholm Nutter (obviously it was he who was the "influencer" in his wife's "rocky boat" decision to put the dogs down; he did NOT want the dogs put down even though they also attacked his wife). This horrific fatality does give "Mutant-sitting" new meaning as well, such as "Premeditated mutant-sitting." Steve Klemetti is still a wild card at this point for a perfectly suitable Maul Talk Term, do share any ideas if you have some.

--------

Steve Klemetti · Top Commenter · Baker College of Muskegon
As it says in the article, they were not Pitbulls. Where did people even get the idea they were? The inaccurate news reports circulating?
Pictures of Pitbulls here in this link do not look at all like the dogs in the article.
http://dogbreedportal.blogspot.com/2012/02/summarypit-bull-dog-is-dog-from.html
Reply · Like · Follow Post · 3 hours ago

Opalina | 6/01/2014 7:26 PM | Flag
Asshat must be his middle name. Horrible every way around, this poor girl's death.