Wednesday, December 11, 2013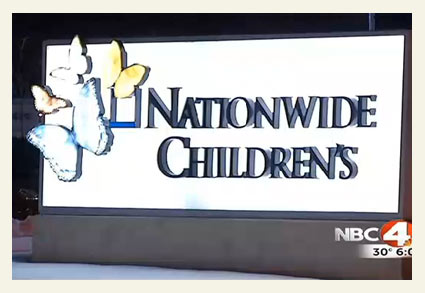 Autopsy Results
UPDATE 12/11/13:
Autopsy results confirmed that dog bites caused the death of a 3-month old girl. Franklin County Coroner Jan Gorniak said that Mia Gibson died from internal injuries due to dog bites. The baby died on Tuesday at Nationwide Children's Hospital at about 7:45 am. Her mother found her on the floor next to the living-room couch where her father was sleeping just before 7:00 am. Mia had fallen from the couch and was fatally injured by the family's two dogs.
12/10/14: Baby Dies, Dogs Suspected
Columbus, OH - Columbus news organizations report that a baby girl was killed today by family dogs while her father slept on the couch. According to Columbus police, homicide detectives were called to a home on Lake Shore Drive in Hidden Lake Condominiums shortly before 8:50 am to investigate the death of a 3-month old baby. Franklin County Coroner, Dr. Jan Gorniak, told NBC4 that the young child, identified as Mia Gibson, sustained injuries consistent with a dog attack.
An autopsy will be conducted Wednesday to determine the exact cause of the baby's death.
Sgt. Steven Little, of the first-shift homicide squad, told the Columbus Dispatch that Mia was on the couch with her father, who was asleep, when she apparently fell off the couch and the dogs caused injuries that led to her death. Mia's mother, Sabrena Gibson, 34, was in her bedroom when one of the dogs at the bedroom door woke her. She went into the living room and discovered her daughter injured. Mia's father, Chris Kusumi, 33, told detectives he had slept through it all.
Little said it appears the dogs caused the baby's death. Though the baby had no major visible trauma, she did have several small puncture wounds on her body. Animal control seized two dogs, both
Japanese shiba inus
, from the home. Detectives do not anticipate charging either parent. The case will be forwarded to the Franklin County prosecutor's office to decide if criminal charges are warranted. "It's just an unfortunate situation and it's a sad situation for the family," Little said.
Related articles:
05/21/13:
2012 Dog Bite Fatality: Ohio Newborn Killed by Family Pit Bull-Mix
05/02/12:
2012 Dog Bite Fatality: 2-Month Old Child Killed by Family Dog
07/13/11:
2011 Dog Bite Fatality: 'Loving Dog' Kills Visiting Baby in Chesterfield County
Labels: 2013 Dog Bite Fatality, Infant Fatality, Newborn Fatality, Ohio

Please donate to support our work
DogsBite.org is a 501(c)(3) tax-exempt public charity organization. Learn more »
posted by
|
permalink
|
5 comments
|

email
|

blog rss
|

comment rss

5 comments:

truthbird | 12/10/2013 10:26 PM | Flag
Interesting notes on the shiba temperament:

The Misanthropic Shiba
THE BAD: This is a high-strung, highly prey-driven breed with little patience for rough handling. They are not ideal toddler's pets and do best with older, respectful children. They can be aggressive towards other pets unless socialized very early. They may never learn to accept animals outside of their pack after they become adults. They are extremely independent and, while learning obedience commands quickly, will never listen to a thing you say once they are running free. If left to their own devices, they will bark, dig, and chew.

Westminister
The Shiba Inu was bred to be a hunting dog for the ancient people of Japan. These dogs can be strong willed and without proper socialization and obedience training may not be the breed for everyone. With proper training Shibas are wonderful, loyal usually long lived companions. Shibas can be active but also quiet. They need activity to keep them happy and can be a good family dog but older children do best with this breed. This breed loves to go for walk but can never be off leash because of its hunting tendencies.

Colleen Lynn | 12/11/2013 8:37 AM | Flag
The original Dispatch article eliminated a line at some point that explains the comment about NetCare left at the Dispatch:

Posted by reader reader (Reader)

I'm sorry--"the parents agreed to go to NetCare,"? Is that the best we can do? Whatever backstory there may have been to this (the dad slept through his daughter being mauled to death next to him? were these dogs safe to have in the presence of an infant, etc), this woman just lost her child and clearly was wild with grief. Is the best that we can do is to send them off on a promise that they will go to NetCare, where they will be screened to determine if they are clinically a "danger to self or others"? Netcare provides a valuable service, but it is limited. Once they rule out suicide risk, they might be able to make a referral for grief counseling somewhere, and the family may get an appointment in about 2 months. The dogs were taken to animal control, where presumably they will be fed and sheltered until further decisions are made. It looks like we may be better equipped to handle the animals in this case than the family.

PutMeInCharge4OneDay | 12/11/2013 9:11 AM | Flag
I will be interesred in seeing updates on this story.

I can not imagine sleeping with a baby next to you and not being woken up by the dog(s)killing the child.



Randy T | 12/12/2013 12:06 PM | Flag
My sympathies to the family. That being said, I have to wonder about the judgment of a father that falls asleep on a couch with a 3-month old, even if there aren't dogs around. There's too much probability that he could roll over & crush the infant, or she could fall on the floor (which was in fact what happened).
Then add to that 2 hunting dogs bit her while she was right next to him, and he slept through the whole thing!
I know this is a grievous time for this family, but I have to say it sounds like there was a fair amount of negligence here...this seems that it was very preventable.

Tom Elston | 1/02/2014 9:37 AM | Flag
Its not hard to imagine falling asleep on the couch while holding a 3 month old. Ask any parent what its like when you sleep deprived, and holding a fussy infant.